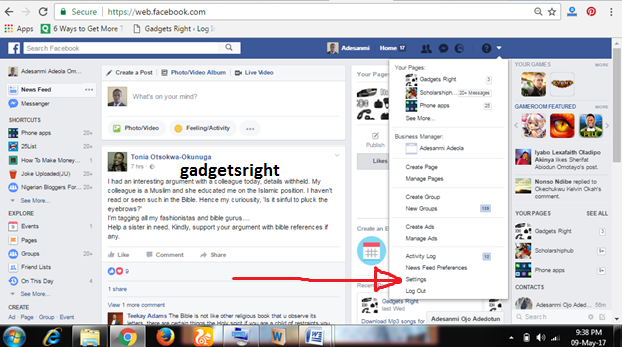 Due to some reasons, you may decide to change the Facebook name that appears on your Facebook account. Mainly, you want to be addressed through your popular name, which you are not included while sign up for a Facebook account.
Some people change the name on Facebook to their company names, while some do so as a result of marriage, as well as some reasons which are best known to you.
Before you go any further towards the process of change Facebook name on your Facebook account, you must keep in mind that once you make amendments on your name on Facebook, you will not be able to make any further changes before the duration of 60 days.
This restriction has been added to Facebook in order to prevent fake identifications and or frauds from your Facebook account. Facebook may reject your name change if it does not comply with Facebook's naming policy.
You are required to use your real name, you cannot use characters from various alphabets, a title (religious, professional, etc), or a word in place of a name. You may be limited to number of times you can change your name on Facebook, and if your name is not in good taste it can't be amended and you will be blocked from the ability to change names yourself.
Steps to Change Name on Facebook Account
In other to change your name, you need to follow the simple steps below.
Step 1 ====> Log in to Facebook account
The very first step in the process of change FacebookName on the Facebook account is logging in into your Facebook account on any of the browsers your have on your engines.
I mean your computer system or an Android phone, you may use other devices like iPad, iPod and many more. If you find it hard to log in into your account, then click here to read Facebook password recovery process.
Step 2 ====> Click the gear icon to select settings
This step involves locating the gear icon on the top left corner as it shown above, after locating, then click on the settings.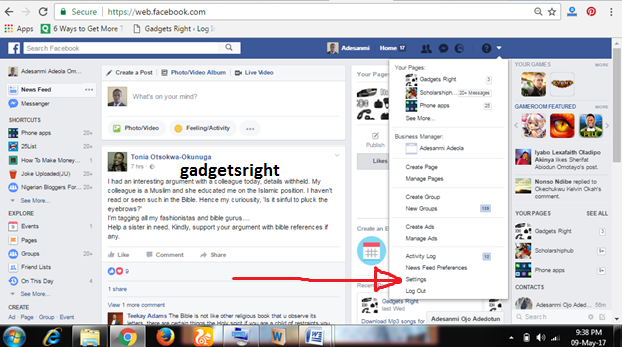 To access this on the mobile app, click the menu button in the top-left corner and scroll down to Account Settings. Select General, and then tap Name, these are easy to follow while you want to change Facebook name on your account.
Step 3 ====> Open settings to change name on Facebook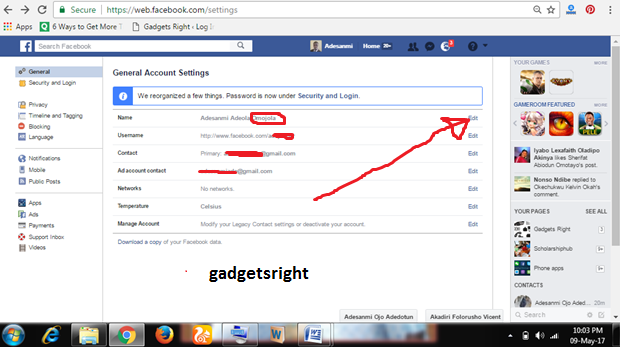 After clicking settings as explained in the second step above, another page will show up which allows you to do many things like edit your username, contact, name and others? But mind you, today we are treating change Facebook name, and then we are interested on name. Therefore, click the edit on the name, this moves us to the next step.
Step 4 ====> Change FacebookName on Facebook account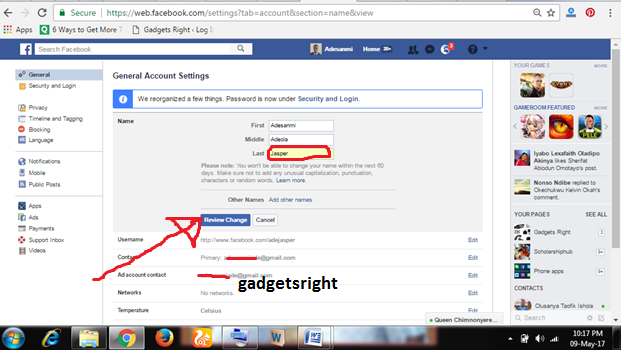 On this page, you are to provide your real name, not any other thing else. Facebook does not allow you to impersonate someone else, or create a page for a fictional character. Accounts found in violation of this will be forced to change the name, therefore change FacebookName will not be accepted.
If you want to create an account for an organization, business, or a pet, you will need to create a Facebook Fan Page (FFP).
After editing or after you might have completed the process of change Facebook name on your account, you can now hit the save button.
Step 5 ====> Save change Facebook name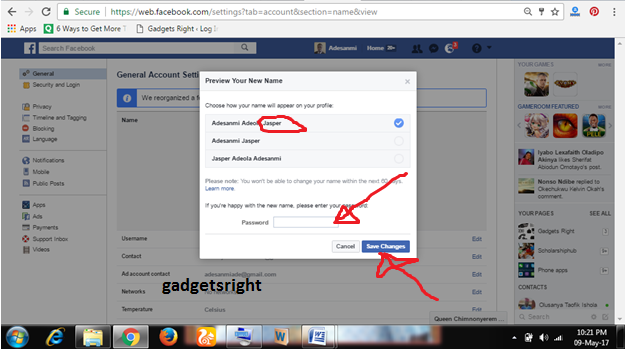 As you click on the button as explained above, another window will open to complete the process by providing your password in the space, and click save to approve you change FacebookName. As you can see, these steps are very simple.
Delete facebook status update: how to delete facebook status on mobile interface
Change Facebook Password: Simple Steps On How To Change Facebook Password
Conclusion
If you have been having a problem or difficulties on how to change your name on Facebook through your account, this article is the best answer to your problem. If you find this article helpful, please do share with your friends on social media.