The Facebook news feed is the aspect of the Facebook platform that allows you see the activities of your friends, your friends –friends. The main target of Facebook news feed is to keep up with what is going on with your friends' lives.
Since we are talking about Facebook news feed, though, it is not quite that simple.  Even worse, the company likes to completely change the way the news feed works without warning or explanation.
Your Facebook news feed is a list of updates and stories that are posted by the friends and pages that you follow on Facebook. Examples of items that may appear in your news feed are status updates posted by your friends, friend requests from other Facebook users, event updates, and more.
Based on your personal preferences, you can adjust your news feed so that it only displays content that genuinely interests you. Continue reading to learn about the ways in which you can adjust your Facebook news feed.
4 Key Areas of Your Facebook News Feed to Customize & How to Customize Them
For easy access, these area include:
====> News Feed
====> Right sidebar
====> Left sidebar
====> Right column
News Feed
Set your Preference
The News Feed is where you get most of the content and information on Facebook. With a few quick customizations, we can ensure that we see the most relevant and useful posts from our friend and even the public.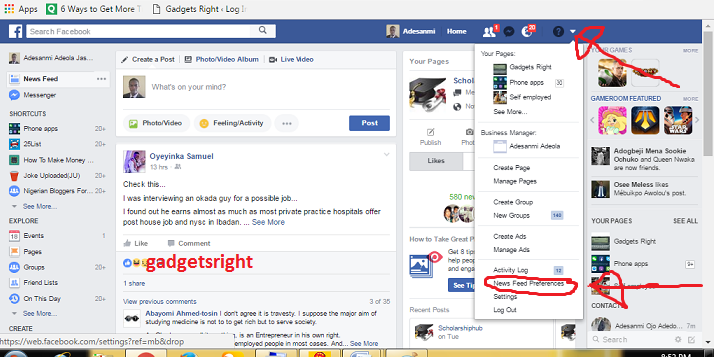 To edit your News Feed Preferences, tap on the drop-down arrow in the upper right corner of any Facebook page and select News Feed Preferences.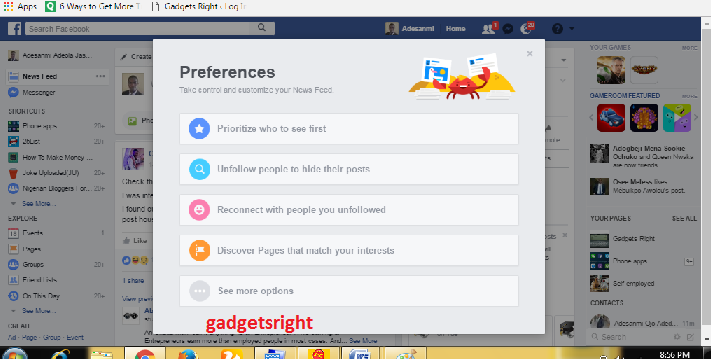 After selecting the preference you will able to little adjustment on your Facebook News Feed
Prioritize Who to See First
This allows you to choose whose posts would always appear at the top of your News Feed every time you access your Facebook. You can select up to 20 people or Pages to see first, and they will not be ranked (that is, your second selection wouldn't be seen second).
In this window, Facebook shows your friends first. If you want to select Pages to see first, click on All and select Pages only.
Unfollow People to Hide their Posts
This allows you to choose whose posts you want to stop seeing on your Facebook news feed. You can filter by Friends only, Pages only, or Groups only. Only you will know who you have chosen to unfollow.
Reconnect with People you Unfollowed
This allows you to follow a person, Page, or group that you unfollowed in the past. While checking this setting, I noticed I accidentally unfollowed a friend previously. So it might be worth checking this setting even if you might not have wanted to unfollow anyone.
Discover Pages that Match your Interests
To help you add more variety to your Facebook news feed, Facebook also suggests some Pages you might like to follow.
See more options: This section includes things like the apps you have previously chosen to hide from your News Feed.
Before we move to the next topic in this article, I will like us to digress a bit to leverage notifications
Leverage Notifications
Let take a step further, you can even be notified whenever your favourite Facebook Page posts something. Facebook gives you the option to choose the types of posts you want to be notified.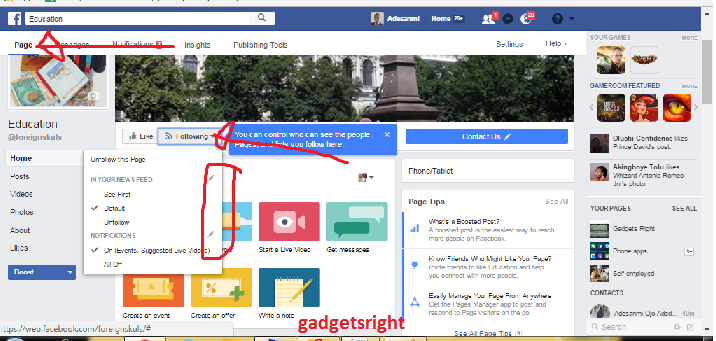 Click the Facebook Page, hover over the Following tab, and click on the pen icon beside Notifications.
In there, you can adjust the notifications for the Page's posts, events, and live videos
Tell Facebook's Algorithm your Preferences
You can also tell of inform Facebook's Algorithm to stop showing things you do not want to see so that only what you want to see will be placed before you. This is a bit more manual and hard, but it allows you to curate the best content on your Facebook news feed.
Therefore, whenever you see a type of post you want to stop seeing on your Facebook news feed, tap or click on the drop-down arrow in the upper right corner of the post and you will see these options.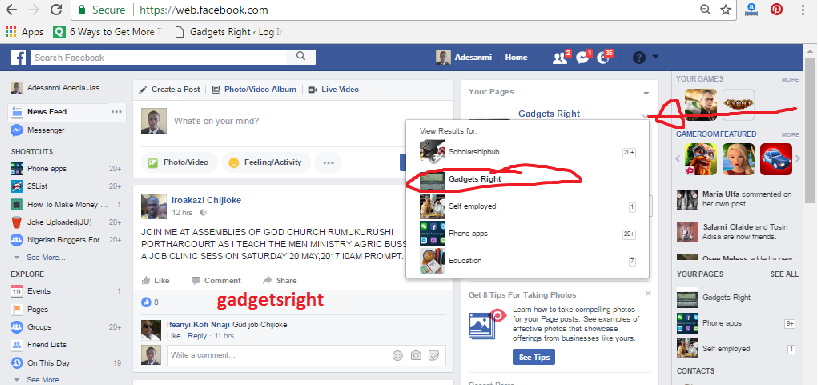 (I don't want to unfollow Adebayo or hide all from Transformers, though.)
Right Sidebar
The right sidebar show or hide games, tickers, and chat.  These and many more you can do in this section, Facebook games, a real-time ticker of your friend's activities and Facebook chat sidebar.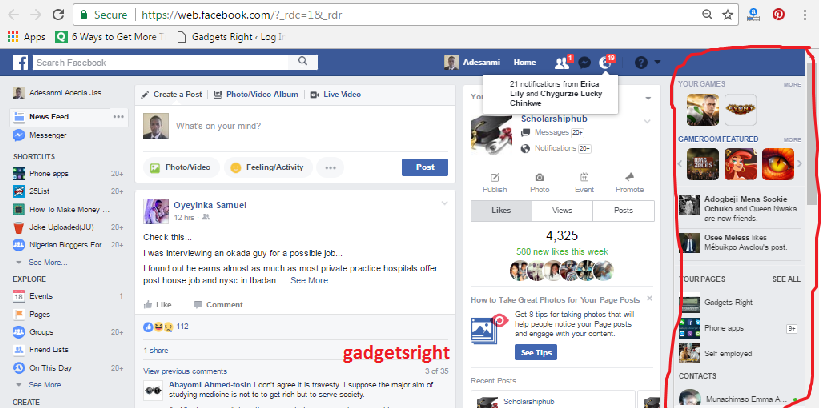 If you find the games and ticker distracting, you can turn them off by clicking on the gear icon () in the lower right corner and selecting Hide Games and Hide Ticker.
Left Sidebar
The left sidebar is for you to get quick access to different parts of Facebook. You will see three main categories, which includes: Shortcuts, Explore, and Create. It is only Shortcuts that can be customize.
When you hover over Shortcuts, an "Edit" link will appear. Click on that and you will be able to edit your shortcuts: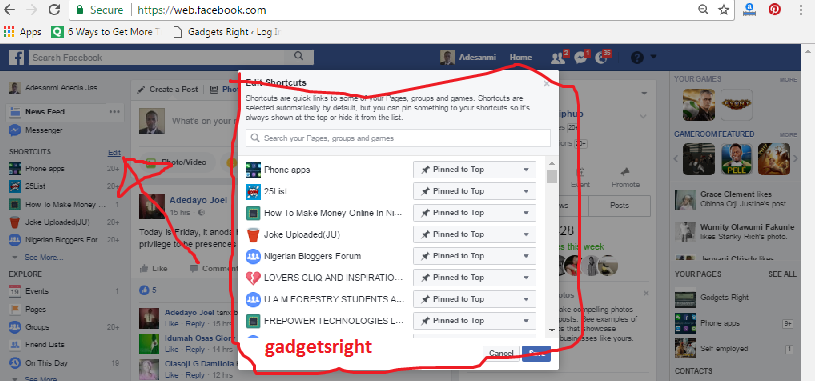 For every Page, Group and game, you can choose to sort it in the list automatically, pin to the top of the list, or hide it from the list.
In my opinion I will recommend pinning the Facebook Pages and Groups you are managing to the top of the list so as to have access to them easily.
Use Friend Lists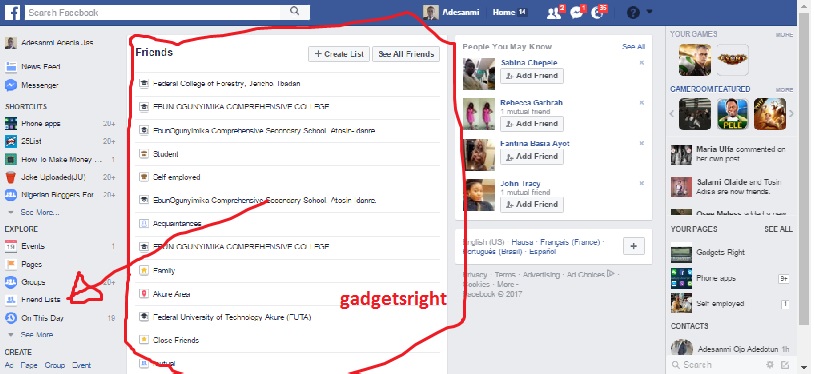 Just like the way you organize Twitter friends, you can create lists to organize your friends. This allows you to see Facebook posts of certain groups of friends whom you are more interested in keeping in touch with.
Right column
This aspect of your Facebook news feed allows you to get access to Facebook ads. On the right column of your Facebook homepage, you might see a section with information about your Facebook ads.
I believe this section appears if you are using or have used Facebook ads for any of your Facebook Pages, as well I consider this section as one of the most important section when it come to Facebook news feed.

You can switch between your Facebook Pages to see their respective ad results. Click on the drop-down arrow beside the name of your Facebook Page to toggle between your Pages. So the page you select will become the default to be showing on your Facebook wall.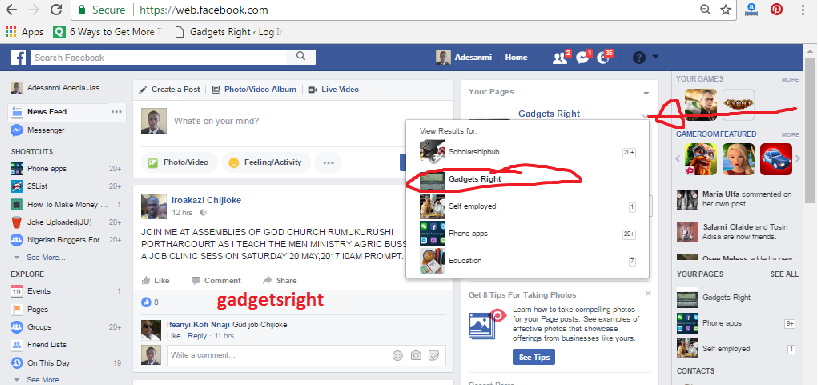 How to delete Facebook status on mobile interface
How To Create Facebook Account For Free
Simple Steps On How To Change Facebook Password
Complete Steps On How To Rename FB Account
Dummies' Guide to recover your password
Conclusion
Finally on this note, if you adhered to what was shared on this article, you will have dominion on what see on your Facebook News Feed
If you find this article helpful, do share with your friends on social media, as well if your expectation was not met, sent your comment for improvement.