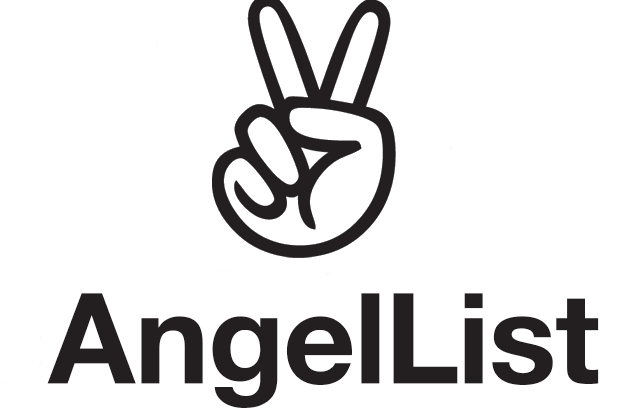 AngelList is a US website for startups, angel investors, and job-seekers looking to work at startups. Created in 2010, the platform has a mission to democratize the investment process and to help startups with their challenges in fundraising and talent.
It started as an online introduction board for tech startups that needed seed funding. Since 2015, the site allows startups to raise money from angel investors free of charge.
How to Startup on AngelList
As a startup, AngelList (angel.co) may be the first time an investor stumbles upon what you are doing. In the last few years, it is also become a hub of startup talent looking for new roles, therefore it is important to make sure your Angel List profile is not only up-to-date for fundraising but a solid representation of your employer brand.
Prepare yourself
====> Most importantly, have a solid company name (it is the first thing people see and remember,
====> investors don't read every profile they see)
====> Be attentive to your marketing strategy, financials, and production timeline.
====> Be ready to give your pitch to interested people, potential hires, and investors on short notice. This includes, but is not limited to: fire-ready pitch to anyone ready to hear it and your video conferencing/chat system is solid, works every time and is ready to go.
====> Google your company, yourself, and all of your team members. Make sure that you are all portrayed in a strong, positive light and show that you are a reliable team.
====> Finalize your website. Polish it. Shine bright like a diamond.
====> Browse trending and featured Startups on AngelList. Looking at successful profiles can give you tips on how to fill out your own startup's profile.
====> Meanwhile, look for reputable people in your industry, pitch your company to them, and gather their support and/or investment (if that is what you are after) before starting your AngelList Company Profile. This can and will show other people that your company is or will soon be, worth their time and money.
Create your Company's AngelList Profile 
Create your Company Profile, before you can set up company profile on AngelList, you need the following.
Firstly, your personal profile
Secondly, Your Company Profile
Step 1 ====> Fill out each field. Be to-the-point concise, but give a complete overview of your company.
Step 2 ====> Clearly state your fundraising goal. Be upfront about how much you want to raise in your current round of fundraising (if you are fundraising, it is not necessary to fundraise to create a Company Profile on AngelList or to post a job).
Step 3 ====> Use all 4 markets. As a result, those following the listed markets will be able to come across your startup easily. It is not wise to create a new market. If you create a new one, no investors will be following it, therefore no one will be able to find you.
Step 4 ====> Choose a semi-broad location. Many investors like to invest in local companies and will search for companies in their area.
Therefore it would be better, for example, to list Bay Area or Silicon Valley over San Jose. On the flip side, California would be too large of a listing.
Step 5 ====> Add every member of your team so their network will be notified when you add them to your company, resulting in an increase of the number of people who visit your profile.
Step 6 ====> Finally, revise.  Before publishing your profile, go over it yourself, and ask team members to review as well.
Tips for Raising Startup Funds on AngelList
AngelList is an online community that matches startups with investors to streamline the fundraising process. Here is the list of tips to raise found on AngelList.
Make It Easy for Investors To Write Checks:
AngelList is brilliantly designed to make it easy for investors to write checks to entrepreneurs.
Naval and Nivi, the founders of AngelList, took the very best social mechanics from Facebook, Twitter and LinkedIn to create a social proof that ultimately makes investors comfortable writing checks.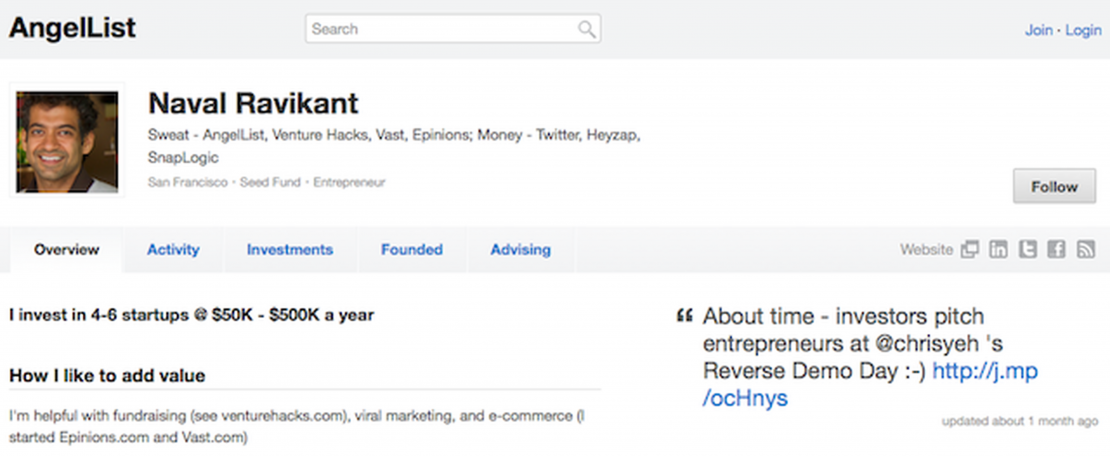 ====> Every startup, entrepreneur and investor has a profile similar to a Facebook profile.
====> Your startup has followers like Twitter, and you can make introductions like on LinkedIn.
====> Others can comment on your profile, similar to writing on a Facebook wall.
====> You have a status like Twitter, and when you update it, a notification is sent to all of your followers.
====> Facebook notifies you when a friend is tagged in a photo; AngelList notifies you when a new investor joins a startup that you follow.
Start with the Basics:
Create a profile and mark it private. Think of this as your executive summary or one-pager. Use the same tone and style as you would with an investor deck or executive summary. Don't just fill out a few sentences; take a few hours and really polish it up. Don't leave any section blank. A good AngelList profile doesn't fit on one page.
Focus on traction:
How many customers have signed up to your service? How many have been active in the past 30 days? What is your viral coefficient?
Include screenshots of your product: A video walk-through and one or two charts that display traction or revenue. If you have a good video pitch, include that too.
Include numbers: Do not say 100K, rather say 100,000. If you can name drop big customers, do that too, you want your profile to look impressive.
Be Responsive:
When an investor asks for an intro, try to follow up within hours. Like any lead, being fast to respond significantly increases your closing rate.
Ready a form letter to personalize and send. Don't make it sound like a form letter, however, but have your reply and supporting documents ready to go.
I use a service like Tout to manage my email templates for quickly replies. Here are some valuable templates you can use.
Find a Good Referrer:
Under the referrer field on AngelList, you may only list one person. Supposedly, you are meant to include the person who referred you to AngelList, but you have a bit of liberty here. After all, this is the person who is vouching for you, make it count.
All About DeltaNet Extranet and What is the Process to Login
AZPeople: Login, Register, Reset Password, Benefits And Others
What is a Krowd Darden: Everything You Need To know
Macys Insite: My Insite Employee Connection
Shop It Around to People You Already Know:
Add any existing investors or advisers. In general, more is better, but it is possible to have too many. Therefore, only add people who are significant. A good target is two or three advisers who are very relevant to your business.
Be careful when listing an investor as an advisor. Most other investors will immediately wonder, why didn't he invest?
Use Your AngelList Profile as Your Executive Summary:
When someone asks to see your executive summary or even your deck send them a link to your AngelList profile instead. See my executive summary online at angel.co/xstartup.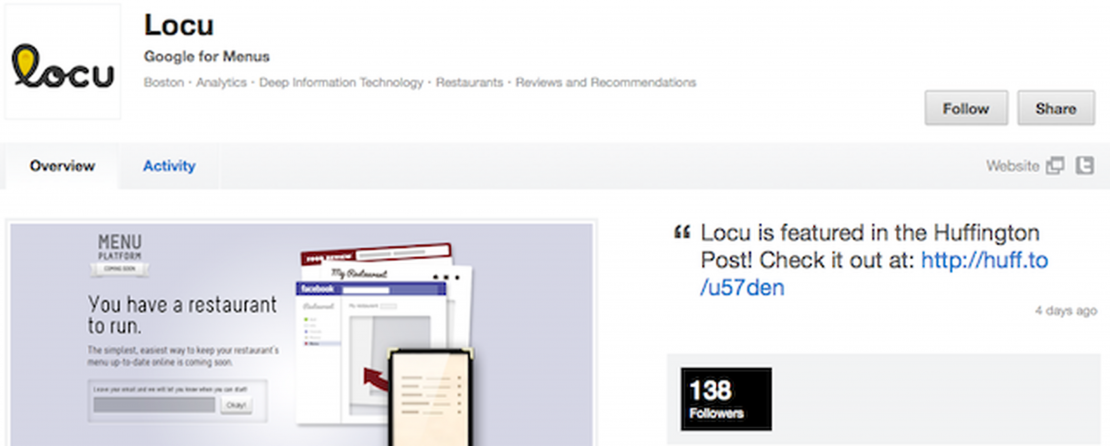 You want investors to go to the AngelList profile instead of passing around your clunky PDF. The AngelList profile never gets stale because you're able to constantly update the different fields, and your profile will update as new investors come on.
You want investors to go to your AngelList profile because it increases the likelihood that they will interact with it, they can follow you, add an intro or leave a comment.
All of these actions increase counters that mark your profile as a hot or trending company. Bottom line, if you are talking to investors, you want to get credit for it on your AngelList profile.
When you are done fundraising, you have the option to turn off your profile. Most people won't have saved their own copy. If you really want to be tight-lipped, lock down most of your profile and choose individuals to share with. Then, even if someone leaks your link, most information won't display to others.
Fill Out the Round:
Once you have your lead, now it is time to open up the floodgates and get your profile in front of more investors.

Start by searching AngelList by market and geography. For example, search for investors who are interested in mobile and also are willing to invest in Austin, Texas. You will find 590 of them!
Also, request an intro with anyone who follows your investors, advisors or referrer. If you don't see the request an intro button for someone, ask investors you know to share the deal with them. It is always best to meet someone through a trusted, third party.
As a last resort, reach out to them elsewhere. Try LinkedIn, Facebook or Twitter. When you make contact, send them a link to your AngelList profile early on in the conversation
Look for Your Lead Investor:
Resist the urge to send out a blast. First you will want to find a lead investor, someone many other investors will recognize and respect. This list of top angel investors is a good start.
But look beyond this list as well, search on AngelList for investors who have made more than one investment in your space in the past 12 months and who bring some of their own relevant experience.
Keep Your Profile Active and Up-to-Date:
Consistently use and update your profile. Don't let it die, or rust from inactivity. Think of this as your investor communication.
Update your status with Twitter-like short messages to announce progress. Also, update after raising money (like you would keep LinkedIn current, even when you're not searching for a job).
That way, when you are looking to raise another round, your AngelList profile is ready to go with all of the social proof built in from your previous round.