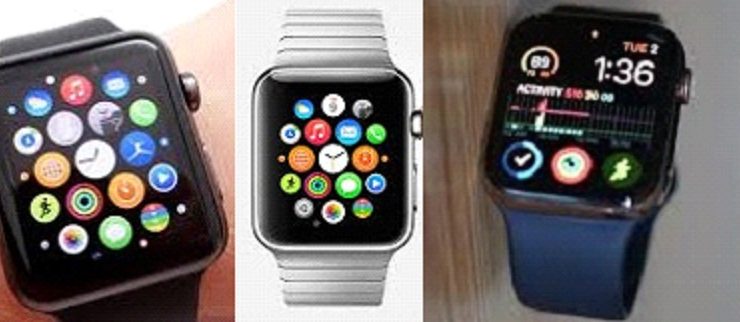 Apple Watch is a line of smartwatches designed, developed, and marketed by Apple Inc. It incorporates fitness tracking and health-oriented capabilities with integration with iOS and other Apple products and services.
AppleWatch uses a wireless connection to an iPhone to perform functions such as calling and texting. However, the watch has limited connectivity away from the phone when a Wi-Fi network is available. Series 3 LTE Apple Watches can connect to a cell network, largely obviating the need for an iPhone after initial setup.
First-generation and Series 1 and 2 Apple Watches require an iPhone 5 or later with iOS 10 or later; Series 3 and later LTE models require an iPhone 6 or later with iOS 11 or later.
The Apple Watch was released on April 24, 2015 and quickly became the best-selling wearable device: 4.2 million were sold in the second quarter of fiscal 2015
The AppleWatch allows significant levels of personalization, including modification routines, Siri messages/conversations and third-party customizable bands.
An AppleWatch can make phone calls, access voicemails, show new mail or message alerts, show updates on weather, sports, entertainment, show a user's heart rate, as well as access maps and directions.
The device comes in three model options to match users' differing needs: Apple Watch, Apple Watch Sport and Apple Watch Edition
AppleWatch Sport
Should you pay more for the Apple Watch or go for the cheaper Watch Sport? Here is how the two Apple smartwatches compare. Technically, the AppleWatch is being released on April 24.
We say technically because no one will actually be able to walk into an Apple Store and buy one on that date, such has been the level of demand in relation to Apple's limited production
Still, you will probably start seeing those watches appearing on the wrists of early adopters over the coming days and weeks, which might cause you to want to slap your name down on one.
Advantages and Disadvantages of Apple Watch Sport
Everything has negative and positive aspect, now depending on what you want and your need. Apple Watch Sport is not excluded as well, it hat its Pros and Cons.
Apple Watch Pros
====> Best-looking smartwatch so far
====> Force Touch well integrated
====> Digital Crown is a useful addition
====> Comfortable to wear
Cons of AppleWatch Sport
====> Unintuitive and buggy software
====> Significantly drains iPhone battery
====> Third-party apps need work
====> Some gimmicky features
Key Specifications
====> Review Price =  £600.00
====> 1.7-inch OLED touchscreen
====> Bluetooth 4.0
====> Optical heart rate sensor
====> Large range of straps
====> Compatible with iPhones only
====> Siri support
====> Built-in mic and speaker to make calls
What Can Apple Watch Do?
The watchOS 5.0 features make your watch faster, adds a walkie-talkie, supercharges Siri and much more. This connects with the cool new things you can do in iOS 12. The AppleWatch delivers faster access to many of your common activities. The first generation model only runs watchOS 4 and can do most of the things on this list. The rest of the models including the Apple Watch 4 run watchOS 5. Here is the list of what Apple Watch does.
Editorial Picks
How Do I Cancel My Subscription on itunes, Google Play & Amazon
Lucky Patcher: How To Use It and Its Features
Fortnite: Everything You Need To Know About Online Game
All You Need to Know About KissAnime ru: Is it Safe and Legal
Download Aptoide APK for Android Free
What Is Airpods And Its Amazing Features
How to Connect AirPods to Your Devices
Answer Calls on AppleWatch
You can answer a call on your Apple Watch using it as a small Bluetooth speakerphone. You only want to use this for shorter calls because the audio quality isn't as good as when you are talking on speakerphone on your iPhone.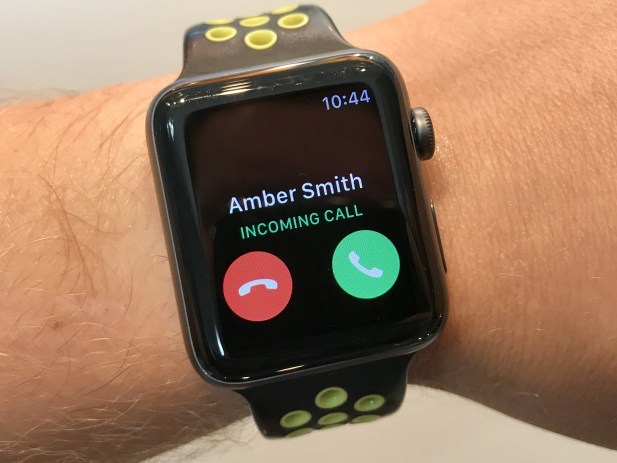 The AppleWatch only allows you to answer your calls on Speakerphone, so you won't want to use this all the time. It is very handy when you are working on a project or busy with your hands. Definitely be conscious of where you are taking calls. If you wouldn't talk on speakerphone, you shouldn't talk on your Apple Watch.
Listen to Music
With an Apple Watch running watchOS 4.1 or higher, you can listen to albums and playlists created on your iPhone, to stations on Apple Radio, and to any music from Apple Music (if you are a subscriber). You can also listen to audio apps such as Spotify, Pandora, and iHeartRadio.
First, set up your earbuds, headphones, or speaker via Bluetooth. Open Apple's Music app to swipe through your library of albums and playlists. From the player, you can pause, resume, skip ahead, go back, and control the volume. Apple Radio comes as its own separate app, where you can tune up Beats 1 and certain news and music stations.
Track Sleep via Apple Watch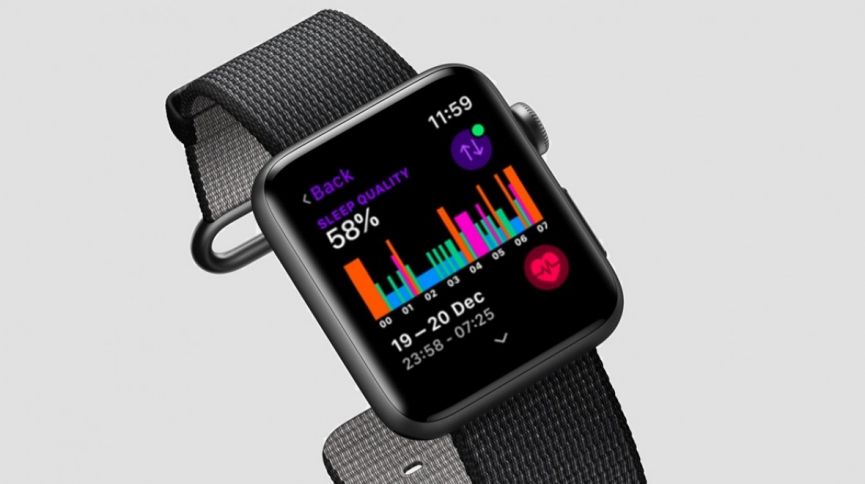 Apple still does not offer its own built-in sleep tracking mode, but it is apparently in the works. For now, though, that means it can't quite match Fitbit, Garmin and others for offering the complete fitness tracking experience straight out of the box, but there are a bunch of apps that can bring the feature to the Watch. We have picked out the best sleep tracker apps for the Apple Watch so you don't have to go hunting for them on the App Store.
AppleWatch work As A Walkie Talkie
Once you install the watchOS 5 updates on your AppleWatch you can use it as a walkie talkie. The new Walkie Talkie app on the Apple Watch allows you to use the new app to send audio messages that automatically play when you are marked as available.
This allows you to quickly chat back and forth with friends during the day or connect with them when you are at an event like a concert easily. The other people you want to use this with need an Apple Watch and need to install WatchOS 5
Organise, Use The App Dock
Apple ditched glances way back in watchOS 3, and now you view all currently open apps by touching that side button. You should totally use this dock, stacking it with your most-used apps. Why? Because these are the apps your Watch will prioritise when pulling in information and background refreshes.
You can customise the dock in your companion Watch app. It can be set to pull in the most recent apps you used, which works a little bit like multitasking on the iPhone. Or, you could turn it into a proper dock with your favourite apps. If you choose the latter, you can easily customise which apps appear.
If you'd like to customise the dock on the Watch itself, you can do so by clicking the side button, then 3D touching an app and tapping Keep in Dock. You can as well perform the following on AppleWatch.
====> Stay Quiet in a Movie Theater
====> Change Your Watch Face
====> See Info Quickly
====> Monitor Your Heart Rate
====> Pay with Apple Pay
====> Use AppleWatch Apps
====> Get Directions On Your Apple Watch
====> Send Drawings from the Apple Watch
====> Use Siri on the Apple Watch
====> Track Your Fitness
====> View and Reply to Text and iMessage
====> Send AppleWatch Emoji
====> Get iPhone Notifications On Your Wrist
====> Share Your Heartbeat
====> Share Your Location
====> Check Your Email
====> Control Your Apple TV & Music
====> Use it as a Camera Viewfinder
====> Find a lost iPhone
====> Store Tickets on Your AppleWatch
====> Look at Photos on Your AppleWatch
====> Connect to Your Car
====> Send Facebook Messages
====> Listen to Music on Your Apple Watch
====> Stream Apple Music on You Apple Watch 3
====> Use it as a Nightstand Clock
====> Use it as a Stopwatch
====> Show Store Loyalty Cards
====> Control Your Smart Home
====> Get Important Weather Alerts
====> Use as a Translator
====> Set Your AppleWatch Up to 10 Minutes Fast
====> Send an SOS
====> Keep on Track to Close Your Activity Rings
====> Keep You On Task as a Virtual Assistant
====> Send Money to Friends with Apple Pay Cash
====> Check Your Instagram Feed
====> Order a Pizza
====> Open Your Garage Door
====> Show Your Car Insurance
====> Check the News
====> Always Have Your Password
====> Track Skiing and Snowboarding with the Apple Watch
====> Continuously Track Your Heart Rate Without Workouts
====> Control Your HomePod Music
====> New watchOS 5 Features
====> Listen to Podcasts on the AppleWatch
====> Use the Apple Watch to Challenge Friends
====> Use the AppleWatch as a Flashlight
====> Use the AppleWatch in Water
====> Track Your Runs
It is clearly shows you can do so many thing on your Apple Watch.
How to Pair Apple Watch With iPhone
To use your AppleWatch Series 1 or later with watchOS 5, you need to pair it with an iPhone 5s or later with iOS 12 or later. Apple Watch models with cellular require an iPhone 6 or later. Setup assistants on your iPhone and AppleWatch work together to help you pair and set up your Apple Watch
To turn on, pair, and set up your AppleWatch, here are the step you need to follow:
Step 1 ====> Put your Apple Watch on your wrist. Adjust the band so your AppleWatch fits closely but comfortably on your wrist.
Step 2 ====> To turn on your AppleWatch, press and hold the side button until you see the Apple logo.
Step 3 ====> Now bring your iPhone near your AppleWatch, wait for the Apple Watch pairing screen to appear on your iPhone, then tap Continue.
OR
Open the Apple Watch app on your iPhone, then tap Pair New
Step 4 ====> When prompted, position your iPhone so that your AppleWatch appears in the viewfinder in the Apple Watch app. This pairs the two devices.
Step 5 ====> Tap Set Up AppleWatch. Follow the instructions on your iPhone and Apple Watch to finish setup.
If Your AppleWatch Is Not Connected or Paired With Your iPhone
If you have tried to pair your devices (Apple Watch and iPhone) and not connecting to one another, check AppleWatch connection.
Check your Apple Watch connection
If you don't get notifications, messages, or calls on your AppleWatch, your AppleWatch and iPhone might have disconnected or might not be connected at all. When your devices disconnect, or appears on your watch face. When your Apple Watch connects again,  appears.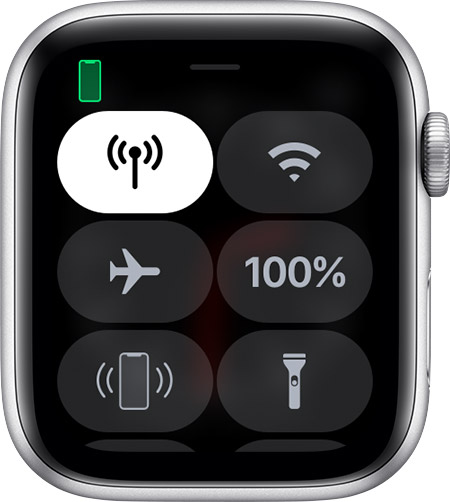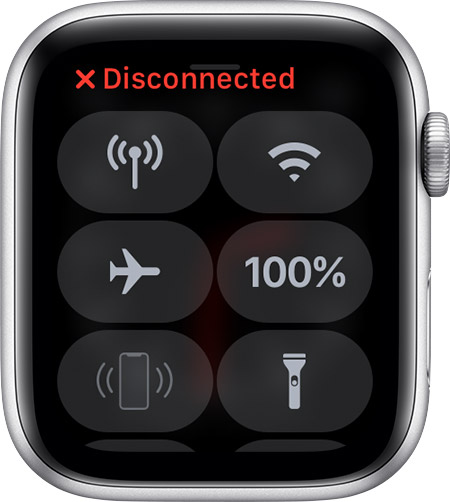 Try To Connect Your AppleWatch And iPhone Again
Step 1 ====> Keep your Apple Watch and paired iPhone close together to make sure that they are in range.
Step 2 ====> On your iPhone, make sure that Airplane Mode is off and that Wi-Fi and Bluetooth are on.
====> To check, swipe up to open Control Center.
Step 3 ====> If you see  on your watch face, Airplane Mode is on.
====> Swipe up to open Control Center
====> Turn Airplane Mode off.
Step 4 ====> Restart your Apple atch and iPhone.