Best Alternatives to the Chrome Browser, Google Chrome has long been the go-to web browser for millions of users around the world. Its speed, reliability, and extensive features have made it a top choice for many.
However, in the ever-evolving world of technology, there are several other impressive web browsers that offer unique features, enhanced security, and a user-friendly interface. In this blog post, we will explore the Best Alternatives to Chrome Browser, highlighting their key features, pros, and cons.
Whether you're concerned about privacy, want a more customizable experience, or seek cutting-edge performance, these alternatives have something for everyone.
Meanwhile, if you are, like the majority of web users, using Google Chrome, you are losing out on a couple of extremely handy features.
Chrome, for example, lacks a reading mode, which is available in several of the alternatives listed in this article. This mode allows you to read a news story in a cleaner format, free of the shouting clutter that graces today's web pages.
Perhaps most importantly, Chrome's built-in ad blocker does not provide true ad blocking and privacy—only ad blocking that allows its own ad network to run normally.
Google has stated that even effective ad-blocking extensions would not be totally functional in the future. Several of the browsers listed here allow you to install plugins that prevent all advertisements and tracking. Some browsers on this list go even further, including enhanced privacy features such as VPN and Tor encryption.
Why You Need to Start Using Google Chrome Alternatives?
Certainly! While Google Chrome is a popular web browser, there are several reasons someone might consider using its alternatives. Here are eight reasons to consider:
Privacy Concerns: Google Chrome is known for collecting user data, which can raise privacy concerns. Alternative browsers often prioritize user privacy by implementing better data protection measures and avoiding unnecessary data tracking.
Avoiding Google Ecosystem: Some users may prefer to minimize their reliance on Google's services and products, opting for browsers that are not directly linked to Google.
Resource Consumption: Chrome can be resource-intensive, which may lead to slower performance on older or less powerful devices. Some Alternatives to Chrome Browser are designed to be more lightweight and optimized for better performance.
Customization: Alternative browsers often provide a higher degree of customization options, allowing users to personalize their browsing experience according to their preferences.
Enhanced Security: Different browsers have various security features and approaches. Some alternatives might implement more stringent security measures to protect against online threats like malware and phishing attacks.
Unique Features: Alternative browsers often offer unique and innovative features that cater to specific user needs. These features might not be available in Chrome or other mainstream browsers.
Open Source Development: Some browsers' alternatives to Chrome are open-source, meaning their source code is accessible to the public, allowing for greater transparency and community-driven development.
Cross-Platform Compatibility: While Chrome is available on multiple platforms, some alternatives may offer better cross-platform support or additional features tailored to specific operating systems.
Best Google Chrome Alternatives You Can Use
Google Chrome alternative browsers are listed below, and they are definitely worth your attention. We downloaded and installed them all to ensure they function properly.
If you have a favorite lesser-known browser that isn't featured here, please leave it in the comments.
Mozilla Firefox as Best Alternatives to Chrome Browser
Mozilla Firefox has been a strong competitor to Chrome for years, focusing on user privacy and customization. Its open-source nature and a vast library of add-ons make it a favorite among power users.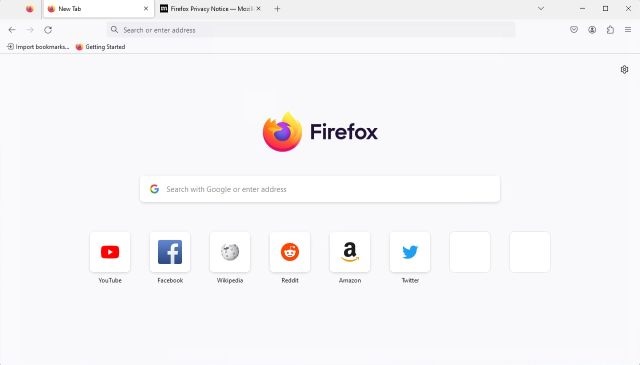 Firefox's strict privacy features and regular security updates ensure a safer browsing experience. Moreover, it boasts impressive speed improvements, making it a solid alternative to Chrome.
Features of Mozilla Firefox
Certainly! Mozilla Firefox is a popular web browser known for its speed, security, and user-friendly interface. Here are eight key features of Mozilla Firefox:
Enhanced Privacy and Security: Firefox takes user privacy seriously and offers features like Enhanced Tracking Protection, which blocks trackers and third-party cookies that could follow you across the web. Additionally, Firefox includes built-in protection against phishing and malware.
Speed and Performance: Firefox is known for its fast performance and efficient memory usage, providing a smooth browsing experience even with multiple tabs open.
Customization Options: Firefox provides a high degree of customization. Users can personalize their browsers with themes, extensions, and add-ons to tailor their browsing experience to their specific needs and preferences.
Firefox Sync: Firefox Sync allows users to sync their bookmarks, browsing history, passwords, and open tabs across multiple devices, enabling a seamless browsing experience from desktop to mobile.
Cross-Platform Support: Firefox is available on multiple platforms, including Windows, macOS, Linux, and mobile devices (Android and iOS). It provides a consistent browsing experience across all these platforms.
Tab Management: Firefox offers several tab management features, including the ability to group tabs into separate containers, making it easier to keep work and personal browsing separate. It also has a session restore feature, allowing you to recover your open tabs after a browser restart.
Reader View: Firefox's Reader View provides a distraction-free reading experience by removing ads, sidebars, and other clutter from web pages, making articles and blog posts easier to read.
Web Developer Tools: Firefox has robust built-in web developer tools that are useful for developers and designers. These tools allow users to inspect and debug web pages, analyze performance, and test various web technologies.
Microsoft Edge: The Revitalized Contender
Microsoft Edge has undergone a remarkable transformation in recent years, now based on Chromium – the same open-source engine behind Chrome.
This redesign has led to improved performance, better compatibility, and a host of new features. With tight integration with Windows and the ability to run Chrome extensions, Microsoft Edge is an enticing option for those looking for familiarity and productivity which can be considered as a Best Alternatives to Chrome Browser.
Feature of Microsoft Edge Browser
Built on Chromium Engine: Microsoft Edge's migration to the Chromium engine has significantly improved its performance and compatibility. This change means that Edge now supports a wide range of extensions available in the Chrome Web Store while ensuring seamless integration with Windows systems.
Intuitive Interface and Customization: Edge's user-friendly interface offers a smooth and straightforward browsing experience. Users can personalize their homepage with customizable themes, backgrounds, and shortcuts, making the browser more visually appealing and tailored to individual preferences.
Web Note and PDF Markup: Edge's "Web Note" and PDF markup tools let users annotate web pages and PDF documents directly within the browser, with this feature, it stands out as the Best Alternatives to Chrome Browser. Whether you need to highlight important points or add notes, these features facilitate effortless collaboration and information sharing.
Seamless Integration with Microsoft Services: Edge's deep integration with Microsoft services enhances productivity and convenience. Users can synchronize their browsing data, preferences, and passwords across devices using Microsoft OneDrive, making it easy to access their personalized browser experience from anywhere.
Improve Productivity with Extensions: Edge offers a rich collection of extensions that cater to different needs, from ad blockers to productivity boosters. These extensions can enhance your browsing experience by increasing efficiency, streamlining tasks, and even improving accessibility thereby being regarded as browser alternatives to Chrome.
Enhanced Privacy and Security: Privacy is a top priority for Edge, with features like Tracking Prevention that block unwanted trackers, ensuring your online activities remain private. Additionally, SmartScreen protects users from malicious websites and downloads, creating a safer browsing environment.
Immersive Reading Mode: Edge's Immersive Reader provides a distraction-free reading experience by removing clutter and ads from web pages. Users can adjust text size, font, and background color, catering to different reading preferences and enhancing accessibility for all users.
Collections for Organization: The Collections feature in Microsoft Edge enables users to gather, organize, and share content from the web. It simplifies research and project management by allowing users to save and arrange content like links, text snippets, and images in one place for future reference.
Brave Browser: The Privacy Champion (Best Alternatives to Chrome Browser)
For users who prioritize privacy and security above all else, Brave Browser emerges as a powerful Google Chrome alternatives.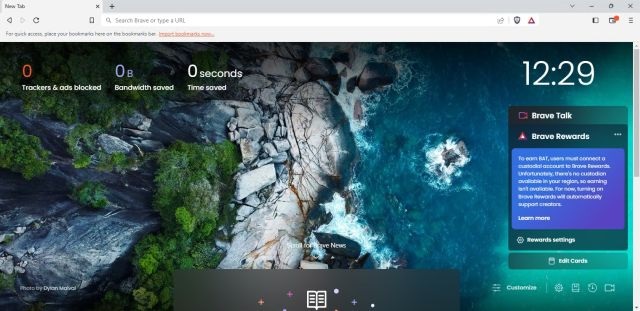 Built on Chromium, Brave comes with privacy-focused features like HTTPS Everywhere and script blocking by default.
Moreover, it offers a unique BAT (Basic Attention Token) system, which rewards users and content creators for opting into privacy-respecting advertisements.
Feature of Microsoft Brave Browser
Privacy and Security First: At the core of Brave Browser's philosophy is user privacy and security. Brave blocks trackers, cookies, and intrusive ads by default, ensuring that your online activities remain private. With this browser, you can confidently explore the web without being tracked or profiled by third-party advertisers.
Brave Shields: Brave Shields is a robust built-in ad and tracker blocker that enhances your online experience. Not only does it speed up page loading times by eliminating unwanted elements, but it also reduces data consumption, leading to faster and more efficient browsing.
Brave Rewards: Unlike traditional browsers, Brave Rewards allows users to earn Basic Attention Tokens (BAT) for opting into privacy-respecting ads. Users can then choose to support their favorite content creators, and websites, and even contribute to the Brave Browser development team, all while retaining control over their data. With this feature, the browser is regarded as the best Alternatives to Chrome Browser.
Brave Today: Brave Today is a built-in news aggregator feature that delivers a privacy-focused news feed directly on the browser's new tab page. Curated from various sources, Brave Today keeps you informed while respecting your privacy by not tracking your reading habits or personalizing the content.
Extensions Compatibility: Brave Browser supports Chrome extensions, giving users access to a vast library of add-ons and plugins that can enhance their browsing experience. This compatibility ensures that you can customize your browser with the tools you love without compromising on performance.
Secure Private Browsing with Tor: Brave's integration with the Tor network enables users to access the web via the Tor network's private nodes. This feature, known as Brave Private Tabs with Tor, adds an extra layer of privacy and anonymity, appealing to users who prioritize online security.
Brave Sync: With Brave Sync, users can effortlessly synchronize their browsing data, bookmarks, and preferences across devices. Whether you use Brave on your laptop, smartphone, or tablet, you can access your customized browser experience from anywhere, seamlessly.
Phishing and Malware Protection: Brave's focus on security extends to its Safe Browsing feature, which shields users from potential phishing attacks and malicious websites. The browser automatically warns users and blocks access to harmful sites, providing an added layer of protection during online sessions.
Opera Browser: The Feature-Rich Explorer
The Opera browser, which is built on the same Chromium architecture as Google Chrome, is another excellent alternative. This indicates that there are numerous features here that are similar to Chrome.
That's a good thing because even long-time Chrome users will feel at ease here. Apart from features similar to Chrome, Opera has its own set of characteristics that distinguish this browser.
The built-in limitless VPN option is my favorite feature of Opera. The application is not only useful for unlocking region-locked content, but it also protects your privacy by masking your IP address.
Features of Opera Browser
Built-in Ad Blocker: Opera comes equipped with a powerful built-in ad blocker that significantly improves the browsing experience by removing intrusive ads and banners. The ad blocker not only enhances page loading times but also saves data, making browsing faster and more efficient.
Personalized News Feed: The News feature in Opera presents users with a personalized news feed based on their interests. With a wide range of topics to choose from, users can stay updated on the latest news and articles without leaving the browser.
Personalized Themes and Extensions: Opera allows users to customize their browsers with a vast collection of themes and extensions available in the Opera Add-ons store. From changing the browser's appearance to adding productivity-enhancing extensions, users can tailor Opera to suit their preferences and needs.
Instant Search and Navigation: Opera's address bar doubles as a powerful search engine that provides instant results as you type. Additionally, the browser offers quick access to favorite websites through the "Speed Dial" feature, making navigation faster and more convenient.
Battery Saver Mode: Opera understands the importance of battery life on laptops and mobile devices. The Battery Saver mode conserves energy by reducing background activity and optimizing browser settings, allowing you to browse for longer without draining your battery.
Integrated Messengers: Opera takes communication convenience to the next level with its integrated messaging services. The browser supports popular messaging apps such as WhatsApp, Facebook Messenger, and Telegram, letting users chat with friends and family while browsing without switching tabs or apps.
VPN (Virtual Private Network) Integration: Opera offers a free, integrated VPN service that allows users to browse the web securely and anonymously. By encrypting your connection and hiding your IP address, the VPN protects your data from potential threats and ensures privacy even when using public Wi-Fi networks why we select it among the best alternatives to Chrome browsers.
Snapshot Tool: The built-in Snapshot tool enables users to capture screenshots of web pages quickly. With options to capture the entire page or select a specific area, this feature simplifies the process of sharing and saving content from the web.
Related Articles
How to Increase Internet Upload Speed on Mobile Phones
How to Root Tecno Camon 19 Pro without PC
How to Root Infinix Note 12 Smartphones
Free Android Apps to Download Songs from YouTube
Discover the Top Call Recording App for Devices
Upgrading Tecno Y6 to Android 6.0 Marshmallow with Mystic OS
Finest Text Messages Apps: Top Android Phone Users' Picks
Safari: The Native Apple Experience
If you are an Apple enthusiast, Safari is the go-to browser for macOS and iOS users. Safari provides seamless integration with Apple devices and services, ensuring excellent performance and energy efficiency.
With its privacy-centric approach and Intelligent Tracking Prevention, Safari prioritizes user privacy while delivering a snappy browsing experience.
Features of Safari Browser
Blazing Fast Performance: Safari is renowned for its exceptional speed and efficiency. Its Nitro JavaScript engine ensures rapid loading times for web pages, making it one of the fastest browsers available. Whether you're browsing on a Mac, iPhone, or iPad, Safari delivers a smooth and responsive experience.
Handoff and Continuity: Safari seamlessly integrates with other Apple devices through Handoff and Continuity. You can start browsing on one Apple device and easily pick up where you left off on another, ensuring a consistent browsing experience across your Apple ecosystem.
Siri Suggestions: On Safari for iOS, Siri Suggestions offer proactive suggestions based on your browsing history and frequently visited websites. This feature saves time by presenting relevant links, news, and information directly on the lock screen or the search bar.
iCloud Tabs: Safari's iCloud Tabs feature syncs your open tabs across all your Apple devices. If you have multiple devices logged in with the same Apple ID, you can seamlessly switch between them and access the same set of open tabs.
Powerful Developer Tools: Safari offers a suite of robust developer tools, making it a favorite among web developers. The Web Inspector allows developers to inspect and debug web pages, review network activity, and optimize website performance.
Energy Efficiency: For users concerned about battery life on laptops and mobile devices, Safari's energy efficiency is a significant advantage. Safari is designed to optimize battery usage, resulting in longer browsing sessions on portable devices.
Privacy and Security: Privacy is a top priority for Safari. The browser's Intelligent Tracking Prevention feature blocks cross-site tracking cookies, safeguarding your online privacy and preventing advertisers from following your online activities. Additionally, Safari regularly updates its security features to protect against potential threats thereby including the browser among the best alternatives to Chrome.
Reader View: The Reader View option in Safari allows users to declutter web pages by removing ads, sidebars, and other distractions, leaving only the main content. This feature provides a distraction-free reading experience, particularly useful for long articles and blog posts.
Tor Browser
If you value your privacy above all else, Tor Browser is for you, why is added as the best alternatives to Chrome?
One of my major issues about adopting Chrome, as I indicated in the introduction, is its data-gathering policy. You don't have to worry about this with Tor Browser.
In fact, no one can trace you when you use Tor Browser, and you may surf the internet anonymously. Tor accomplishes this by routing your communications through a decentralised network of relays managed by volunteers all over the world.
Features of Tor Browser
Anonymity and Privacy: The primary goal of the Tor Browser is to protect user privacy by anonymizing their internet traffic. The browser achieves this by routing data through a decentralized network of volunteer-operated servers, making it challenging for anyone, including ISPs and governments, to trace the user's online activities back to their origin.
Secured Connections: Tor Browser supports HTTPS Everywhere, a browser extension that ensures connections to websites are encrypted whenever possible. This added layer of security protects users from potential eavesdropping and man-in-the-middle attacks.
Pluggable Transports: To circumvent internet censorship and access blocked websites, Tor Browser employs pluggable transports. These are alternative methods for disguising Tor traffic, making it harder for censors to detect and block the use of Tor, with this; it landed itself on the list of best alternatives to Chrome.
Multi-Platform Support: Tor Browser is available for various operating systems, including Windows, macOS, Linux, and Android. This cross-platform compatibility allows users to maintain their privacy across different devices.
Easy Setup and Use: Tor Browser is designed to be user-friendly, making it accessible to a wide range of users. It requires no advanced technical knowledge to set up or operate, and users can start browsing anonymously with just a few clicks.
Defends Against Browser Fingerprinting: Tor Browser actively defends against browser fingerprinting, a technique used to track users based on unique configurations of their browsers and devices. It ensures that users' browsers appear as similar as possible to others, making it harder to identify individual users.
The Tor Network: Tor Browser relies on the Tor network, which stands for The Onion Router. This network encrypts data and routes it through multiple random nodes, or relays, before reaching the final destination. This process creates multiple layers of encryption, like layers of an onion, hence the name.
No Tracking and Cookies: Tor Browser automatically blocks tracking cookies, preventing websites from tracking users across the internet and gathering data about their online behavior. This feature ensures that your browsing sessions remain private and free from targeted advertisements.
Vivaldi: Best Alternatives to Chrome
While Google Chrome is adaptable, it has limitations. Vivaldi is the browser to use if you want a browser that can be configured to appear and perform precisely how you want it to.
Vivaldi has grown in popularity in recent months due to a plethora of customization possibilities that no other browser provides. To begin, you can utilize highly configurable themes to give your browser a distinct look.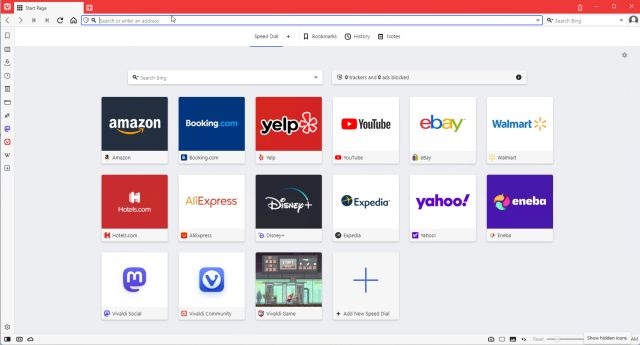 Not only that, but you can set a timetable to change the theme of your browser throughout the day. The browser also includes an editable sidebar that allows users to add any website they like.
You can add as many websites as you want, whether they are chat apps, social feeds, or news sites. You may even modify the placements of those websites with a simple drag-and-drop tool. Vivaldi's adaptable interface is one of my favorite features. The browser utilizes the main color of the website you're viewing as an accent color.
Other browser features include the ability to save open tabs as sessions, a fully functional notes extension built in, superb keyboard shortcuts and mouse movements for navigation, and more.
The browser also provides additional security for its users by never tracking or collecting user data. Vivaldi is also working on end-to-end encryption of your data while synchronizing across devices, which will be available soon. Overall, I like this browser, and if you want to have control over how it looks and behaves, you should definitely use it.
Features of Vivaldi Browser
Advanced Privacy Settings: Vivaldi places a strong emphasis on user privacy and offers several privacy-focused settings. Users can easily manage cookies, block third-party trackers, and use the browser's built-in tracker and ad blocker to enhance their online privacy. This is one of what you can't access on the Google Chrome browser making Vivaldi the best alternative to Chrome browser.
Capture and Annotate Screenshots: Vivaldi allows users to capture screenshots of web pages and add annotations directly within the browser. This feature is especially useful for sharing and saving content with visual context.
Support for Chrome Extensions: Vivaldi is built on the Chromium engine, providing compatibility with Chrome extensions. Users can access the vast Chrome Web Store to enhance their browsing experience with a wide range of extensions.
Sync Across Devices: Vivaldi offers a robust sync feature, enabling users to sync their bookmarks, history, passwords, settings, and more across multiple devices. This ensures a seamless browsing experience, regardless of which device is being used.
Built-in Notes: Vivaldi comes with a built-in Notes feature, allowing users to take notes directly within the browser. Whether it's a quick reminder or a snippet of information from a website, the Notes feature provides a convenient way to save and organize content without needing external note-taking apps.
Quick Commands: Vivaldi offers a powerful Quick Commands feature that lets users access various browser functions and open bookmarks, history, settings, and more with a simple keyboard shortcut. This feature enhances productivity and saves time by eliminating the need to navigate through menus.
Web Panels: Web Panels enable users to add their favorite websites as side panels within the browser interface. This allows for quick access to frequently visited sites, social media feeds, or messaging apps without the need to open additional tabs.
Mouse Gestures and Keyboard Shortcuts: Vivaldi supports a wide range of customizable mouse gestures and keyboard shortcuts, empowering users to perform various actions with simple gestures or key combinations, further boosting productivity and efficiency.
Customizable User Interface: Vivaldi allows users to customize almost every aspect of the browser's user interface. From the position of the address bar to the color scheme and tab shapes, users can tailor the browser to suit their preferences.
Tab Stacking and Tiling: Vivaldi's unique tab management features include tab stacking and tiling. Users can stack multiple tabs together to organize them in a neat group, reducing clutter. They can also tile tabs side by side, enabling effortless multitasking and comparison of multiple web pages simultaneously.
Conclusion
While Google Chrome remains a formidable browser, the web browsing landscape offers a diverse range of alternatives that cater to various needs and priorities. Whether you value privacy, customization, performance, or seamless integration with specific devices, there's a browser out there for you.
From the versatile Mozilla Firefox to the privacy-focused Brave Browser, the best alternatives to Chrome presents a compelling case for becoming your new default browser.
Ultimately, the best alternative to Google Chrome browser depends on your personal preferences and requirements. It is worth exploring these alternatives to discover the one that aligns perfectly with your browsing habits and values.
So, why not venture beyond Chrome and embrace a new horizon that better suits your web browsing needs?