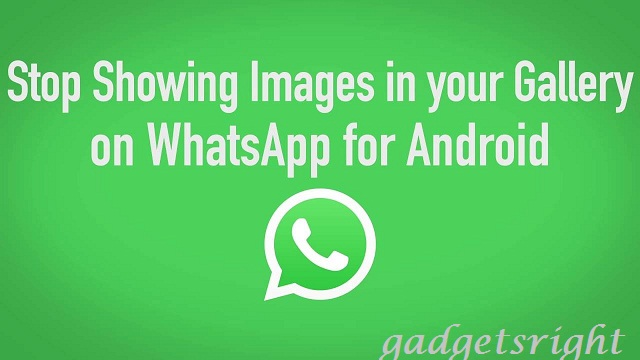 WhatsApp messaging app has become one of the leading means of communication these days. On this media, you are able to share different thing with your audience. You share thing like Videos, photo, Audio among others. On default, these were downloaded and stored to your Android phone gallery. In a situation whereby you are having a low storage space on your phone, you might have a problem of space thereby causing your Android phone to start behaving somehow. On a lighter mode, to avoid this, you need to block WhatsApp media from appearing
WhatsApp Messenger supports media attachments just like most messaging apps. Media that you receive is automatically added to the device's gallery by default as mentioned earlier on this note. Means any photo, image, gif, or video that you receive is listed in the phone's gallery automatically.
While that is fine for some users, others may dislike it, e.g. because of WhatsApp media cluttering the gallery or hiding certain types of media from others. It also occupies space on the phone memory or storage device on your Android phone. With no much ado, block WhatsApp media from appearing in Android's gallery is the answer.
For all the Android smartphone users, who are searching how to hide WhatsApp images from gallery in Android, your search comes to the end here. What simply means is that you are the right place to block WhatsApp media from appearing in Android's gallery
WhatsApp supports an option to block all media from appearing in the gallery. Setup is a lot quicker than the option to block media in the gallery from individual contacts.
How to Block WhatsApp Media From Appearing in Android's Gallery
The method works in all recent versions of the WhatsApp Messenger. Here are the steps:
Step 1 ====> Open WhatsApp Messenger on the Android device. If you don't have it on your phone, visit the Google play store to download the latest version on WhatsApp and install on your Android Phone.
Step 2 ====> Select the menu in the upper right corner of the WhatsApp interface (the three dots).
Step 3 ====> Now tap on Settings to open the application options.
Step 4 ====> Then switch to the Chats group of settings.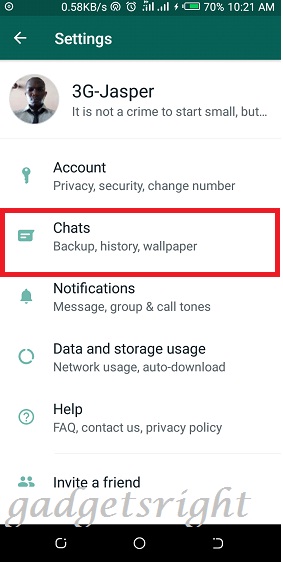 Step 5 ====> There you find Media visibility. Toggle the option to turn it off (it is enabled by default).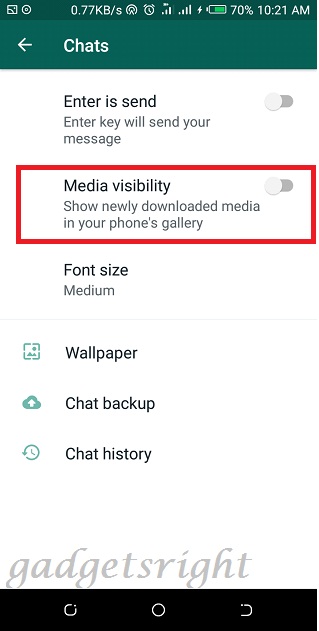 WhatsApp blocks new media that is downloaded to the device from appearing in the phone's gallery.
Set Media Visibility For Individual Chats
The option you set above becomes the default one for all the chats. But there are always exceptions. You might want to show media from certain contacts in your Gallery or vice versa. You can do that as well. Here are the steps.
Step 1 ====> Open WhatsApp and select the conversation of the desired contact or group.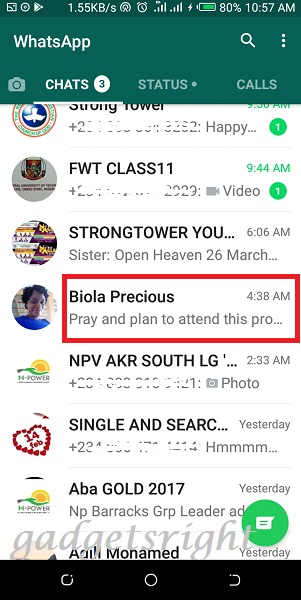 Step 2 ====> Tap on the name at the top to go to the Contact/Group Info screen.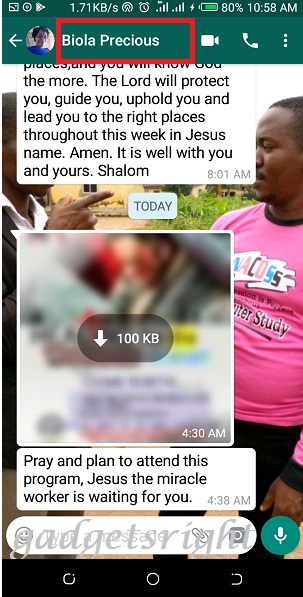 Step 3 ====> Here, tap on Media Visibility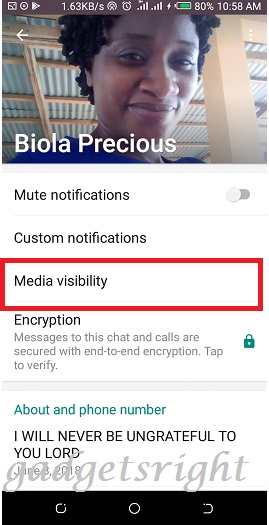 Step 4 ====> Select the desired option and tap on OK to save changes.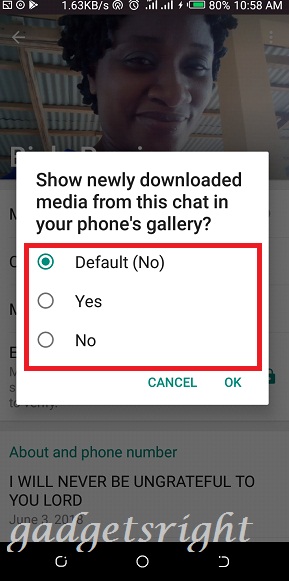 Similarly, you can do so for other contacts as well. We receive all sorts of photos and videos on WhatsApp that don't deserve to be on your Android phone Gallery to be seen by everyone. To take care of this, you can go ahead and use the latest Media Visibility feature.
As mentioned earlier WhatsApp also allows you to prevent from saving the images/videos automatically. If you are not aware of this setting then here we have shared the steps to stop WhatsApp from auto downloading photos, videos and other file types on Android and iPhone.
WhatsApp related articles:
How to Transfer WhatsApp Messages from Android to Android
How to Retrieve or Recover Deleted WhatsApp Images on Android
WhatsApp Voice Recording Lock: No more Pressing the Mic Button
WhatsApp is Rolling Out Group Call Shortcut to Android
WhatsApp Dark Mode: How to Turn on Dark Mode in WhatsApp chat
How to Block Momo WhatsApp number From Your Child Phone Contacts
How to Move WhatsApp Media to SD Card (External storage)
Finally
On the final note, block WhatsApp media from appearing in Android's Gallery will keep your phone from the storage problem. If you know any method aside the one explained in this article, kindly drop it on the comment box below.