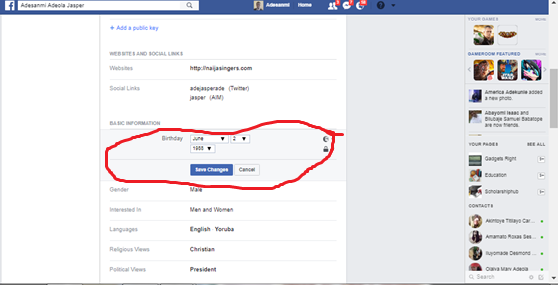 You wonder why you needed to Change Birthday Facebook on your Facebook account profile, some of the reasons behind this is not far from the fact that you created your account when you are not up to 18 years.
When you sign up for a Facebook account you are asked to enter information about you including your birthday.
The majority of Facebook users will probably get that right, but it can happen that you pick the wrong date either accidentally or on purpose if you do not want to reveal you true age to the social networking site.
Facebook is one of the major social networking sites used by millions of people who keep in touch with friends, upload photos and share videos and links.
How To Check Someone Recently Added Friends On Facebook
You can even share your personal information like your birthday, hometown, likes, status updates, etc. You can edit your profile to make any necessary changes.
Meanwhile, before we move on to Change Birthday Facebook, there is need for us to identify types of Facebook account.
There are 2 different types of accounts on Facebook for profiles.
An adult account where all the settings are by default public.
A minor account where there are a few extra privacy settings enabled to protect teenagers.
Please note a minor account with the extra safety settings is not fail safe, because so many children accept friend requests from people they don't know sometimes to appear more popular.
How To Change Birthday Facebook On Facebook Account
Now that you are familiar with different types of Facebook account, so you may decide to Change Birthday on Facebook. You can do this (Change Birthday Facebook) on your computer, you can also do it on your phone.
Therefore, this article will cover how to Change Facebook  birthday on desktop or computer and your mobile phone.
Change Birthday Facebook on computer or Desktop
Facebook made it a lot easier recently when it comes to changing the birthday. Previously, it did not allow you to change the birthday directly using the edit profile option provided on the site which meant you had to request a change instead.
How To Delete Facebook Notifications On Facebook
Here is what you need to do:
Step 1: Log in
The first thing before you can make any adjustment on your account is logging into your account. you complete this task by providing your credentials to appropriate place, that is your email/ phone number and your password.
Step 2: Profile page
Open your Facebook Profile page. You can do that by clicking on your name next to search at the top of any Facebook page.
Step 3: Click about
After you open the profile page, click about to see different options like overview, work and education, contact and basic info among others. Then click contact and basic info to proceed to the next step on Change Birthday Facebook.
Step 4: Contact and basic info
Next line of action is to click the contact and basic info on the above step. As the page show up, scroll down to the basic aspect of the page, here is where you see details about your birthday date which is the reason for this article.
Step 5: Change birthday date
Here is the right place to change your birthday details, you can change the year and as well the date depending on which you wish to change.
Hover your cursor on the date or the year to see the edit button and then click for proper editing.
Step 6: Edit and save
This is the last step on the process of Change Birthday on Facebook, now that you have clicked the edit button, you will have access to details of your birthday and make changes and click saved change.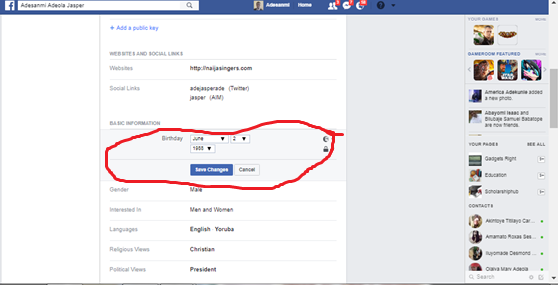 Now you have completed the process of Change Birthday Facebook on Facebook account using your desktop.
Facebook Status: Steps On How To Delete Facebook Status
Change Birthday Facebook on mobile
Step 1: Open Facebook app
Open Facebook app, this is a dark-blue app with a white "f" on it. This will open your Facebook News Feed if you are already logged into Facebook on your phone or tablet. Meanwhile, if you are not logged into Facebook, enter your email address (or phone number) and password to continue.
Step 2: Tap the three stroke ☰
Tap this stroke, ☰ It is in either the bottom-right corner of the screen (iPhone) or the top-right corner of the screen (Android). The position depends on the type of phone you use to access your Facebook account.
Step 3:  Tap your name
The next action to be taken is tapping your name. You will see this tab at the top of the menu. Doing so takes you to your profile page. Belief me you are a step closer to change birthday on Facebook account you opened years ago.
Step 4: Tap the About tab
Just as I explained under that of desktop process, here again you are to Tap the About tab which is below your profile picture. If your device is Android, you will have to scroll down to see the About option.
Step 5: Basic Info
Now Scroll down to the "BASIC INFO" section and tap Edit. The Edit button is on the right side of the screen, directly across from the "BASIC INFO" heading. On Android, you must first tap More About You on this page to access it.
How To Delete Messages On Facebook Messenger
Step 6: Edit and save
Edit your birthday, there are two sections below the "BIRTHDAY" heading: "Birthday", which is the day and month of your birthday, and "Birth Year", which is the year you were born.
To change these: Tap the month, day, or year to prompt a drop-down menu. Tap the month, day, or year that you want to display. Repeat this process for each value that you want to change.
Now that you have edited you birthday successfully, it is time to save what you have been so far, just tap the SAVE button to saved change.
Finally on Change Birthday Facebook
If you follow these guides on Change Birthday Facebook on Facebook account correctly, you will change birthday on Facebook successful without problem.
If you know any means of doing it, kindly drop it on the comment box bellow. This article might have helped you out on how to change birthday on Facebook, please be a good helper by sharing it among your friends on social media.
Related articles
How To Use Facebook Messenger On Computer (Desk Top)
Site Traffic: Effective Ways Of Using Facebook To Increase Site Traffic
How To Invites All Facebook Friends To Like Facebook Page In One Click
How To Upload Videos To Facebook From Mobile Phone