What is A Chromebook?
A Chromebook is a laptop or tablet running the Linux-based Chrome OS as its operating system. The devices are primarily used to perform a variety of tasks using the Google Chrome browser, with most applications and data residing in the cloud rather than on the machine itself. All Chromebooks released since late 2017 can also run Android apps. Some Chromebooks can run Linux apps.
Since it is running Chrome OS, you will not be able to install Windows or Mac applications on it. However, you can install Chrome extensions or Android apps (yes, it comes with the Play Store app) to extend its functionality.
Most of the newer Chromebooks also come with support for Linux apps, so they will function like your traditional laptop.
Chromebooks are less expensive than traditional laptops. Since Chromebooks mostly rely on cloud storage, they don't require large hard drives. Their quickly-loading operating system does not require higher-end components to work effectively. These two features keep the prices down and the performance up.
Since the article will focusing on how to screenshot on Chromebook, the let look at what screenshot is about.
What is Screenshot?
From the above explanation, you now know what chromebook is about. It is time to give another definition and little explanation as well.
A screenshot, alternatively referred to as a print screen, screen dump, snapshot, or screen capture, a screen shot or screenshot is an image of what's currently displayed on a screen. It is a digital image of what should be visible on a computer monitor, television, or other visual output device.
A common screenshot is created by the operating system or software running on the device. A screenshot or screen capture may also be created by taking a photo of the screen.
Screenshots can be created by a software program or operating system. Once a screenshot is captured, it can be saved as an image file, such as a GIF or JPEG where it can be opened to manipulate, printed, or saved.
Why Do We Take Screenshot On Chromebook?
Screenshot can be very important to us, this can be done on any device. Mind you in this article we shall let you know how to take screen shot on your Chromebook device. Before we move further, let quickly look at some of the reasons we take screenshot on any device Chromebook inclusive.
To Demonstrate How to Perform a Function
Don not just tell, show. Demonstrate exactly what you are talking about with a screenshot. By using a screenshot that shows exactly what you mean, there is less chance that you will be misunderstood. And that means less confusion, less time explaining and more time back in your day.
To Collaborate with Others
Does your coworker want your input on a new webpage they've put together? Or do they need you to look over a brochure they are having printed? Instead of writing a lengthy email with edits, take a screenshot and wow your coworker with excellent, efficient feedback.
To Show Exactly What Is Happening
If you have ever contacted your IT or Web Support Team to report a bug, you would have likely been asked to provide a screenshot. That is because not everyone's computer is the same. Depending on your machine, the operating system it is running, the browser version you are on, the way something appears for you could be completely different for others.
Providing a visual example of what you are looking at helps others see exactly what is going on and identify what might be going wrong.
How to Auto Reply to Texts on iPhone While Busy
How to enable or disable automatic updates on iPhone or iPad
How to delete photos on iPhone and iPad
What is iCloud? And How Do I Use It?
Chromebook General Specification
Chromebooks are generally a little smaller than traditional laptops. The available screen sizes top out at 12.3 inches, with most being 11.6 inches. There are a few Chromebook manufacturers whose machines are 14 or 15 inches, but they are the minority.
Most displays are 1366×768, the best for reading and writing. If you want a screen with sharper images, video, and graphics, you can get a full HD display (1920×1080).
A 4GB RAM is standard for these devices. Some models have 8GB and even 16GB, but unless you do a considerable amount of multitasking, 4GB of RAM is sufficient.
ChromeBook Storage
Chromebooks do not have much onboard storage space, which is why they can stay inexpensive. There is 32GB of storage in most models, but some are boasting storage of 64GB or more, even up to 512GB. Instead of paying more for extra storage, you can easily expand your Chromebook's storage with an SD card or a separate external hard drive.
You also get 100GB of Google Drive storage for free for the first year after you buy a Chromebook. It reverts to the standard 15GB after the year is over, so there is a backup plan if you use a lot of storage space.
How To Take Screenshot on A Chromebook
Now back to the discussion of the article, which is how to Screenshot on Chromebook. There is one question that I see new Chrome OS users ask frequently and it is this: How do you take a screenshot on a Chromebook?
Google's Chrome OS has a screenshot feature built-in by default. This means you do not need to install a Chrome extension or download an app to take screenshots on your Chromebook.
Capturing a Partial Screenshot On Chrome Book
Chrome OS can also specify a portion of your screen to take and save a snapshot of. Here is how to do it.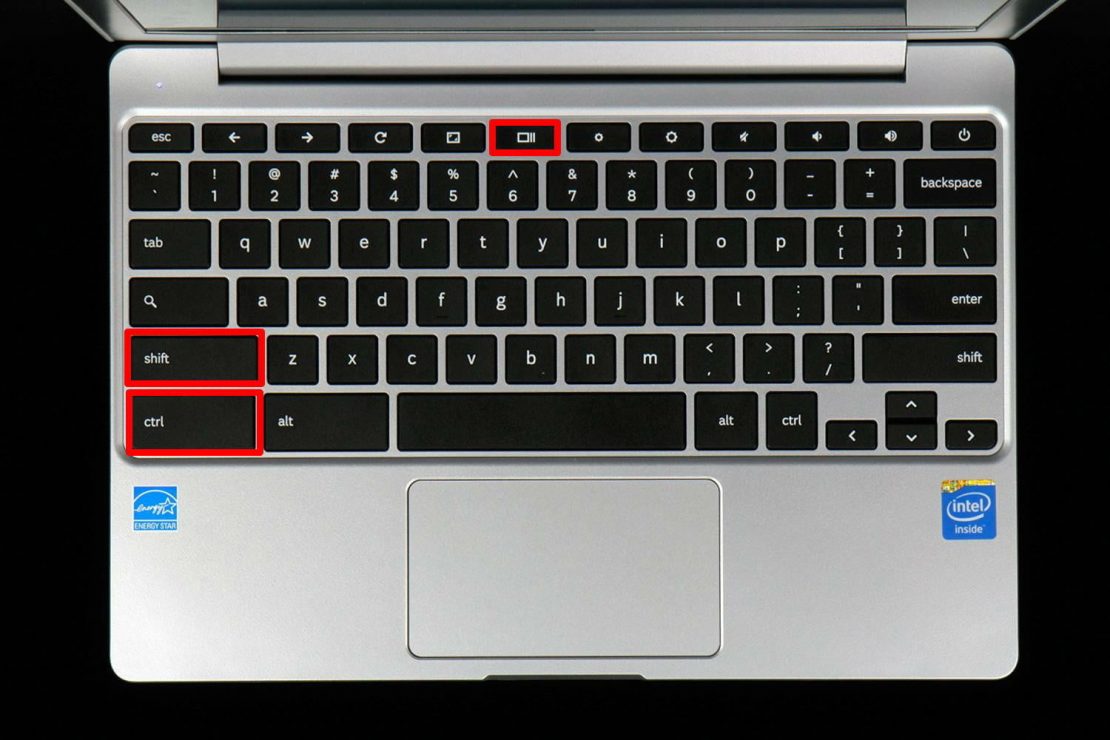 Step 1 ====> Hold down the Ctrl and Shift keys at once, then press the Switch window button.
Step 2 ====> Chrome's cursor will be temporarily replaced with a crosshair.
Step 3 ====> Click and drag a square across the portion of the screen you want to save, then release the trackpad or mouse button.
The partial screenshot will be saved in the Downloads folder, the same as a full screenshot.
Capturing a Full Screenshot On Chromebook
To take a screenshot of everything you see on your Chromebook's screen at once. Hold down the Ctrl key and press the Switch window key. The latter button is typically located in the top row, in between the Full-screen and Brightness down buttons, and looks like a rectangle followed by two lines.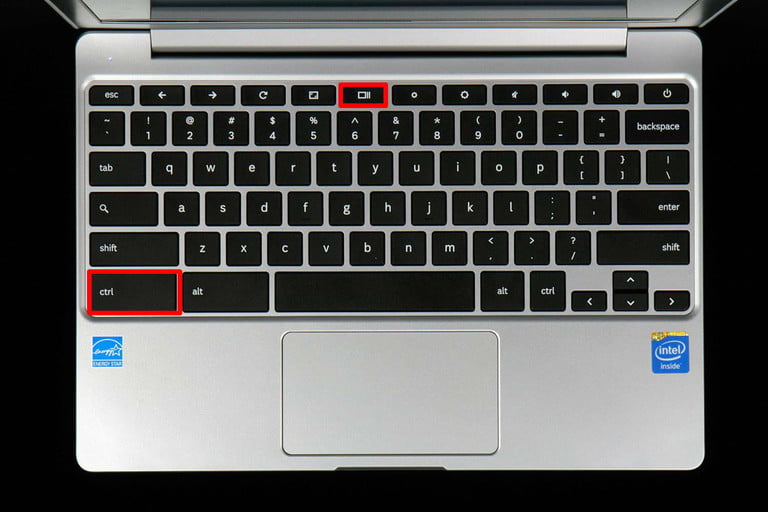 Once you press both keys, you will see a notification in the bottom corner of the screen alerting you that your screenshot has been saved.
Screenshot image files save directly to the Chromebook's Downloads folder, so you can take and access screenshots even when offline, and are labeled with the date and time they were recorded. Click the notification to open the Downloads folder and select the image file.
How to Take a Screenshot With Chrome Extensions
The built-in methods for taking a screenshot on a Chromebook work well, but if you want even more options, you can always install Chrome extensions that give you more screenshot-capturing abilities. A few of our favorites include: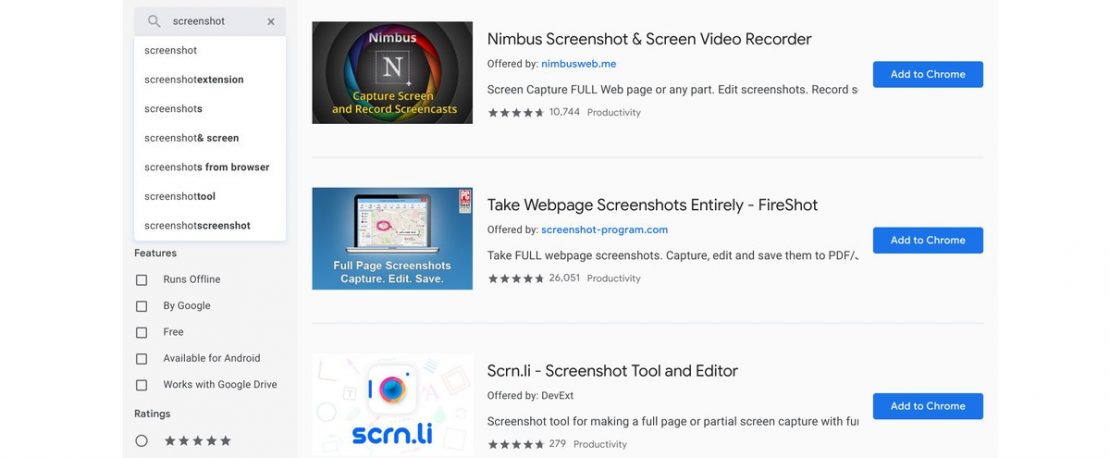 ====> Scrn.li:  Whole and partial screenshots, editing/annotation tools,
====> FireShot:  Whole and partial screenshots, editing tools, send screenshots directly to Gmail
====> Nimbus Screenshot & Screen Video Recorder : Whole and partial screenshots, editing tools, trim/crop tools, record video from screen and webcam.
All of the above extensions are free to use, and if you plan on taking a lot of screenshots on a regular basis, it might be worth getting an extension dedicated to doing just that to make your workflow a little smoother.
Screenshots in Tablet Mode
A number of Chromebooks are two-in-ones or tablets where you may not have immediate access to a keyboard. Don't worry, there is an easy screenshot shorthand you can use in tablet mode.
Simply press the Power and Volume Down buttons at the same time. Your screen will register the screenshot and take an image of the entire screen.
If you have a stylus that you are using in tablet mode, you should be able to use a stylus tool to take a screenshot of a specific area of the screen and annotate it as needed.
Copying Screenshots
Chrome OS does not save screenshots as copied images like Windows does when the Print screen button is pressed.

If you would like to simply copy a screenshot (for insertion into an image editor, for example), watch the notification that appears above the system clock.
Step 1 ====> Click the Copy to clipboard button
Step 2 ====> Then press Ctrl+V when you want to paste it.
Editing Screenshots On Chromebook
The screenshots captured by Chrome OS are ready to share, but if you want to do a little more with them, you should familiarize yourself with Chrome's built-in image editor. Here is how to access it.
Step 1 ====> Open the Downloads folder
Step 2 ====> Now double-click your screenshot to open it in the image viewer.
Step 3 ====> Click the pen icon in the bottom-right corner of the window to enter edit mode. Tools for cropping, rotation, and brightness adjustments will appear at the bottom of the window.
Step 4 ====> When you are done, click the pen icon again to finalize your edits.
The built-in editor does not allow you to save copies, so you may want to copy the image manually before working on it.
Chromebook Security
Chromebooks have superior security features, including something called sandboxing. Where you have all of your processes sharing resources on a regular laptop, on a Chromebook each app and each tab on the browser have their own pool of resources.
So if malware or another threat does manage to get through security, it will be trapped in that sandbox and unable to spread to other parts of the computer. When you close that app, the data deletes and the threat is gone.
What You Can Do on a Chromebook
With the recent explosion of web-based apps and the arrival of Chromebook apps and Android apps, there is very little you can't do with a Chromebook.
For example, while you cannot install and run the desktop version of Microsoft Office on a Chromebook, you can either use Google Office Suites, use Microsoft Office Online, or install the Android version of Microsoft Office. Those with support for Linux apps can even install a Microsoft Office alternative, like LibreOffice.
Editorial Picks
How to Check and Delete Voicemail on iPhone
How To Lock Apps On Any iPhone: App lock
How to Change Your iPhone Ringtone Without iTune
How To Update iPhone Software Without Problem