Hi guys, some of us only create WordPress posts on our desktop computer, some even use a laptop. This is a very nice way of updating our blog, but this has some limitation.
Sometime you may have issues with your personal computer, you might not be able to go along with it. At a time, you may be facing with the power problem, meaning you have no power to operate your computer.
Guy, I have a piece of good news for you, everything you do on your computer can be done on your smartphone. you asking is it possible? Yes, very possible.
You have to do me a favour, sit back and keep reading as I will be putting you through the whole steps to create WordPress post directly from your mobile devices.
How to Update Google Play Services on Android
How To Manage Google Play Store Apps: Download, Update, Uninstall
How To Download And Install Google Play Store
The Prerequisite for this to be Accomplished are:
====> Your Smartphone
====> WordPress log in details
====> Internet connection on your device
NB:
If you have your password synchronized to your Gmail account on Google Chrom browser, you don't need the password. Whenever you access your Gmail account on your mobile devices, you get your password on it right away.
Step by Step Guide to Create WordPress Post
Before we continue, we shall be using gadgetsright as a case study. I will guide you through the process I used to create WordPress post directly from my Android Smartphone. Here are the steps as follow.
Step 1 ====> Go to your browser, here we will be using Google Chrome. On the search area type your website.com name/wp-admin. (gadgetsright.com/wp-admin) and tap search to get this page.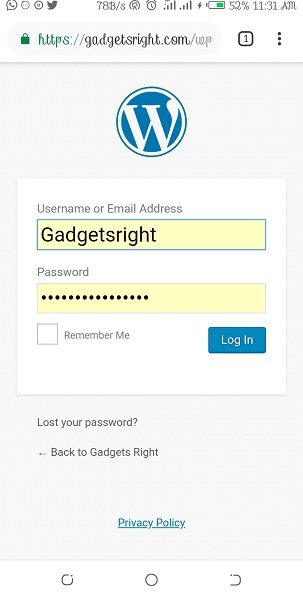 Step 2 ====> From the page above, provide your user name or email address and your password, then tap on Log in to continue. After login successfully,  you will be able to access your dashboard in a mobile format.
Step 3 ====> Tap on the + sign, then tap on the post to start to create your post, you will be able to access every other feature you have access to while using your computer.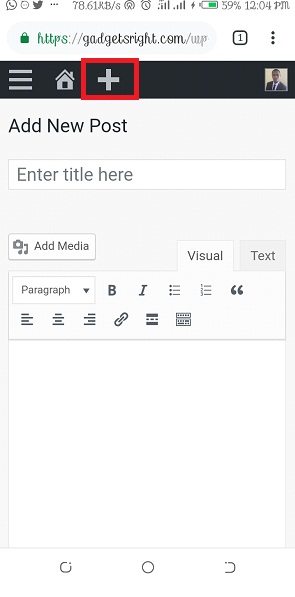 You can add media by tapping on Add Media. Stroll up and down to add other important features like Categories, Feature images.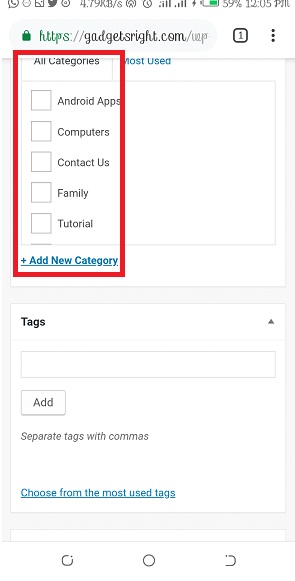 Step 4 ====> When you are now through with what you are doing and you are satisfied, then you preview and finally, you tap on the publish button to make your post alive on the web.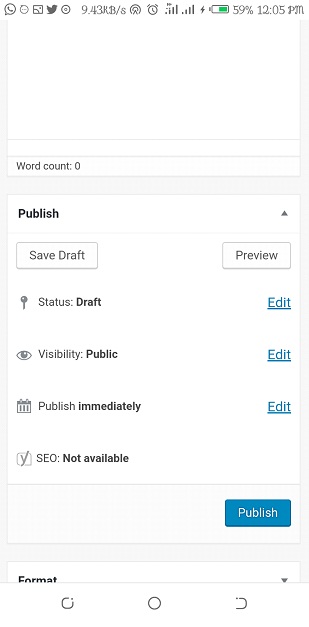 Finally
In conclusion, you can see it is very easy and simple to create WordPress posts directly from your mobile phone.
Therefore, you can publish your article anytime provided you smartphone is functioning well. If you have anything about this post, please drop your comment on the comment box below.