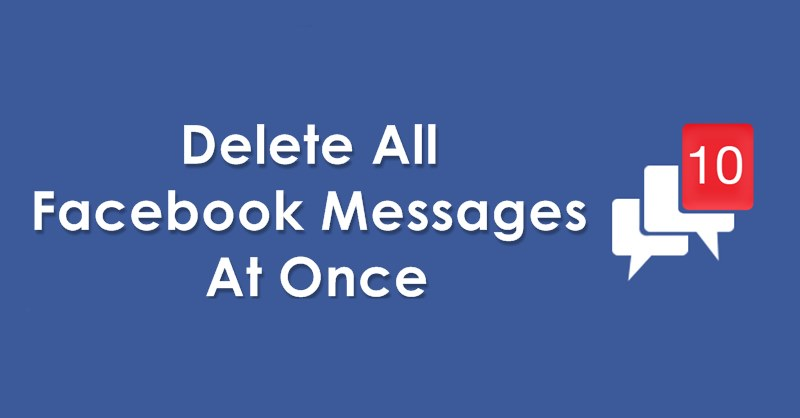 Deleting messages on Facebook is a bit hard and tricky, it is not like deleting messages from your email address which you can do with easy. Otherwise, Facebook keeps your messages between you (sender) and the recipient. Meanwhile, if you want to delete all Facebook messages in a single click you are at the right place.
Facebook intends to keep your conversation history in Messages and Facebook Chat intact. This is one thing I love about Facebook, they know and love how to keep conversation.
Deleting messages from Facebook requires you do it on each conversation, that is why I said earlier that it is a bit hard and tricky to delete all Facebook messages on your inbox on a single click.
On this same article, I shall discuss with you about method to delete all Facebook messages at once. As we all know that messages are private portion and is very sensitive area on Facebook.
We share many of daily routines works, habits and even share out personal images, passwords or many other things which we can manage to share publicly or privately as its demand from us, depending on whom  the messages is to be delivered.
Even Lovers enjoy to chat on Facebook but in some condition we are in serious trouble and we don't have time to delete all Facebook messages one by one.
To remove all conversion it takes huge time. If we have many friends that we had chat with, then it becomes most difficult and hard to delete all messages on Facebook.
So you need not to worry, here we are going to discuss in details the technique you will use to have your inbox cleared at a single click. Please do me a favour, hum, keep reading as you follow the technique.
What Do You Need To Delete All Facebook Messages On A Single Click
This method or technique is, but you need the following to delete every inbox message on a single click.
First Of all we all need to install extension into our web browser.
To delete complete Facebook chat messages with all of your friends in one single click, install an add-on or action on Chrome called Facebook Fast Delete Messages extension
Download them according to your browser where you want to use.
After installing any of the above given extension now proceed for further instructions.
How To Delete All Facebook Messages In A Single Click
Once installed, the extension is activated automatically. Now to delete your Facebook messages with only one click without having to open the individual conversation pages open your Facebook Message page. Here are the steps
Step 1: Log in into your account
If you really want to do anything, or make any adjustment at all on your account, firstly you need to access your Facebook account by providing your details on the require space.
Related articles
How To Change Birthday Facebook On Facebook Account
How To Delete Facebook Notifications On Facebook
Facebook Status: Steps On How To Delete Facebook Status
How To Delete Messages On Facebook Messenger
How To Use Facebook Messenger On Computer (Desk Top)
Step 2: Click your Facebook message page
It is time to access your Facebook message page in other to delete all Facebook messages at once.
As soon as you logged into your account, click on the message icon to access your messages.
Then you will see two extra buttons, one at the top bar and another highlighted in red.
Click these buttons to permanently delete your messages and conversations.
Finally on deleting all Facebook messages in one click.
In Conclusion, we hope you enjoy this amazing way to delete all Facebook messages at once. Don't forget to share it with others. For any assistance, feel free to comment below.