Before we will proceed to the process of delete Quora account permanently, I will like us to have better understanding of Quora itself, weather it is reasonable to delete any account on the site.
 First and foremost, what do you understand by Quora? What do you know about this amazing community website? What are the important of this site? This and many more question you will be able to answer as you keep reading this article.
What is Quora?
Quora is a question-and-answer site where questions are asked, answered, edited and organized by its community of users. This answer was quoted from Wikipedia.
This site was founded as far back as 2009, precisely the sixth month of the year, with this moto: best answer to any question. Let me come in from here, Quora provide various answers to any question you may imagine and ask from the community members.
Site Traffic: Effective Ways Of Using Facebook To Increase Site Traffic
Capitalizing upon human curiosity is an ingenious idea that would lead to the creation and launch of Quora in June, 2009. The website, co-founded by two former Facebook employees, Charlie Cheever and Adam D'Angelo now claims that it received more than 80 million monthly unique visitors, with half of them coming from the U.S.
So far, the question-and-answer website has managed to raise $141 in venture capital funds and while it doesn't look ready to go public yet, it is definitely a company to watch.
Not to waste much of our time, let us move ahead to the method or process of deactivating an account from this site or permanently delete your account from Quora.
How To Permanently Delete A Quora Account
This is the step by step guide about deleting any Quora account permanently. However, at the end of the article, you will have better understanding on how to delete account on Quora.
It is pretty easy and fast to create a Quora account, You just have to head over to Quora.com and enter your email and password, you may just even use your google or facebook account directly to log into Quora provided you have any of these.
Though the account creation process is very easy and fast as I said earlier while on the other hand, the deletion process is not like that, that is it is a bit hidden.
You will not find a simple delete my account button on the Quora account. But, you will find a similar one, Keep reading the rest of the post.
Best Websites To Watch TV Series Or Shows Online For Free
Now the process in details
First, log into your account by visit Quora.com on your browser.
Now First Click on your name at the top right side of Screen where your profile pics is shown.
Click on Settings from the drop-down options.
Next, Go to the Privacy Settings.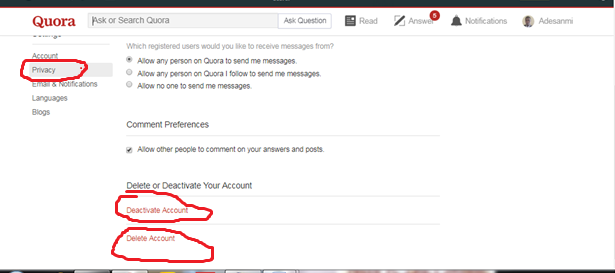 At the end of this page, you will see two red links. One for deactivating your Quora account and another one for deleting your Quora account.
Everything thing or connection between you and Quora slowly comes to an end when you hit the red "Delete button".
However, once the delete button is activated, you will be given a period of 14 days grace to reconsider getting your account back. After the 14 days grace period, your Quora account will be deleted permanently.
You would have to create a new Quora account if you want to get back in.
How To Deactivate A Quora Account
It is basically the same with the deletion process. But don't be confused, deleting your account on Quora and deactivating are two different things entirely on this platform.
Deactivating your account on Quora will not permanently delete your Quora account. The questions and answers you have will still be in their database which you will have access to when you decide to activate your account again. Even your account details will still remain intact on Quora.
Delete A Quora Account Versus Deactivate A Quora Account
Deleting Your Quora Account Means that your content (Questions and Answers) will be no longer available on Quora, and you can never recover it. You will not receive any emails or notifications from Quora. Moreover, if you delete your Quora account, you cannot get that account back ever, but you can create another one at any time.
Deactivating your account means that your content (questions and answers) will still be live on the site, but you will no longer receive any emails or notifications from Quora. If you deactivate your account, you can reactivate it anytime you want.
Best Putlocker alternative sites to watch free movies online
If this article helped you in one way or the other, do share with your friends on any of the social media. as well, if you have any contribution or comment pass it across on the comment box bellow.
Related articles
How To Use Facebook Messenger On Computer (Desk Top)
Pokemon Games:Top Best Pokemon Games Of All Time To Play