Truecaller is a mobile app developed that finds mobile number details globally given a telephone number, who are either using this app or their phonebook contacts are synced and has an integrated caller ID service to achieve call-blocking functionality and social media integration to keep the phonebook up-to-date with pictures and birthdays.
Truecaller was developed by the Swedish company called True Software Scandinavia AB. The app is available for Android, iOS, BlackBerry, Symbian, Windows Mobile and Windows Phone.
There are many amazing features in Truecaller to learn about. Here will do our best to give you an overview of the functions you will need to know about. When you open Truecaller you will see 3 bottom tabs, they are: 
The Call tab which you will see first when opening the app
The Message icon on the left
The Contacts icon on the right.
Call Tab: Call tab helps you to call through Truecaller, see your call log enriched with Truecaller data such as names and photos, block calls, do fast actions like swipe to call/text and even see your contacts' availability.
Message tab: The messages tab is used to send texts in a new smart way. It is not just a regular messaging function but it includes all of the identifying and blocking features that Truecaller offers. It blocks spam SMS for you, identifies senders and even has other amazing features like un-sending a text.
Contact tab: The Contact tab is to scroll in your contacts so you never have to switch apps to make a call.
Download and Install TrueCaller on Android Phone
For the purpose of this article, we used a Tecno Spark KA7 to demonstrate the installation process and features. First of all, we need to download Truecaller app from Google play store. Here are the steps:
Step 1 ====> After Power ON your Android phone, tap the Menu or Home button
Step 2 ====> Locate Google play store app and tap on it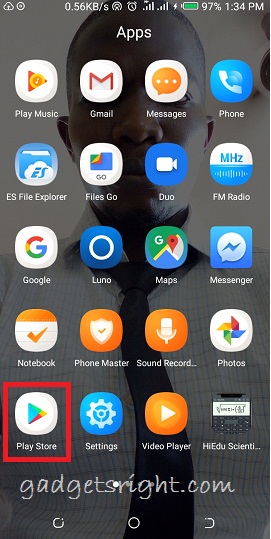 Step 3 ====> On the search bar, type Truecaller and tap search
Step 4 ====> Now tap the install button to install Truecall on your Android device
Step 5 ====> After installation, tap open to launch the app for the very first time on your Android smartphone.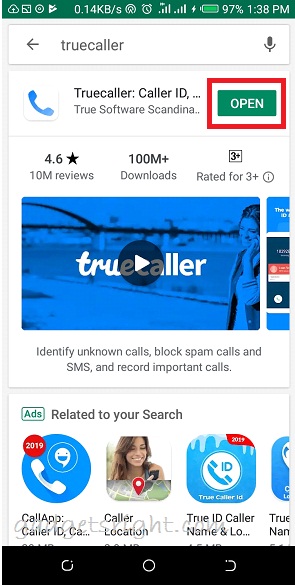 Step 6 ====> From the screen, tap get started. Then make Trucaller your default settings.
Step 7 ====> Now provide your mobile number in the space provided and tap continue. It will begin to ring, you don't need to answer the call, just wait till see a successful message on your phone screen.
Step 8 ====> Now create your profile using Facebook, Google or manually on the app. Here we used the Manual method, you are to provide your names and E-mail address and tap continue.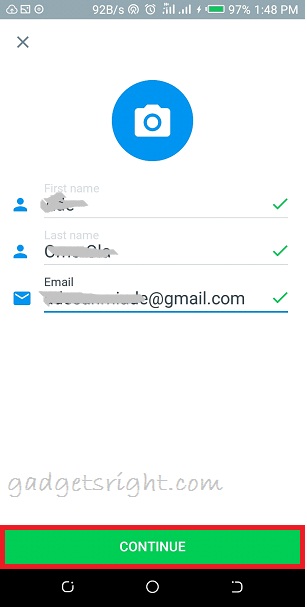 NOTE: Another import feature of this app is the ability to help back up your data to Google drive. You can back it up right away or later, here we back it up right away. If you have multiple mail account on your device, you have to select among them.
Step 9 ====> Once your phone number has been successfully verified, you will redirect to the Call screen.
How to Block numbers on Android phone via Truecalle r App
====> The first option inside block settings is the Block Spammers checkbox. Leave this checked if you want to eliminate unwanted calls.
====> The second setting is the Block Hidden Numbers checkbox. Leaving this checked will block any number that shows as unknown.
====> The third option inside block settings is How to block calls. Choose either; Reject Automatically or Ring Silently.
General Settings on Truecaller App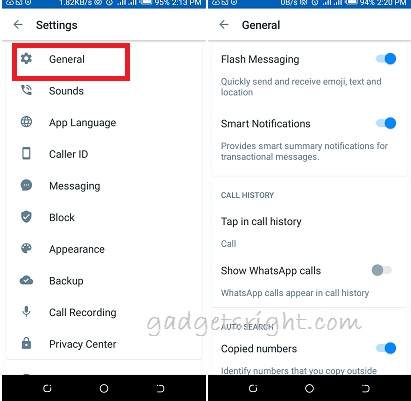 Step 1 ====> Availability is the first setting within General settings. Toggle this switch off to hide your availability.
Step 2 ====> Tap in call history. Here you can select either "Call" or "View profile".
Step 3 ====> Who can see my profile information? By default, this setting is set to "Request Only". You can switch it to, "Public".
Step 4 ====> Copied numbers. Leave this setting on if you want Truecaller to identify numbers you copy anywhere.
Step 5 ====> Messaging apps. Turn this on to identify unknown senders in WhatsApp, Viber or Telegram. This setting needs notification access.
Step 6 ====> Auto download images. By leaving this setting off, Truecaller will only download profile images while connected to WiFi. If you don't mind profile images being downloaded using your data, you can switch this on.
Step 7 ====> Dial pad feedback. You can select between; Silent, Vibrate only, Sound only or Sound and Vibrate.
Step 8 ====> Speed dial. This is where you can assign a speed dial number to your contacts.
Step 9 ====> Missed calls notifications. Turning this ON will allow you to see names and photos of missed calls. To use this option, you need to allow True caller notification access.
Step 10 ====> Remind me of missed calls. Leave this on and you will receive a reminder when you forget to return a call you missed
Sound Setting on TrueCaller App
Here you can set the ringer volume and choose your ringtone.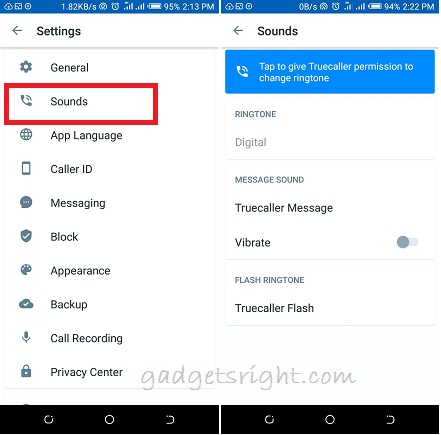 Caller ID on TrueCaller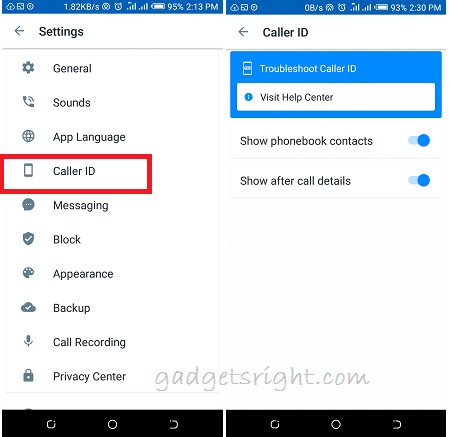 On this screen, you can adjust Caller ID settings such as show unknown callers, phonebook contacts, after call details and download True caller for SMS.
How to know if someone has read your text messages
Block unknown caller from your phone
Appearance Settings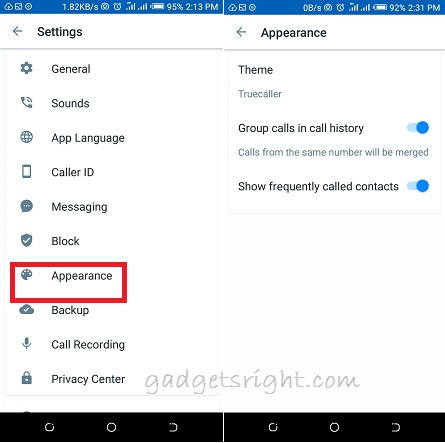 Select either the default Truecaller or Dark theme.
Hope that clarifies how it works and let us know if you have any other questions.
Duggung deep:
Download TrueCaller from Google Play Store