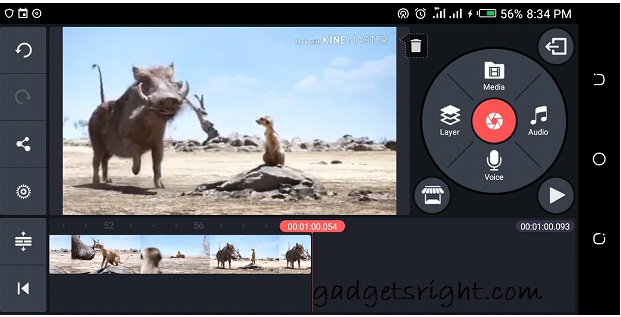 KineMaster is a full-featured video editor for Android. KineMaster has powerful tools that are easy to use, like multiple video layers, blending modes, voiceovers, chroma-key, speed control, transitions, subtitles, special effects, and so much more.
Using the best video editing apps means everyone from children to professionals can get involved with film production with a range of smart devices. If you don't have a lot of fancy kit and you haven't had any training, these apps are an exciting way to make videos look glossy and professional. And they have the added bonus of being portable – enabling you to play around with them on the move.
There is a good chance you still have those videos you took from the last get-together with your friends. They are sitting in your device's gallery waiting to be edited. The thought of transferring those videos to your computer for editing may have crossed your mind, but it's not going to be necessary.
Kinemaster is perfectly capable of editing your videos. It's a feature-rich video-editing app for Android that has all the essential features to give your videos your own personal touch for free.
How to Add Music to Your Videos
Videos are a lot better when you add music. For example, let's say that you want to add a song you have on your device. Here is what you need to do:
Step 1 ====> Place the red line at the bottom where you want the song to begin.
Step 2 ====> Tap on the music icon, and choose the song. When you choose your song, a red plus sign will appear.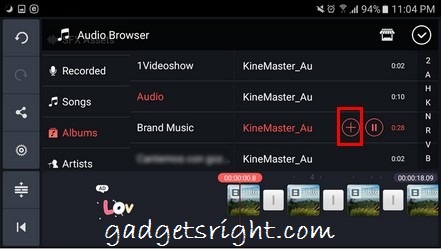 Step 3 ====> The audio will start to play so you can confirm if that is the song you want to add.
Step 4 ====> If you are sure is the song, tap on the red plus sign, and the name of the song will appear at the bottom.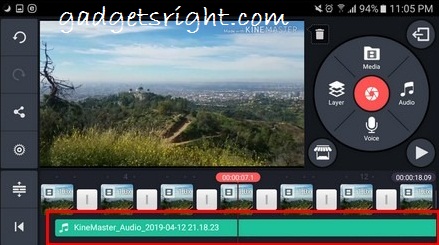 How to Use the Transition Feature in Kinemaster
Adding a transition to your videos is an easy task. Add a video like you normally would, but this time chooses a few more. You'll notice that in between each video there will be a grey square with a line in the middle.
Step 1 ====> To add a transition, tap on that square.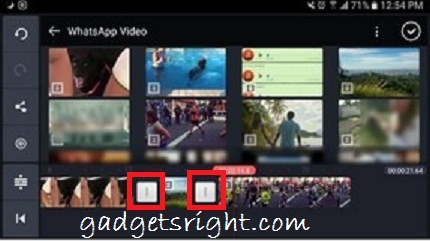 Step 2 ====> Tap on the transition effect option and various options. You can choose from options such as 3D transitions, classic, fun, picture-in-picture, powerful, presentation, text, and more.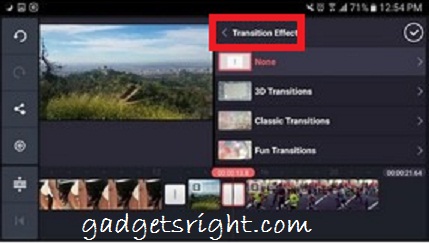 Step 3 ====> When you are done adding a transition, tap on the checkmark at the top.
Step 4 ====> To preview the transitions, slide the video to where you want it to begin and tap on the play button.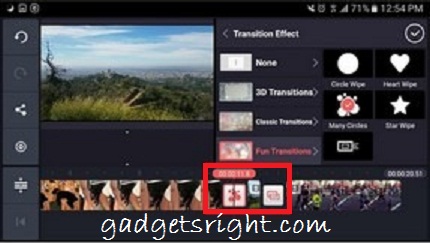 How to Trim a Video Using Kinemaster on Android
To trim your video you will need to upload it first.
Step 1 ====> To add your video, tap on the plus + sign in the middle circle, then select the ratio of project you want.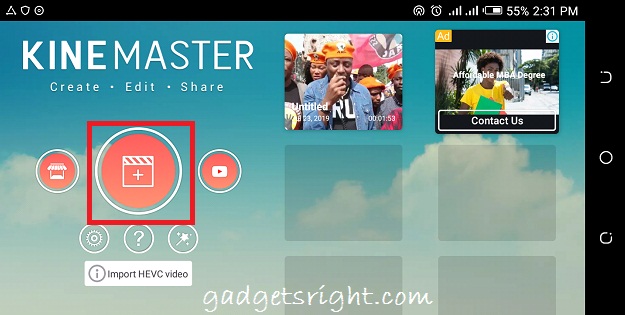 Step 2 ====> Once your video is added, tap on the checkmark at the top right.
Step 3 ====> To trim your video, tap on the video at the bottom, the border will turn yellow. Towards the top left, you will see a scissor icon.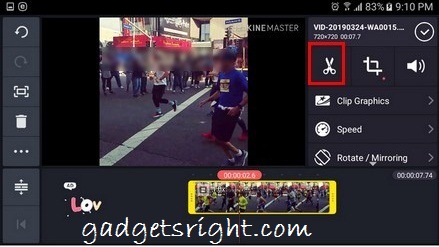 Step 4 ====> Now tap on it and new trimming options will appear in that same area. If the options are greyed out, slide the video back and forth so the options light up.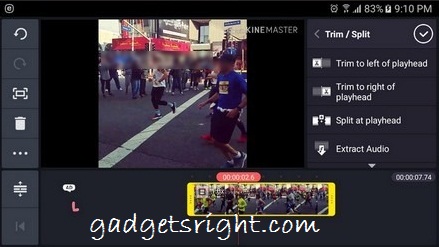 You can trim to the left or right of the play head, split at play head, or split and insert freeze frame. Choose the option that best fits your needs.
Editorial picks
How to Add Text to a Kinemaster Video
Adding text to a video is a fundamental and essential tool.
 Step 1 ====> To add your text and personalize it too, tap on the Layer button to the left of the red camera button.
Step 2 ====> When you tap on the option, a new window of options will appear. The text option will be towards the bottom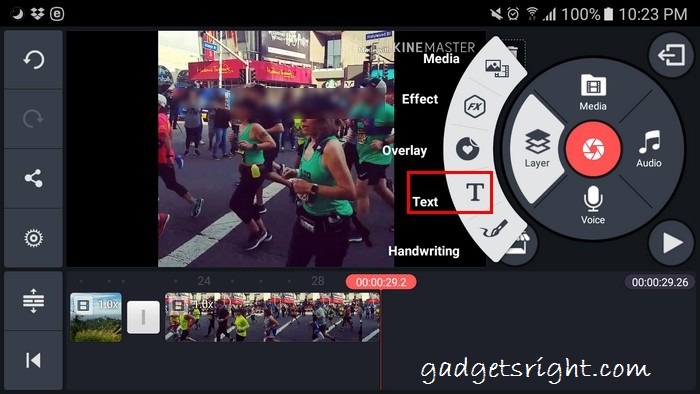 Step 3 ====> Now type your message, and tap on the OK button. Your text will be small at first, but by dragging it out, you can make it bigger.
Step 4 ====> Tap on the uneven As, and you can change the font of the text. The animation option will give you ways you can introduce the text such as slide down, slide up, clockwise, drop, and more.
Step 5 ====> Swipe down and you can also add things such as shadow, glow, outline, background colour, full-width background, and more.
Step 6 ====> To change the colour of the text, tap on the white circle to the right of the scissor icon.
How to Do a Voiceover in Kinemaster
Once you have added the videos, you want to add the voiceover too. Here are the steps:
Step 1 ====> Tap on the mic icon.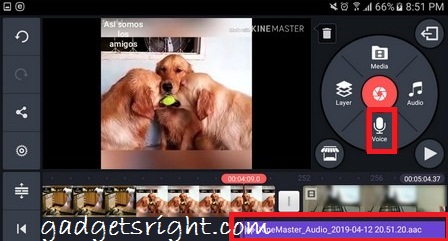 Step 2 ====> The recording will not start until you tap on the Start button, but you can see that the mic is on because a green light will begin to flash.
Step 3 ====> Once you tap on the Start button, the parts of the video that the voiceover will be added to will be highlighted in red.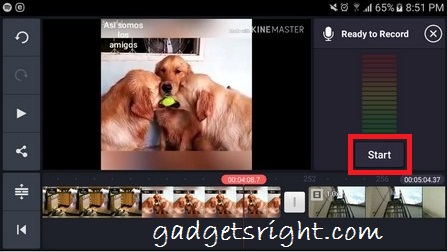 Step 4 ====> When you tap on the stop button, the part of the video that was in red will now have a purple line below it. You will also see additional options such as to review, re-record, loop, voice filter, voice volume, and trim.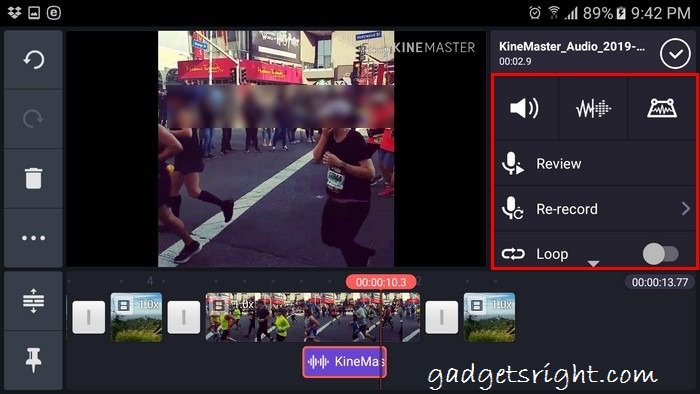 Final Words on KineMaster
Well, this was all in this tutorial, Edit videos in KineMaster. And I hope this article to be the one you were looking for. If you have any questions or doubts about KineMaster. Do feel free to write down a comment.
Editorial articles:
How to Use YouTube Without Gmail Account
Complete Steps on How to Create Gmail Account
Kinemaster is a free editing app for Android full of great, free features. Once you get the hang of how to use it, it is not as intimidating as it was in the beginning. What do you think about the app?