Dark themes are all the rage, with big-name apps like Facebook Messenger and even OEMs like Samsung getting in on the trend. Not to be outdone, Google is rolling out a dark mode to its popular Chrome Android browser.
Google is adding a dark mode for its Chrome Android, and just like the version for Windows 10, the feature is rolling out slowly, which means that depending on when you try to enable the new colour scheme, you may need to use some extra steps.
The new dark mode is available in the latest stable version of Chrome, so you don't need to mess around with experimental apps like Chrome Dev or Canary. You just need to enable a flag, then toggle a setting.
But even though it is in stable Chrome, it is a beta feature, so there are some bugs that you might see as deal breakers.
Currently, the version of dark mode in Chrome stable only themes Chrome's interface, not websites, though this may change as the feature gets refined.
Methods to Enable Dark Mode on Chrome Android
The following methods may not on Android prior to 4.0. But you can surely give them a try.
Method 1:  Enable Reader Mode on Chrome Android
Reader mode makes the content simple removing all the Ads and unnecessary JavaScripts. Here are the simple steps to make Chrome Dark Mode by enabling Reader Feature.
Step 1 ====> Open your chrome browser and tap 3 dots at the right top of the Chrome App.
Step 2 ====> Then tap settings and look for the option Accessibility.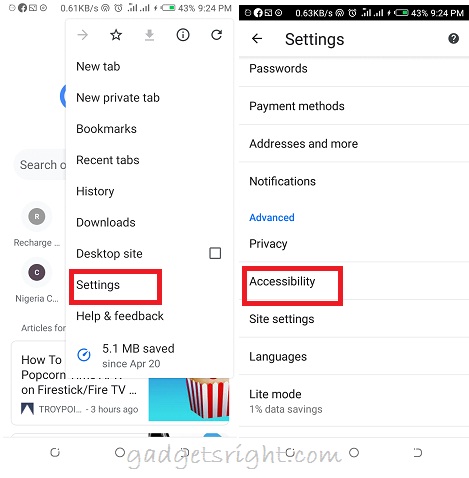 Step 3 ====> Under Accessibility Turn ON the Simplified view.
Step 4 ====> Once the Simplified view is enabled open any web page and you will see the option at the bottom Show Simplified View. Just tap on it.
Step 5 ====> Now in Simplified View, again open settings of Chrome and there you will see the option Appearance.
Step 6 ====> Here just increases the intensity of Dark in the given options.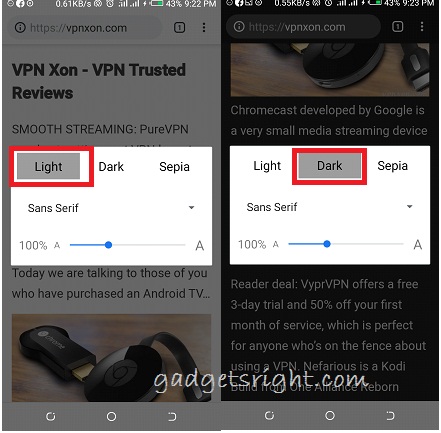 NOTE: The above method may not seem very reliable because you need to switch each time onto the simplified view to get dark Chrome. If you are comfortable with it then you are good to go.
Method 2: Using Chrome Flags to Enable Dark Mode on Chrome Android
Here are Simple Steps to Enable Dark Mode on Chrome Browser officially by means of Experimental Flag settings
Step 1 ====> Update the Chrome to the latest version from Play Store.
Step 2 ====> Open the Browser and type the URL; chrome://flags
Step 3 ====> Now Search for the term Dark.
Step 4 ====> Here you will see two options Android web Contents Dark Mode and Android UI dark mode.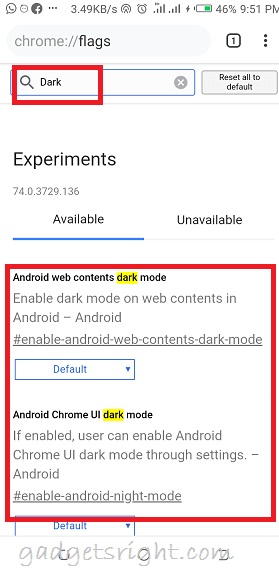 Step 5 ====> Web Contents Dark Mode will make the content on the site's dark while the UI dark mode will make the Chrome UI dark leaving the content on the site unaffected.
Step 6 ====> Make your choice accordingly and relaunch the App.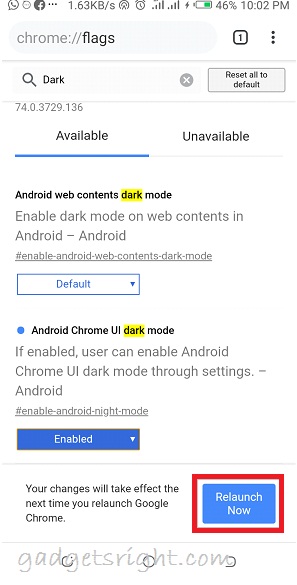 Step 7 ====> You can find the Dark Mode Option under settings of Chrome if you wish to switch.
Don't miss these:
Enable Dark Mode: How to Enable Dark Mode for Gmail
How to Enable Dark Mode for YouTube