Back to some years ago, Facebook announced plans to break its flagship app into two different part: one to browse the social network and the second called Messenger, to chat with friends. Messenger, Facebook said, would be faster than the same function baked into the main app, since users will not need to download their news feed to chat. At time thing can be annoying as Facebook messenger notifications could drain your phone battery as its gives un-wanted sound.
Change Facebook Name: Complete Steps On How To Rename FB Account
Facebook Messenger is the somewhat useful, if at least partially controversial, messaging app from Facebook. It is a means of sending text messages to groups and individuals with whom you have a Facebook contact.
A free messenger app that does not rely on you knowing someone's phone number, Facebook Messenger is one of the best useful alternative to WhatsApp any devices that support these apps.
One of users' common complaints is Facebook messenger notifications, which are both more intrusive and more difficult to disable. While an app's notifications can usually be tweaked in its settings, if you look at Messenger's settings, you are only given the ability to turn off notifications for an hour or until 10 a.m the following morning.
How To Adjust Facebook News Feed To Sort What You See
How switched between facebook messenger notification (turn on and off)
How to disable Facebook messenger notification on Android
Turning off notifications on Android devices requires a few more steps than iOS. To turn off push notifications
1 ===> Go to your device's main settings, and tap to open the Apps menu.
2 ===> Select Messenger, uncheck "Show notifications,
3 ===> then confirm.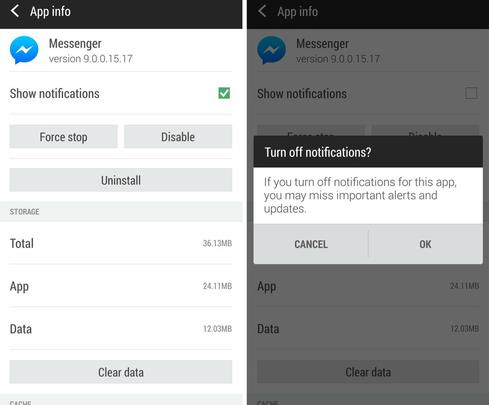 Though the move to Messenger got rid of the chat head pop ups for iOS users, they are still present in the Android version.
To rid yourself of Facebook messenger notifications completely, you need to turn this off, too.
1===> Open your Messenger app,
2 ===> navigate to the Settings page.
3 ===> Tap Notifications > Chat Heads > Off.
How To Block Facebook Friends From Posting To Your Timeline
How To Unfriend Facebook Friends Without Them Knowing
How turn Facebook messenger notification on the online Messenger app
To turn off Messenger notifications for all conversations on the online Facebook Messenger app:
1 ===> Open the Messenger app.
2 ===> Tap the menu button and select Settings.
3 ===> Use the checkbox next to Notifications to turn notifications on or off.
To turn off notifications for just a single conversation:
1 ===> View the conversation
2 ===> Tap the menu button and select Mute conversation
3 ===> Select ON, OFF or OFF for 1 hour.
How to disable Facebook messenger notifications on iOS
To turn off Facebook messenger notifications on iOS, you will need to
1===> Visit your device's Settings page
2 ===> tap Notification Center.
3 ===> Scroll through your apps until you find Messenger
4 ===> Tap to browse your options. You have a variety of settings, from tweaking the alert sounds to choosing where notifications appear. By default, you will see notifications banner when your screen is locked, plus alerts within your Notification Center.
5 ===> To turn off alerts completely, switch your alerts from Banners to None at the top, and then turn off each option below.
Change Facebook Password: Simple Steps On How To Change Facebook Password
How to turn off Facebook messenger notifications on iPhone Messenger app.
To turn off Facebook messenger notifications for all conversations on the iPhone Messenger app:
1 ===> Open the Messenger app and tap Settings
2 ===>Tap Notifications, then choose whether you will like to Turn off for 1h or Turn off until certain time
To turn off notifications for a single conversation:
1 ===> Swipe left on a conversation
2 ===>Tap Mute
3 ===> Select for 1 Hour, until certain time or Until I turn it back on