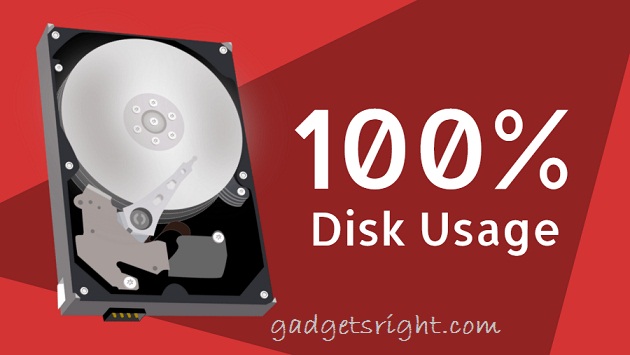 Windows 10 users who experience issues such as slow response time may look into their Task Manager for guidance. Task Manager provides you with a wealth of information regarding the processes that are currently running on your machine. Among the metrics you can monitor with Task Manager is your computer's disk usage. If you see a disk usage of 100% your machine's disk usage is maxed out and your system's performance will be degraded. You need to take some corrective action. Meanwhile, before we move further, let quickly look at this term: wsappx
What is Wsappx?
Wsappx is a process which you can see in the Windows Task Manager and was designed to handle Windows Store (Microsoft Store) apps for Windows 8 and Windows 10. In other words, this process will handle the installation, uninstallation, and updates for Windows Store apps.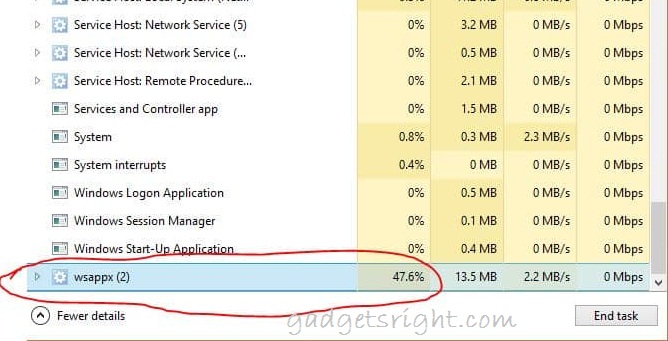 Wsappx comprises two background services, specifically the AppX Deployment Service (AppXSVC), and Client License Service (ClipSVC). The first one offers infrastructure support for the deployment of Store apps. The Client License Service (ClipSVC) is responsible for Microsoft Store's infrastructure.
In most cases, Wsappx can be easily noticed in Task Manager as the main factor regarding high disk usage. However, it can also be listed under processes with different names, so here's how you can check if Wsappx is the main issue for high disk usage in your case.
What is Task Manager?
Task manager is a system monitor program used to provide information about the processes and programs running on a computer, as well as the general status of the computer. Some implementations can also be used to terminate processes and programs, as well as change processes' priorities.
Task Manager becomes very handy when there is a need to close/terminate a particular running programs that is frozen, not responding, taking too much of your CPU resources or simply not behaving properly. It can be started by pressing Ctrl + Shift + Esc, or by right-clicking on the Windows taskbar and selecting Task Manager.
When you open Task Manager, there are seven tabs: Processes, Performance, App history, Startup, Users, Details, Services.
The Processes tab: This shows a list of all running processes on the system. This list includes Windows Services and processes from other accounts. By default the processes tab shows the user account the process is running under, the amount of CPU, and the amount of memory the process is currently consuming. There are more columns that can be shown.
Disk usage (DU): Refers to the portion or percentage of computer storage that is currently in use. It contrasts with disk space or capacity, which is the total amount of space that a given disk is capable of storing. If you are reading this article, then most probably you have a problem with the Disk usage being at 100%. If your Disk usage is at 100% or near it, then it won't have any spare capacity to perform additional tasks which leads to slowing your whole operating system down or even making it unresponsive.
This enormously high Disk usage is a quite common issue for Windows 10 users. Good news is that it is possible to solve this problem by performing certain actions. In this guide we are going to show you several methods how you can decrease your Disk usage.
Symptoms of 100% Disk Usage Windows 10
How do you know you have 100 disk usage Windows 10? In the Task Manager, under the Process and Performance tab, the disk utilization reaches 100%, leading to lagging and unresponsive system. The system starts freezing until disk usage reduces from 100%.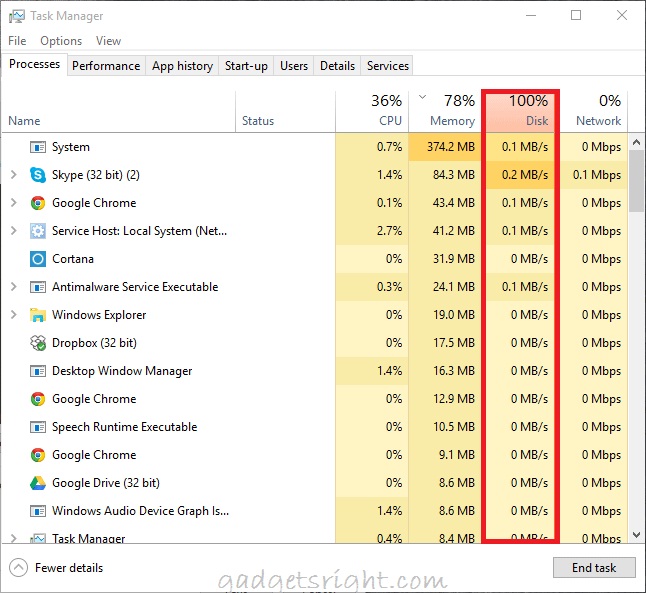 In addition, the system event log contains numerous events with Event ID 129, which represents resets of the disk controller. If you expressing any of these on your machine, then some issues need to be resolve.
Truecaller for PC, Download and Install on Windows 10, 8, 7
How to Fix 100% Disk Usage on Windows 10 Task Manager
As we mentioned above in this article, there are various ways or method one can engaged to fix 100% disc usage on Windows 10. You are very lucky to land yourself on this site as you will be able to deal with the issue of 100% disc usage on your computer running Windows 10.
Method 1: Restart your system
You know from experience that restarting your machine can often resolve all kinds of issues. Your Windows 10 100% disk usage problem is no exception.

While taking this route may not help you find out the underlying reason for the problem, if it goes away, that may be sufficient for you. Be sure to use the Restart option which starts your system in a fresh state as opposed to the Shut Down option which preserves your system state and may not resolve your disk issue.
Method 2: Disable Antivirus Software
If you have installed some antivirus or anti-malware programs on computer, you can temporarily disable them to see if they are the cause of your 100 percent disk usage problem. If your computer's disk usage returns to normal, you may need to contact the software vendor to see if they can provide some help.
If no improvement is offered by the vendor, you don't need to worry too much. Microsoft has its own default anti-malware, Windows Defender. It's automatically enabled no matter you have other antivirus applications installed or not. So even if you disable the antivirus programs you installed, Windows Defender is always there.
Method 3: Disable Windows Update Service
Some of our users suggested that Windows Update Service could also bring 100 disk usage Windows 10. You may just have a try to disable it and check later.
Step 1 ====> Run services.msc and press OK.
Step 2 ====> Scroll down to find "Windows Update" and double-click on it.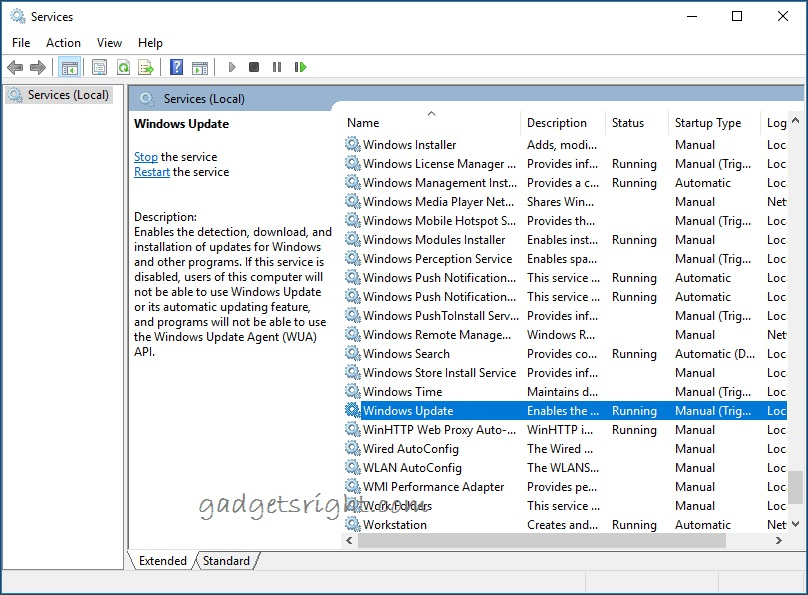 Step 3 ====> In the pop-up window, drop down the Startup type box and choose Disabled. Then press Stop, Apply and OK orderly.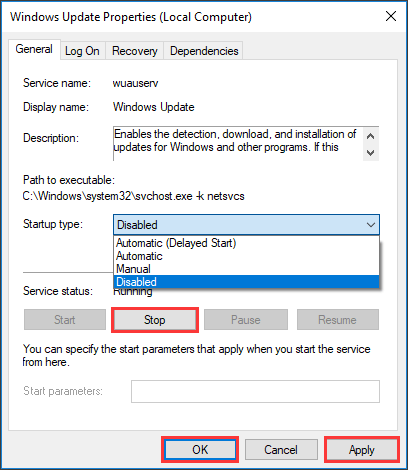 Method 4: Update Windows
In the above method, we talked about disable windows update services, here again we are about to talk about Update Windows. Yes, sometimes it happens like that.
Installing the latest updates can often resolve mysterious problems with your Windows 10 system. Check if you are up to date by going into the Update and security section of the Windows Settings app.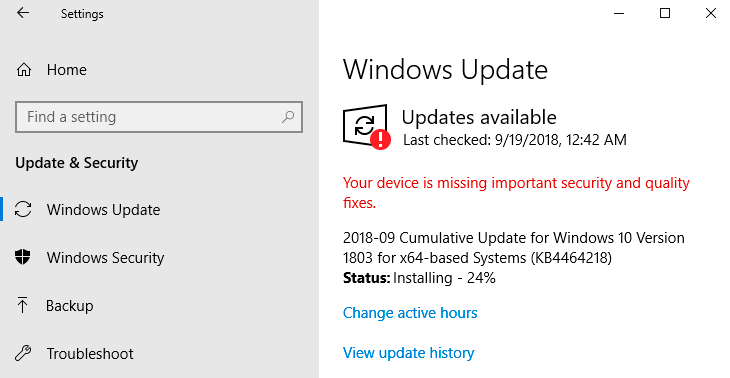 You can check for new updates and install them if they are available. This may improve the overall performance of your system including that of your hard drive.
Method 5: Disable Windows Search
A known bug in Windows 8 and 10 can cause a search loop that can be the cause of your high disk usage. To temporarily stop the Windows Search facility and see if it improves your disk issue:
Step 1 ====> Open an admin prompt
Step 1 ====> Enter the command net.exe stop Windows search.
This will stop Windows search from running until the next time Windows is restarted.

If it turns out that Windows Search was responsible for your Windows 10 disk usage reaching 100%, you can disable it permanently by following this procedure:
Step 1 ====> Press the Windows key + R, enter services.msc and hit Enter.
Step 2 ====> The services window will open.
Step 3 ====> Select the Windows Search entry and double-click it to update its properties.
Step 4 ====> Select Disabled under Startup type and the OK to save your changes.
Method 6: Change File Explorer Options
Another  method is to change file explorer option on your computer, here is what you need to do.
Step 1 ====> Open Windows 10 File Explorer, and then navigate to View and click Options.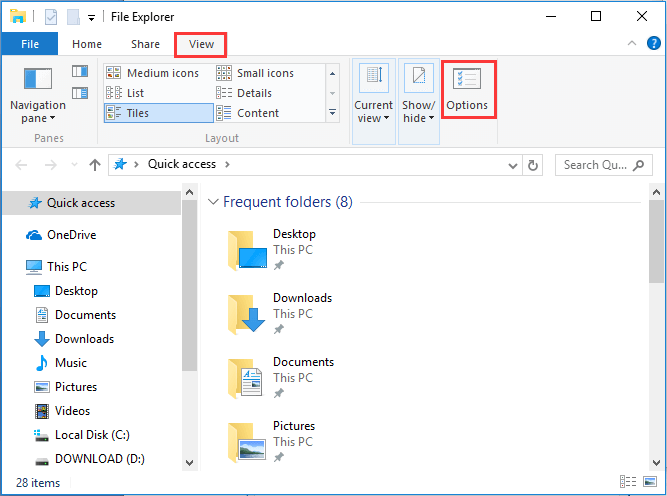 Step 2 ====> Switch to the Search tab and UNCHECK these two options:
====> Include compressed files (ZIP, CAB…)
====>Always search file names and contents (this might take several minutes)
Step 3 ====> Click Apply and then OK.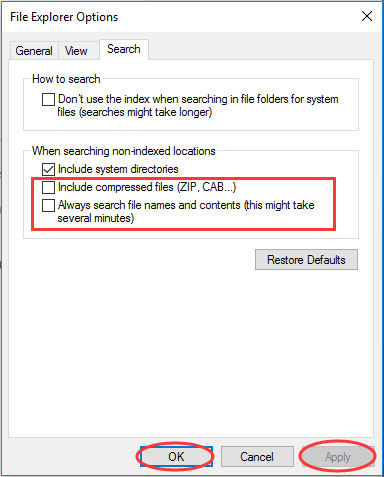 Method 7: Stop the Superfetch Service

Another Windows 10 feature that can cause problems is the Windows Superfetch service. You can disable this service temporarily in a similar fashion to Windows search with the command: net.exe stop superfetch. To disable the service permanently, use the same procedure as for disabling Windows search.
Editorial picks:
How To Install Windows 10 On PC From USB
How to disable windows 10 notifications
How To Reset Forgotten Windows Password
Different Ways To Change Window 10 Password
Top Best Laptop Computers you Needs in 2017 and Beyond
How to Recover Data from Dead Hard Drive
Method 8: Reset Virtual Memory
Virtual memory is a portion of your hard drive and is regarded as an extension of your computer's physical memory. When the RAM is not enough to perform a task, Windows will temporarily store files in virtual memory, and swap them back to RAM when required. However, unreasonable virtual memory may lead to Windows 10 high disk usage. Here is how to reset virtual memory:
Step 1 ====> Press Win+Pause/Break keys to call out System information.
Step 2 ====> Then choose Advanced system settings on the left panel.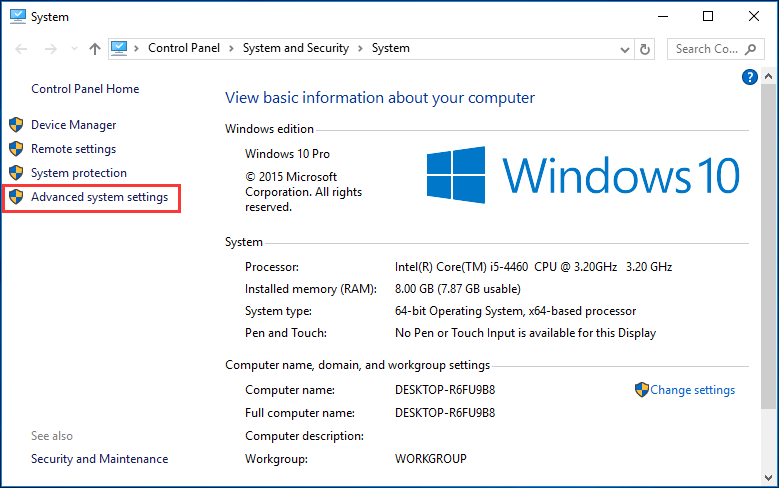 Step 3 ====> Go to the Advanced tab, and click Settings.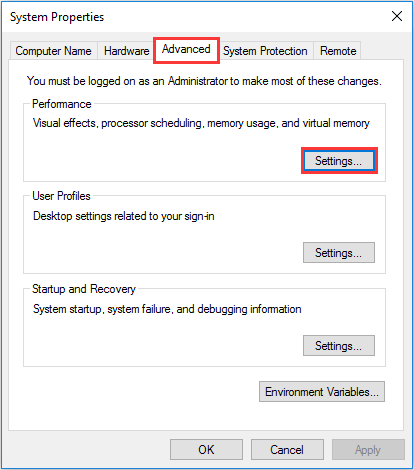 Step 4 ====> Go to the Advanced tab, and choose Change… in the Virtual memory section.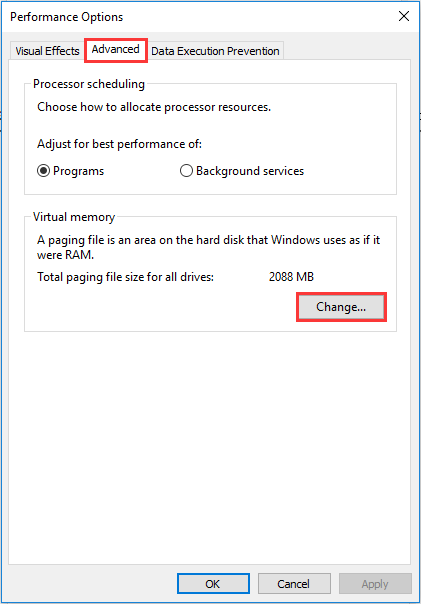 Step 5 ====> Make sure Automatically manage paging file size for all drives is NOT checked. Then highlight your system drive and customize the Initial size and Maximum size for your virtual memory. Finally, click Set, and then OK to continue.
====> Initial size: this value can vary depending on your computer. If you're not sure what value to enter, just enter the recommended number.
 ====> Maximum size: it is recommended to set this value 1.5 times the size of your physical RAM. If you PC has a 4GB (4096 MB) RAM, the value should be no more than about 6,144 MB (4096 MB x 1.5).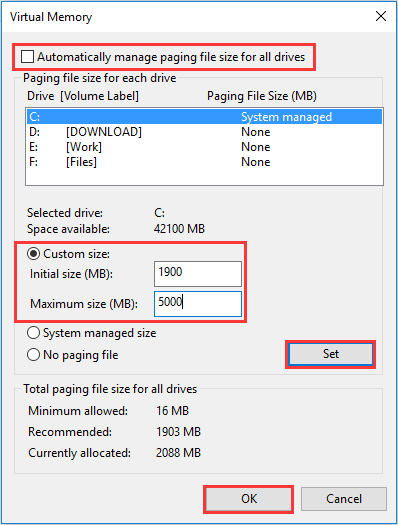 Step 6 ====> Now it is time to clear all temporary files on your PC. Press Win+R keys to call out the Run dialogue, then type temp and hit Enter. This will invoke Windows Explorer, with your Temp folder open.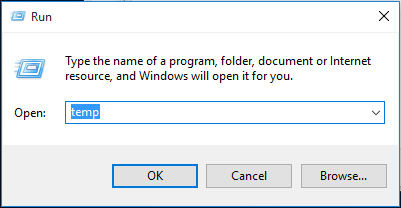 Step 7 ====> Select all the files in the Temp folder and delete them.
Wait a few minutes and see if Windows 10 100 disk usage is fixed.
Method 9: Change Energy Options
The performance of energy option can affect 100% disk usage problem, which is why we need to change from Balanced to High Performance
This change of energy settings seems to have worked for a number of users who have experienced the 100% disk usage on Windows 10. Use this procedure: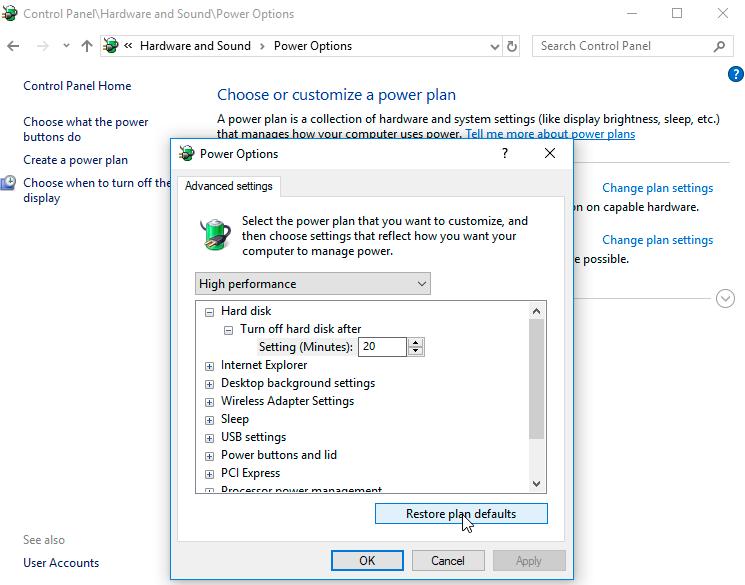 Step 1 ====> Go to Power Options
Step 2 ====> Change plan settings
Step 3 ====> Change advanced power settings.
Step 4 ====> Select the High-performance option from the drop-down box and make sure all plan settings are set to their default
Method 10: Uninstall Any Flash Player Update
Uninstalling any flash player update is also reported as a good solution that has helped some users get out of disk utilization 100 Windows 10. This is how to do so: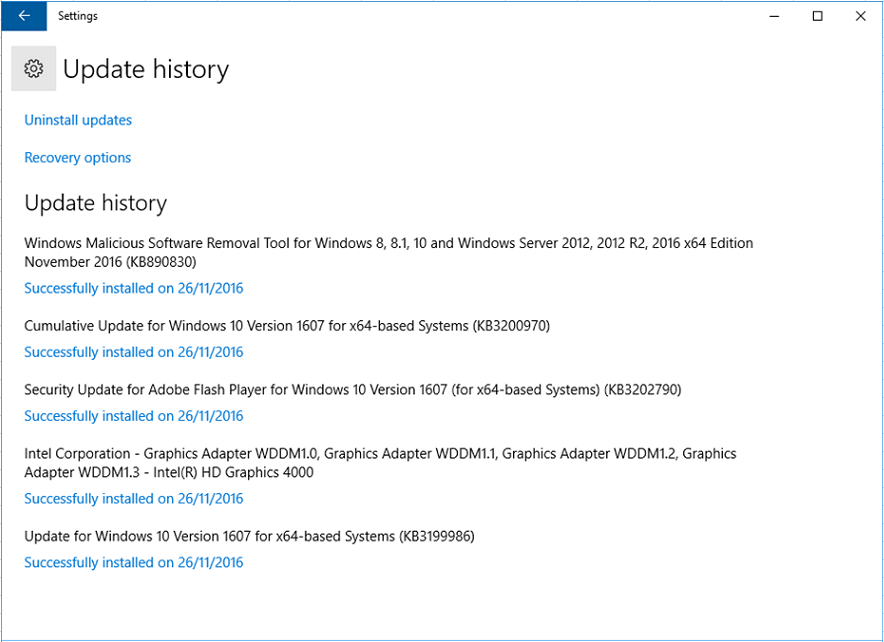 Step 1 ====> Go to Settings
Step 2 ====> Update & Security
Step 3 ====> Windows Update
Step 4 ====> Advanced Options
Step 5 ====> View your update history
Step 6 ====> Uninstall updates.
Step 7 ====> Finally, uninstall the flash player update.
Method 11: Run Check Disk
A check disk can show you if there are any physical problems with your hard drive. Usually, a high disk usage indicates that there is an application or logical issue driving the disk usage, but it is worth your time to rule out any physical damage. Run check disk and note its results.
Method 12: Change Settings in Skype and Google Chrome
Some users have reported that making these changes to your Skype and Google Chrome settings can have a beneficial effect on your disk usage.
To update your Skype settings, use this procedure:
Step 1 ====> To start Skype for Windows 10, select the Start menu from the bottom left of your screen. From the list of available apps, scroll down to Skype for Windows 10 and Click to open it.
Step 2 ====> Now select security tab and click on it to open edit option
Step 3 ====> In the list of Groups or usernames, select all application packages. Check the write option to select Allow which lets Skype write to your disk
Step 4 ====> Finally, click OK
For Chrome, make this change: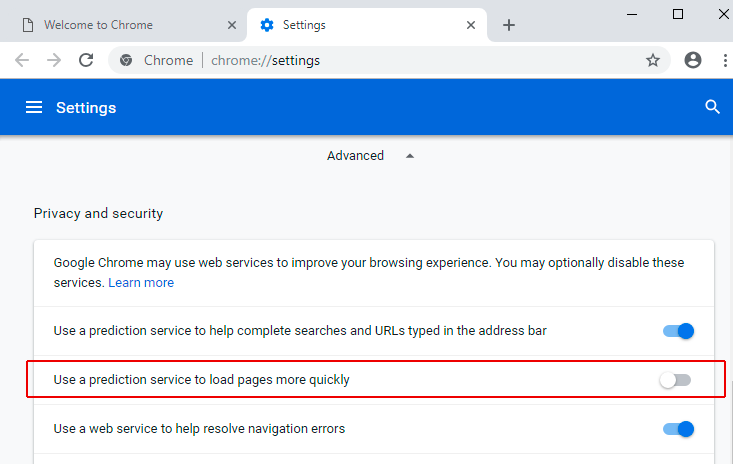 Step 1 ====> Settings
Step 2 ====> Show advanced settings.
Step 3 ====> Under Privacy section, uncheck the Use a prediction service to load pages more quickly option.
Step 4 ====> You should also try disabling Flash in Google Chrome.
How To Share Clipboard Content Between Android & Your Computer
Final note on Fix 100% Disk Usage Problem In Windows 10 (wsappx)
If these methods don't resolve your issue with 100% disk usage on your Windows 10 computer, you may need to look into replacing your hard drive. One last thing to try is to disable any automatic defrag processes that are running as they may be causing you problems. In general, your hard drive should never be at 100% usage, so if it is, there is some reason for the condition. You need to fix the issue or risk a very slow moving computer.