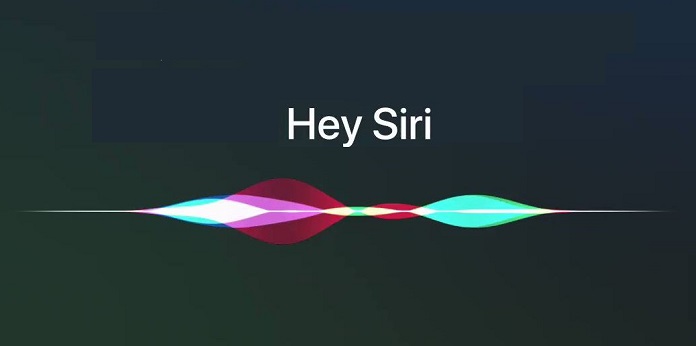 What is Siri [Hey Siri]?
Hey Siri, Siri is the voice assistant on Apple devices, equivalent to Amazon's Alexa, Microsoft's Cortana, and Google's Google Assistant. Siri is available across most of Apple's devices, including iPhone, iPad, Mac, Apple Watch, Apple TV, and HomePod.
Siri is a virtual assistant that is part of Apple Inc. uses voice queries and a natural-language user interface to answer questions, make recommendations, and perform actions by delegating requests to a set of Internet services. The software adapts to users' individual language usages, searches, and preferences, with continuing use. Returned results are individualized.
Siri supports a wide range of user commands, including performing phone actions, checking basic information, scheduling events and reminders, handling device settings, searching the Internet, navigating areas, finding information on entertainment, and is able to engage with iOS-integrated apps. With the release of iOS 10 in 2016, Apple opened up limited third-party access to Siri, including third-party messaging apps, as well as payments, ride-sharing, and Internet calling apps.
With the release of iOS 11, Apple updated Siri's voices for more-clear, human voices, started supporting follow-up questions and language translation, and additional third-party actions.
Siri's original release on iPhone 4S in 2011 received mixed reviews. It received praise for its voice recognition and contextual knowledge of user information, including calendar appointments, but was criticized for requiring stiff user commands and having a lack of flexibility.
It was also criticized for lacking information on certain nearby places, and for its inability to understand certain English accents. In 2016 and 2017, a number of media reports have indicated that Siri is lacking in innovation, particularly against new competing voice assistants from other technology companies.
The reports concerned Siri's limited set of features, bad voice recognition, and undeveloped service integrations as causing trouble for Apple in the field of artificial intelligence and cloud-based services; the basis for the complaints reportedly due to stifled development, as caused by Apple's prioritization of user privacy and executive power struggles within the company.
Activating Siri: Hey Siri
On an iPhone or ‌iPad‌, Siri can be activated by holding the Home button on compatible models or holding the Side button on devices without a Home button.
On the Mac, you can click on the Siri app icon on the dock or the menu bar, or press and hold the command key and the space bar.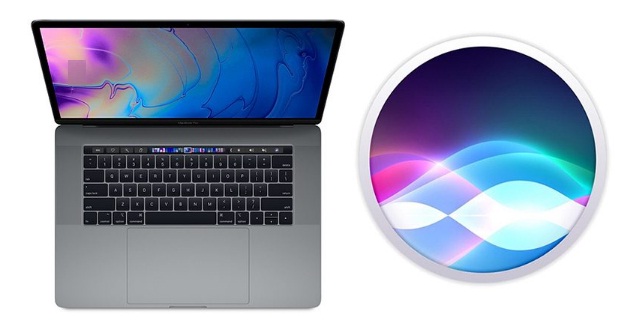 On a Mac with a Touch Bar, you can press the Siri icon on the Touch Bar. On 2018 MacBook Air and Pro models or the iMac Pro, you can activate Siri with a Hey Siri command.
On the ‌Apple Watch‌, you can say Hey Siri to activate Siri. On ‌Apple Watch‌ Series 3 or later with the latest version of ‌Apple Watch‌, there is a Raise to Speak feature that lets Siri respond to commands even without the Hey Siri trigger word.
Just hold the watch near your mouth and speak. Siri can also be activated by holding down on the Digital Crown.
On first-generation AirPods, a double tap activates Siri, and on second-generation ‌AirPods‌, Siri can be activated with the Hey Siri command.
On ‌HomePod‌, say Hey Siri or press on the top of the ‌HomePod‌ to activate Siri.
On ‌Apple TV‌, hold down the Siri button on the remote (the button with the microphone) to activate Siri.
Awesome Features Siri Gained in iOS 12 for iPhone
There are some benefits to be accessed while siri activated on any devices that supported it. Here are some of the features:
Siri Suggestions
Aside from impressive performance improvements, Siri Shortcuts are possibly the coolest new feature to come to iOS 12. These shortcuts allow you to use Siri to automate your iPhone experience in whatever way suits you best.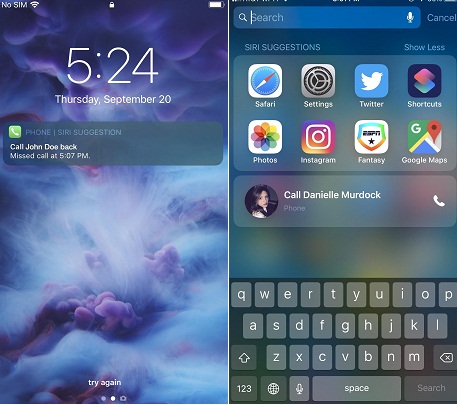 On top of that, Siri can now suggest shortcuts simply called Siri Suggestions. For you to set, based on the apps you use and how much you use them. You will see these options pop on the lock screen and when you pull down the Search page on the home screen.  Just tap on one when you see it to perform the action.
Note that the iPhone 5S, 6, and 6 Plus will not get these.
Find My iPhone: Hey Siri
If you have more Apple devices besides your iPhone, you can also use Siri to help ping the device, either an iPad, iPod touch, AirPods, or another iPhone.
Just say Find my iPad, What's the location of my iPad, or something similar, and Siri will automatically use Find My iPhone to ping the device and make it sound off a loud distress alert.
Siri Shortcuts via Settings
When it comes to creating shortcuts, you have a few methods. You will find the Shortcuts options for some apps within Settings.
====> In Settings, tap Siri & Search
====> Then All Shortcuts to see the recommended ones.
You can also tap on the app's name in question in Settings
====> Tap Siri & Search
====> Then select "Shortcuts.
Here, you will find a list of all available shortcuts to add for the app of your choice. Some may have multiple options, others may have only one, while a few may have zero because they have not added support yet.
Custom Siri Shortcuts in the Shortcuts App
If you are looking to create complex shortcuts, the Shortcuts app is the only place for you. This is where workflows, shortcuts, were meant to be designed, as Apple implements tools that are not found in other parts of iOS that allow you to create shortcuts.
Here, you can create shortcut chains, reorder actions in those chains, enable, disable, or customize certain aspects of an action, and more. It is really a sandbox for users to create chains that make their lives easier.
Really, you don't need to integrate Siri into any of these shortcuts, but most will benefit when adding an associated Siri phrase.
Motorsports & Celebrities
It is not all about Shortcuts in iOS 12. Siri's knowledge pool is deeper than ever, offering users keen insights into both motorsports and celebrities. If you want to know who's leading NASCAR today, or how old your favorite actor is, Siri will present you the facts.
While Siri could answer celebrity-related questions before, it heavily relied on Wikipedia versus gather information from multiple sources and you couldn't really interact with the results to dive deeper into what you asked.
More Info About Your Food
Want to know more about what you are eating? Ask Siri! Siri now has access to USDA databases in iOS 12, so her responses are more accurate and descriptive.
From calories, fat, sodium, and vitamin content, Siri has the answers for you and your diet. You will know if your answer is from the USDA by checking the bottom of the response. There, you should see See More on USDA, which you can do by tapping that box.
Flashlight Support
The iPhone X, as well as newer model iPhones, benefits from having a flashlight button right on the lock screen. Every other iPhone has to pull up the Control Center to turn the flashlight on, and to turn it off, do the same thing or the camera trick. But now there's a better way to do it that requires no taps or swipes or tricks at all. Just tell Hey Siri to do it for you.
iCloud Keychain Passwords
Your iCloud Keychain securely holds your collection of strong passwords and could previously only be accessed by, well, you.
Now, Siri has access too and can pull up any password of yours by request. And don't worry, you will still need to authenticate yourself via Touch ID, Face ID, or passcode, so snoopers won't be able to ask Siri for all of your passwords.
More Tools to View Specific Photos from the Photos App
Looking for a specific photo? In iOS 12, you can stack multiple search queries together into one Siri request. If you are trying to find that ferris wheel shot from the Chicago carnival in 2012, just say that to Siri.
The assistant will combine all queries together and search Photos, pulling up any relevant results. If no hits come back, try refining your search or tap Open Photos to simply dive in yourself.
Siri Shortcuts via Third-Party Apps
Some apps won't make you head to the Settings to customize their shortcuts. Rather, they offer support for Siri Shortcuts directly within the app. This support can change based on the app.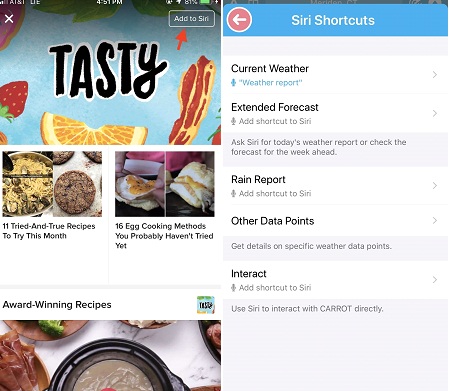 In the BuzzFeed app, for example, you will see Add to Siri whenever there's a shortcut for you to add. Compare that to Carrot Weather, which allows you to see all 17 available shortcuts at once in the Siri Shortcuts section of its settings.
Devices Compatible With Siri
Siri is on almost every Apple device, and it's built into macOS, iOS, watchOS, and tvOS. You can activate Siri on Macs running macOS Sierra or later, all ‌Apple Watch‌ models, the fourth and fifth-generation ‌Apple TV‌, all modern iPhones, the ‌AirPods‌, and the ‌HomePod‌.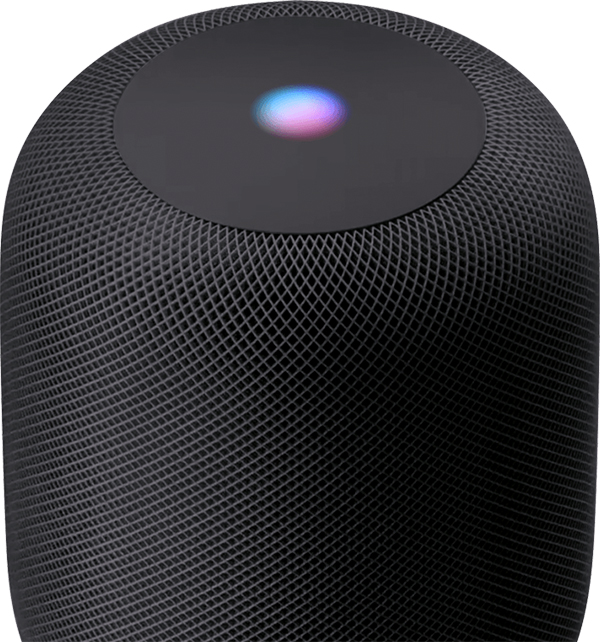 Devices That Support Hey Siri Without Power
Most Apple devices have support for the Hey Siri activation command, but more recent iPads, iPhones, Macs, and Apple Watches offer hands-free Hey Siri. Siri support even when not connected to power. That means you can use the Hey Siri trigger phrase at any time to activate Siri. Compatible devices are listed below:
====> iPhone 6s and later
====> Second-generation ‌AirPods‌ (iPhone, ‌iPad‌ or ‌Apple Watch‌ connection required)
====> 5th-generation ‌iPad‌ and later
====> All iPad Pro models except the first-generation 12.9-inch model
====> 5th-generation ‌iPad‌ mini
====> 3rd-generation ‌iPad‌ Air
====> All ‌Apple Watch‌ models
‌====> HomePod‌
====> 2018 MacBook Pro
====> 2018 ‌MacBook Air‌
‌====> iMac Pro‌
When multiple devices that can respond to Hey Siri commands are available, the devices will use Bluetooth to determine which one should respond to the request so not all of them answer at once. According to Apple, the device that heard you best or the device that was most recently raised or used will respond.
If you have a ‌HomePod‌, the ‌HomePod‌ will often take precedent and respond to Hey Siri requests even when other devices that support the feature are nearby.
What Siri Can Do: Hey Siri
Below is a list of some of the commands and questions Siri is able to respond to, and some of the actions Siri is able to take.
====> Make calls/Initiate FaceTime
====> Send/read texts
====> Send messages on third-party messaging apps
====> Set alarms/timers
====> Set reminders/check calendar
====> Split a check or calculate a tip
====> Play music (specific songs, artists, genres, playlists)
====> Identify songs, provide song info like artist and release date
====> Control HomeKit products
====> Play TV shows and movies, answer questions about them
====> Do translations and conversions
====> Solve math equations
====> Offer up sports scores
====> Check stocks
====> Surface photos based on person, location, object, and time
====> Apple Maps navigation and directions
====> Make reservations
====> Open and interact with apps
====> Find files (on Mac)
====> Send money via Apple Pay
====> Check movie times and ratings
====> Search for nearby restaurants and businesses
====> Activate Siri Shortcuts
====> Search and create Notes
====> Search Twitter and other apps
====> Open up the Camera and take a photo
====> Increase/decrease brightness
====> Control settings
====> Tell jokes, roll dice, flip a coin
====> Play voicemails
====> Check the weather
Editorial Picks
How to Check and Delete Voicemail on iPhone
How To Lock Apps On Any iPhone: App lock
How to Change Your iPhone Ringtone Without iTune
How To Update iPhone Software Without Problem