I strongly believe that millions of people using computers globally will one way or another encounter issues with their computers while operating them. You might be thinking about what to do to improve your PC Performance so that you have a better operating system.
If you continue using your system with slow PC performance, wow, this is boring. You will not enjoy what you are doing as long as you wait until it comes up. Then you will be thinking of what to do to increase computer performance.
Improving computer performance on Windows is a very simple thing to go about, and if you are facing this issue on your system, I am assuring you that you are in the right place to get the right answer to improve your PC's performance.
There are different articles on how to increase computer performance; some require you to download certain programs on your computer system.
Many times, these programs are not functioning well, which results in a waste of time, data, and money if you have to pay before you get their service.
Increase Internet speed: How to Increase Internet Speed On Your Computer
The benefit of this article is that you don't need to have data, you do not need to spend money, and what you need is already present on your computer system.
So, therefore, this article will lead you through the ways to make your computer faster.
What do You Need to Improve your PC's Performance?
Before we continue on how to increase computer speed, the following should be made available on your computer.
====> The battery of the computer should be charged to at least 70%
====> You have to be a patient fellow, i.e, you must be patient enough for the operation to be complete.
What Causes Slow PC Performance of your Computer?
The fact remains that there are certain issues that cause your computer system to not perform up to your expectations. Your computer is probably not running as fast as it used to.
Our PCs fill up with all kinds of files, documents, music, videos, and games. But also viruses and spyware. Over time, PCs get overloaded and can slow down heavily, thereby resulting in, how to improve your pc performance.
Simple Steps to Improve your PC's Performance for Better Operation
Before we continue, it is highly recommended that you first know the rating of your computer performance. This can be done easily by:
Step 1 ====> Opening Control Panel,
Step 2 ====> Clicking on Performance Information and Tools.
Step 3 ====> The window that pops up should contain 5 categories and 5 scores. The sub-score is on a scale from 1.0 to 7.9. The higher it is, the better the condition of your PC
Top Best Laptop Computers you Needs in 2017 and Beyond
Checking Hard Disk for Errors to Improve your PC Performance
Some actions like crashes, power failure or computer not properly shorting down may cause your computer to begin to slow down in operation.
This process identifies and removes these errors from the hard disc. Do this every few months to make sure the drive itself is functioning properly.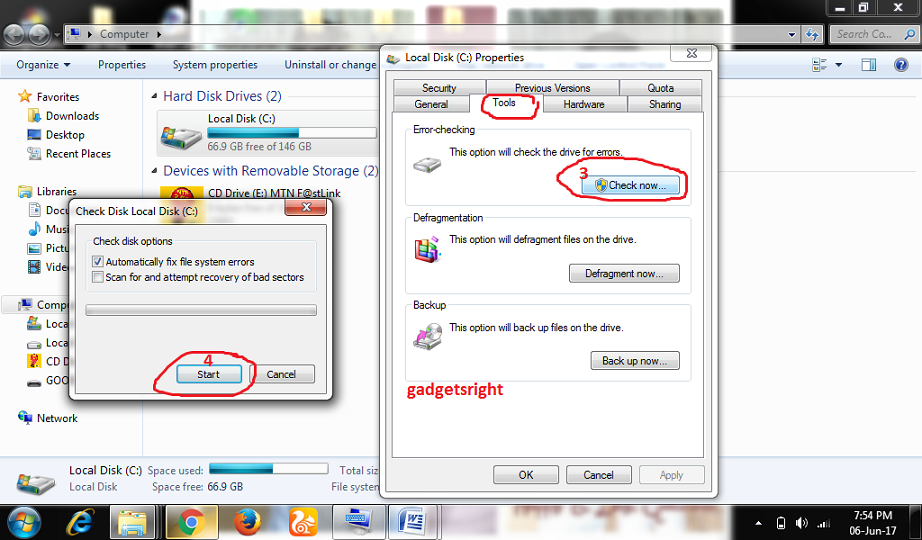 Step 1 ====> Click the Start button, then click on Computer
Step 2 ====> Right-click the primary disk drive that you want to check, then click Properties
Step 3 ====> Under the Tools tab, click the Check Now button.
Step 4 ====> Check all boxes, then click Start.
This may take several minutes. I recommend not using your computer for any other tasks while checking for errors, by doing this you are on the right track to increasing computer performance.
Clean Up Disk to Increase Computer Performance
Temporary files stored in the hard drive will be removed thereby freeing up space through this process.
While browsing through the Internet, your computer collects temporary files to help the site load faster. I recommend doing this process every month.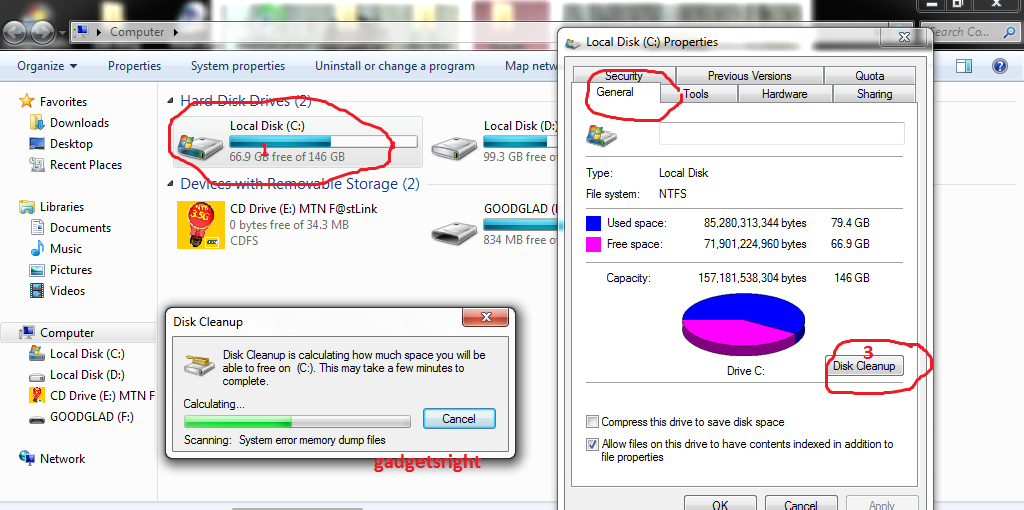 Step 1 ====> Click on Computer
Step 2 ====> Right-click on the designated drive and choose Properties
Step 13====> Click on Disk Cleanup, under the General tab
Defragment Hard Drive to Improve your PC's Performance
Defragment hard disk helps improve the performance and speed of your hard drive by piecing together files that have broken apart.
The full your hard drive is, the more likely your files have been fragmented making it harder to find all of the contents of files thereby causing low performance of your computer system.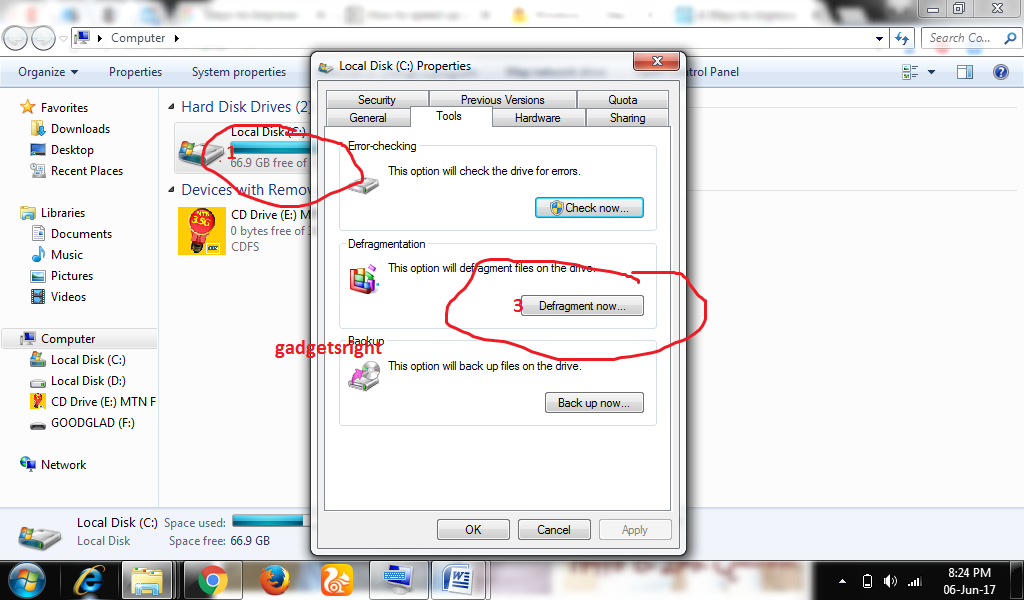 I recommend doing this every month and while you are done using the computer as this process can take over an hour.
Step 1 ====> Click on Computer
Step 2 ====> Right-click on the designated drive and choose Properties
Step 3 ====> Click on the Defragment Now button, under the Tools tab
Uninstall Unnecessary Software
Many preinstalled programs on your computer that many users won't use but which can gobble up system resources are present.
These are typically easy to spot when a pop-up window asking you to update an application you've never used appears.
Step 1 ====> To free up disk space, remove them from your computer.
Step 2 ====> Go to the All apps menu by clicking Start and selecting.
Step 3 ====> You can see a list of your installed and uninstalled programs here.
Step 4 ====> When you discover the item you wish to remove, right-click on the icon to open the "Options" option.
Alternatively, you can right-click Start and go to Programs and Features. Because it has a search function in its search box, the Windows assistant Cortana can also be useful.
From there, you may get a list of the most space-consuming and recently-used apps. You can choose which programs can be uninstalled to enhance system performance after reviewing what is installed.
Additionally, you should be aware of which apps your computer needs to function effectively and which ones can be removed. These programs frequently launch automatically when your computer boots up, which is one of the reasons they slow down your PC.
Limiting Startup Programs to Improve PC Performance
In a similar vein, you can control which programs start up with your computer. The Task Manager in Windows 10 has been improved to make it simpler to choose what you want to run in the background and what you may start independently.
Step 1 ====> Press Ctrl-Shift-Esc to open Task Manager.
Step 2 ====> You will see a box with a list of all the installed programs on your computer.
Step 3 ====> Additionally, it provides a thorough breakdown of how much RAM each program takes when your computer first starts up.
Step 4 ====> Simply right-click the application you want to update to instruct it not to run until instructed to make the necessary changes.
If you discover that an application that affects how you use your PC is no longer operating, you may always modify the settings. You can always restart your computer to test how it performs without specific applications running when it starts up if you're unsure.
Check for Spyware and Viruses
While visiting the web, it is nearly difficult to avoid picking up a virus at some time, but the new Windows Defender program has made it simpler than ever to discover malware that could be seriously harming your PC.
Third-party applications can be just as successful at eliminating any malware or viruses you might have acquired and are equally simple to install. Some applications perform better than others and some may require more storage, which may slow them down.
Finding software that is effective and thoroughly gets rid of malware while not taking up a lot of space on your PC is ideal. Think about setting up two different programs to track computer performance. Programs to remove malware can fix sluggishness or glaring problems with speed or pop-ups.
However, you should also have a look at programs that provide continuous security and operate in the background. Once more, bear in mind that these antivirus apps take up space, so you should pick one that won't slow down your computer.
You may find software that fits within your budget and is compatible with your particular operating system by doing a little research. If you download free software, there may be compatibility concerns; thus, make sure everything is compatible before installing it to avoid encountering further performance issues.
Popular Post
Walkie Talkie Feature on Apple Watch
How to Connect JBL Speakers to iPhone
Connect JBL Speakers to Laptop and Computer
How to Connect JBL Speakers Together?
Oclean X Pro Electric Toothbrush Review
Add More RAM to your Computer to Speed Up PC Performance
Windows 10 utilizes less memory than earlier versions, but boosting RAM memory has long been a tried-and-true method of accelerating PCs. You'll probably have to make do with what came in the box if you have a convertible or detachable laptop. It is feasible to increase RAM in some business and gaming laptops, but it can be challenging. More RAM can be added to desktop computers much more quickly and inexpensively. Installing extra RAM takes around an hour for someone with a basic understanding of how a desktop tower works. Additionally, you can bring your computer to a qualified shop to get more RAM added. A professional's opinion can put your mind at ease and make adding extra memory simple if you're concerned about potentially compromising your system or doing it incorrectly.
Don't Forget to Shut Down
It may sound absurd, but shutting your computer off and back on again will significantly improve its performance. Try just shutting off, unplugging, reconnecting, and turning back on your computer if you're experiencing latency. We hope that these pointers helped you learn how to boost PC functionality and speed. Check out our most recent article on enhancing the speed of your Mac if you own an Apple computer. Give us a call if you're not sure how to speed up your computer or laptop. Any team member can call one of our professionals for assistance with a computer problem, no matter how big or minor.
Finally
Hopefully, this guide helped you to improve your pc performance. These processes usually increase PC performance and speed as it gets rid of all of the unnecessary files.
The end result should be comparable to a new computer, this is exactly what I enjoyed. Remember to regularly do maintenance on the computer and follow these guidelines to keep your computer in good shape.
Enjoy your well-performing computer, and do share this with your friends on social media.