Infinix is one of the leading companies in the mass production of Android phones. They release brands often, thereby competing with the like of Tecno, Samsung, itel among others. Most of the time, hard reset do a lot of good work on our mobile devices. This has nothing to do with the brand you use. But this article will focus on how to hard reset Infinix note 5.
Why do we Hard Reset Infinix Hot Note 5
Without reasons, we would have not been factory reset our phones. There are various reasons you have in mind to reset your phone to factory settings. Here is a list of suggested reasons.
If your Infinix note is acting a little mischievous you should probably do a hard reset.
If you want to resell it you definitely have to do a factory reset/wipe all your files right?
If you forgot your pattern lock or entered your PIN more than 3 times and your phone becomes locked forever. Oh dear! Sorry, but a hard reset will do the work.
When your apps begin to hang so bad
When your internal memory becomes full
To gain a new look like those of new phones
How to Hard Reset Infinix Note 5
Here is how to perform hard reset or factory reset on Infinix Hot Note 5 Android phone or any other Infinix
Note:
As the name implies performing a hard reset/factory reset on your Infinix hot note wipes out all your files and installed apps stored on the phone memory, settings and configurations will go back to factory default.
Step 1 ====> To get started switch off your Infinix hot note
Step 2 ====> You need to Wait for about 5 seconds then Press the Power on button and the Volume Down button AT THE SAME TIME. I repeat at the SAME TIME and wait till you see the INFINIX Logo.
Step 3 ====> Now release the power button and keep on pressing the Volume down button until the android reset menu comes up. You should see the green android man and options like apply update via SD, reboot system, wipe / factory reset, wipe cache etc
Step 4 ====> Touch will not work on this menu so don't bother yourself trying to tab on the options, just use the volume up if you want to scroll up or volume down to scroll down to the option which says wipe data/factory reset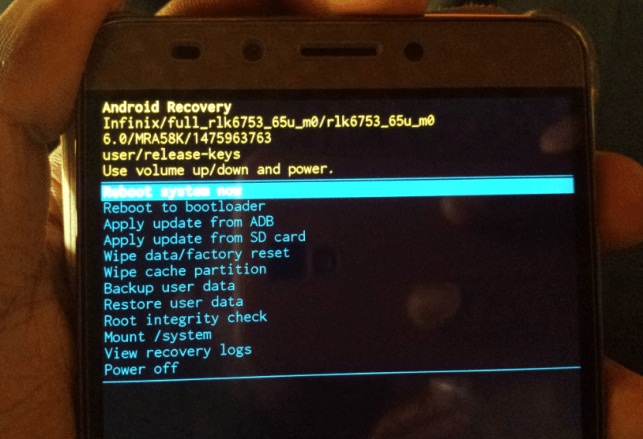 Step 5 ====> Press the power button once and then scroll down again and scroll down again and choose Yes. Your Infinix hot note will start wiping and when done you will get a message Wipe Complete.
Now choose Reboot system now. Your device has successfully been restored to default settings.
How to Hard Reset Infinix Hot Note 5 Via settings
The process of factory reset your device here requires you to access it through the settings. The effect of this method and the one explained above are almost the same. Both methods wipes everything on your device, here are the steps:
Step 1 ====> At first turn on the device by pressing the Power key for a short while.
Step 2 ====> Now select Main Menu and Settings.
Step 3 ====> After that choose All and Backup & Reset.
Step 4 ====> From here tap Factory data reset and Reset phone.
Step 5 ====> At the end select Erase everything to clear all your data.
As soon as you complete the steps as highlighted here, you have hard reset Infinix note 5 using the settings method.
Related articles
How to Hard Reset Samsung Galaxy S8
How to Factory Reset Tecno Spark 2 Pro KA7