Android is one of the leading Operating System (OS) on mobile technology these days. One important thing to do is keeping your Android devices up to date at all time for security issues. Most of the time, the System update is carried out manually.
Meanwhile, users could set the system update to automatic action, but one should be careful as this required amount of data. What we are saying here is that upgrading your Android system via mobile data require more data thereby demanding subscription money.
Keeping your Android phone up to date is critical for ensuring the latest security patches are installed and you have access to the best new features, but not all devices will be compatible with the latest version of the operating system.
How to Move WhatsApp Media to SD Card (External storage)
Sometimes this is because your phone is too old and no longer supported by the manufacturer or mobile operator, a decision they may make sooner rather than later if it is also a reasonably cheap model.
Requirements for System Update on Android Phones
System update on Android phone could be simple and easy but requires certain thing on grand, these include:
====> The phone you want to update its programme
====> Internet connection, this could be WIFI or Mobile data. WIFI is recommended
====> Have battery on your mobile phone, up to 75% charged
====> Ability to follow simple instruction
How to Update your Android phone
Today we shall be guiding you through with one simple method to carry out vital action on Android phone called System Update or Update system on Android phone.
System Update using Setting Option on Android Devices
This is the common method, we strongly believe everyone should be able to it on their own as it requires no skill at all. Since you can read up to this level, then you capable of doing it on your own. Here are the steps requires as follow.
Step 1 ====> The first thing to do is your active internet network, this could be your WIFI or Mobile data. Here we shall be using Mobile data.
Step 2 ====> I am sure your phone is powered ON, if not. Press the power button to power ti ON now.
Step 3 ====> Move to the settings on your phone, you access this in two different ways. You access it through the main menu on your phone or wipe down your phone from top to down to access the settings.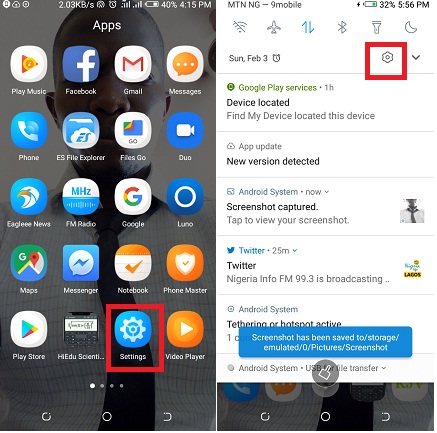 Step 4 ====> Tap System. As soon as you taped settings from the step above, scroll down to the base of the page and tap System. On to this level, you are a step closer.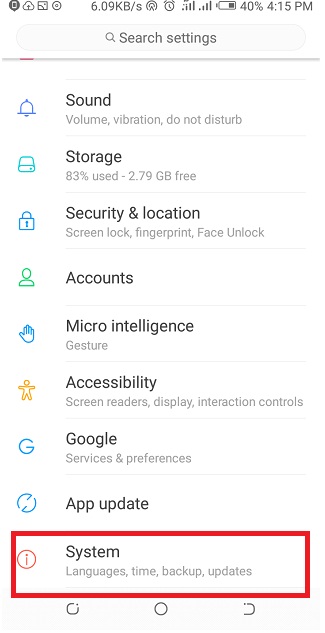 Step 5 ====> System Update. The next step is tapping on the system update as soon as step 4 above is completed. See the screen short bellow for more details.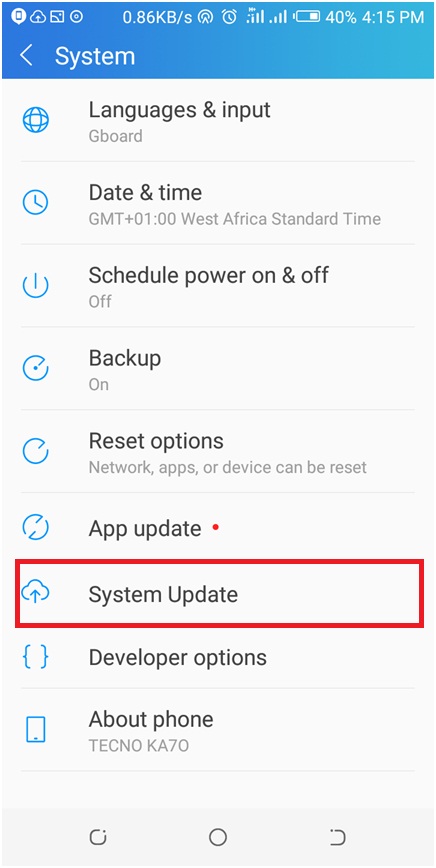 Step 6 ====> Selecting System Update. You have done a great job up to this stage. Here you have two options to select from. The ONLINE UPDATE or the LOCAL UPDATE.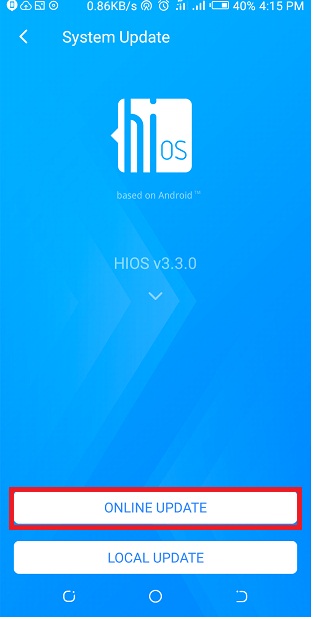 Now select the ONLINE UPDATE, after tapping the ONLINE option. It will download the update and installation continues after downloading.
This might take a while, please do not TURN OFF your Android Phone. Your phone will start working after that, your phone is back to its normal function.
How to Recover Hacked WhatsApp Account
How To Download And Install Whatsapp On Ipad
Run Multiple WhatsApp Account On Android Phone (Dual WhatsApp)
Conclusion
So far up to this level, you have done well. These are the simple steps you need to carry out to manually update your Android device. If you know other means to achieve this manually, please drop it on the comment box below.