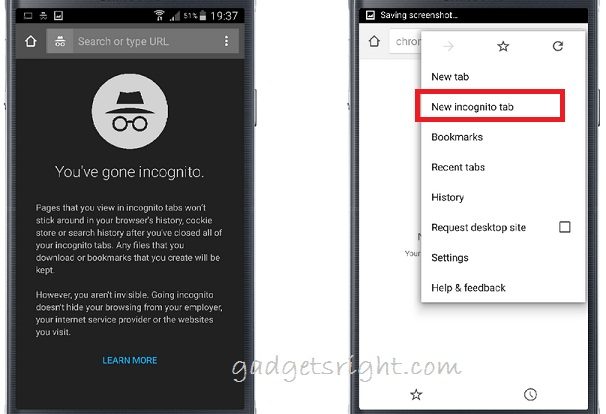 The benefits of private browsing on devices stretch further than just preventing others from looking at your history. Private browsing or incognito mode; call it what you will, is not only useful when you want to covertly do some Christmas shopping, there are plenty of advantages to it.
Chrome's incognito mode is the best way to browse the Internet without leaving a trace of where you went. Yet exactly what it does and doesn't protect you from is often misunderstood.
Incognito mode is excellent for checking out sites that you don't want anyone to know you visited, or if you want to search a topic you would rather not be tied to your Google history.
But it is not total privacy for all Internet activity, as ISPs and other sites can still track you. Here's how to use incognito mode and the possible benefits.
Valuable Reasons To Use Private Browsing
If you are still wondering if incognito mode is worth using, here are some of the advantages it brings.
Disables targeted advertising: Private browsing may not block ads but it doesn't track your search habits so you can get clean results and the ad providers will not be able to use this data either.
Use multiple accounts at once: Incognito mode lets you perform a neat trick. You can use two Google accounts at the same time. One in your regular browser and another in an incognito browser tab.
Prevent storing of form and log-in data: While in incognito mode, your log-in credentials and form data won't be saved by your web browser. As a result, private browsing is excellent for keeping this information private, especially if you are logging into your own accounts from someone else's device.
Perform private research: Regardless if you need to search for something personal, business-related or you just want to do some gift shopping for a loved one and keep it a surprise, incognito mode is the perfect tool for this job. Private browsing will not save any of your browsing history or searches as long as you don't forget to close the private tab(s) once you are done.
For testing and debugging: If you need to run debugging software or websites tests, an incognito mode session will ensure a clean user experience and prevent your cache and cookie data from interfering.
Paywall workaround: Numerous established online publications allow you to read a limited number of posts before hitting a paywall. Nevertheless, you can get around this by simply opening the link in incognito mode which will allow you to access the content.
We still recommend you support the websites that bring quality content online but sometimes our budgets are limited and incognito mode makes the perfect temporary solution to keep accessing the content we find valuable.
How To Turn On Private Browsing On Android
Using private browsing, also known as incognito mode, is very easy to do on Android, but it can vary across devices and browsers. Here's how to do it on Chrome:
To turn incognito mode on Google Chrome
Step 1 ====> Open Chrome
Step 2 ====> Tap the three dots icon on the top right for more options
Step 3 ====> Then tap New incognito tab.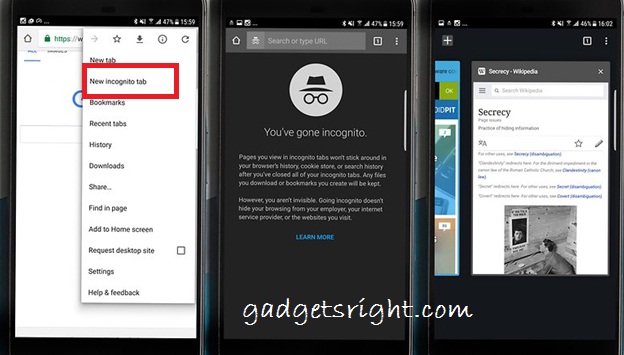 You can have multiple incognito tabs open at one time, if you like.
To turn incognito mode off:
Step 1 ====> Tap the square icon on the top right to open your tabs
Step 2 ====> Then close each incognito tab individually or drag down the notifications bar and simply tap Close incognito tabs.
You will want to close the private browsing windows when you are done to keep people from finding them.
The generic default browser that came pre-installed on your phone might have an incognito mode, too. To use it:
Step 1 ====> Tap the Tabs icon
Step 2 ====> Then Turn on Secret
Step 3 ====> Proceed with or without a password and you are good to go.
To turn it off
Step 1 ====> Go back to your Tabs
Step 2 ====> Then tap Turn off Secret.
Firefox Browser
Popular open source browser Firefox also supports incognito browsing. Here's how it works:
Step 1 ====> To open a blank
Step 2 ====> Private tab
Step 3 ====> Tap the three dots menu in the top-right corner,
Step 4 ====> Then tap New Private Tab.
To open a link in a private tab:
Step 1 ====> Long press on a link to bring up a menu
Step 2 ====> Choose Open link in Private Tab.
To view open private tabs:
Step 1 ====> Tap the tab icon at the top of your screen
Step 2 ====> Then tap the mask icon to view the sites you have opened in Private Browsing.
To close a tab:
Step 1 ====> Tap the X next to the tab you want to close. You can also close all open tabs by tapping the menu button
Step 2 ====> Then Close Private Tabs.
Mozilla FireFox
Mozilla Firefox is not the default browser for most Android, iOS or Windows devices but it is sometimes pre-installed and if not, is still available to download for all the aforementioned operating systems. The user will usually have to download the app themselves via their operating system's respective app store if they want to use it. It can also be made the default browser for most devices if they so wish.
Mozilla's private browsing feature in FireFox is simply called Private Browsing mode and offers the same privacy tools as Chrome and Edge. However, FireFox offers an additional tool that others browsers don't to make browsing even safer, and that is called Tracking Protection.
This is said to prevent companies from tracking your browsing history across multiple sites so they cannot record your browsing habits. To open a Private Window:
Step 1 ====> tap or click the menu button, which is presented as three horizontal bars in the top right corner of the window
Step 2 ====> Then select New Private Window. Once in Private Browsing mode, the browser window will display a purple mask at the top.
Private-By-Default Browsers
With more and more privacy scandals happening every day, private-by-default apps are becoming quite popular. This applies to mobile browsers as well. While the list is growing, these are two we'd currently recommend the most.
Editorial picks:
How to Update Google Play Services on Android
How To Manage Google Play Store Apps: Download, Update, Uninstall
How To Download And Install Google Play Store
Is Google Talk Free? Features You Need to Know
InBrowser
InBrowser takes privacy one step further. It is probably among the best options for those who take their online privacy and security seriously. The browser is in permanent incognito mode, meaning that all history, cookies and logins are deleted the moment you press Exit, Home or Close.
InBrowser also provides TOR support via Orbot and offers the possibility of using VPN services. The design of the app is pretty minimalist, but this is due to the commitment of the creators to remove all annoying and unnecessary ads for a more pleasant experience.
After some quick tests, we found it to be just as functional as the Chrome or Firefox Android browsers, although its support for browser add-ons is more limited.
DuckDuckGo Privacy Browser
From the creators of privacy-minded search engine DuckDuckGo, this mobile browser is the company's first and only app. As expected, it makes use of their search engine, but the mobile browser also forces websites to use encryption, similar to the HTTPS Everywhere desktop browser add-on.
DuckDuckGo promises no more creepy websites tracking you. / © DuckDuckGo
DuckDuckGo also claim that it 'decodes privacy policies' – "We've partnered with Terms of Service Didn't Read to include their scores and labels of website terms of service and privacy policies, where available." That means that while browsing the web or searching, you will see a privacy rating on most websites – from A to F. The privacy browser also helps you escape invasive advertising cookies and tracking. One of its best features is the Fire Button, which clears all tabs and data with a single tap.
In terms of functionality and design, DuckDuckGo's privacy browser is pretty standard and similar to Firefox and Chrome. We're yet to find something to complain about.
Finally On Incognito Mode
Keep in mind that incognito tabs stay open permanently just like regular tabs. You have to close them if you want them to go away forever. If your apps and tabs are merged, the fastest way to close them all is to touch the Close all incognito tabs notification. They'll then vanish all at once.