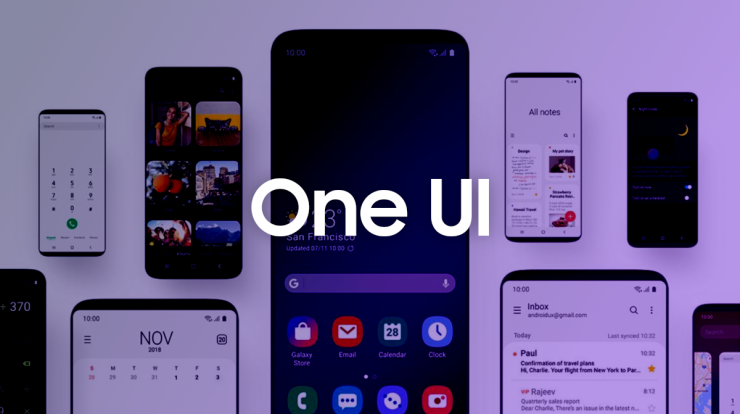 One UI is a software overlay developed by Samsung Electronics for its Android devices. Succeeding Samsung Experience and TouchWiz, it is designed to be further streamlined, with specific optimizations to ease one-handed use of smartphones with large screens. It was unveiled at Samsung's developer conference in 2018, and first introduced as part of Samsung firmware updates to Android 9 Pie.
One UI was designed as part of a goal to make Samsung's hardware and software "work together in perfect harmony", and provide a more "natural" experience on large-screen smartphones. A prominent design pattern in included applications is to intentionally place common features and user interface elements along the bottom of the screen rather than near the top.
Samsung One UI: What is New?
Taking Screenshot: Just like iOS, One UI now lets you take screenshots with just a press of two (power + volume down) buttons instead of Android's default press and hold. On a related note, if you have a Samsung Note series, you can also use smart screenshot tools built into the Edge Panel. It gives you advance options such as capture parts of a screen, record GIFs, and Pin-to-Screen, etc.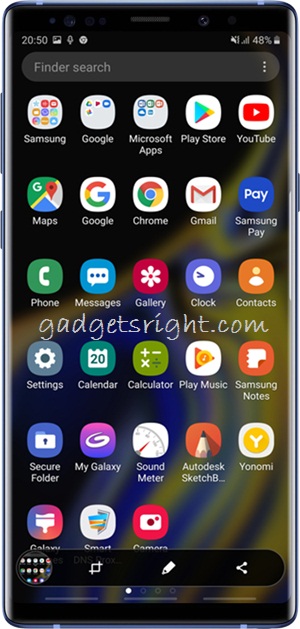 Navigation Gestures: Samsung has moved away from navigation buttons for good like some of the other flagship smartphones. One UI adds navigation gestures to get rid of permanent buttons from the bottom of the screen. Simply go to the following Settings and turn on gestures, here is how to:
====> Go to Settings
====> Display
====> Navigation bar
====> Full-screen gestures
App icons and App drawer: If you have been using Galaxy phones before the One UI update, you would remember how awful it was to arrange icons in the app drawer. One UI fixes that.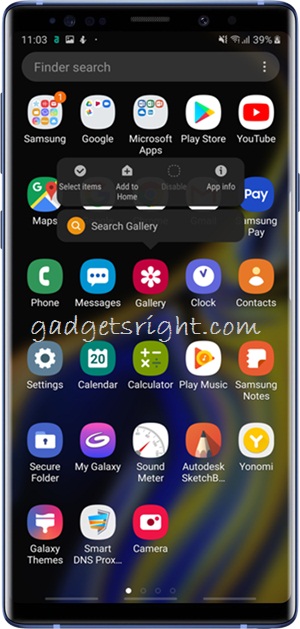 Now, you can simply long press on any icon in the app drawer to move it around the tabs. You also get additional features when you long press an app icon, like add to the home screen, select multiple apps, and app's quick actions
Rotate Button on Navigation Bar: You probably would have already known about this feature as it is not a One UI exclusive. Whenever you're watching a YouTube Video or using an app, turning the screen to landscape requires a lengthy process.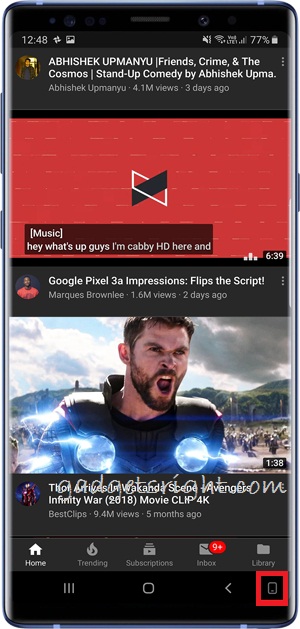 With this feature, you can just rotate your device and the button just pops up on the bottom corner of the screen. Simply tap the button to turn the screen to Landscape. After you're done, simply reorient your phone and the button would appear again and you can tap it to go back to the portrait mode.
One Hand Usage: One UI makes it easier to use a bigger phone with one hand. You can see these changes in the Settings App and Quick Settings. While it is thoughtful but this layout is only applicable to native apps.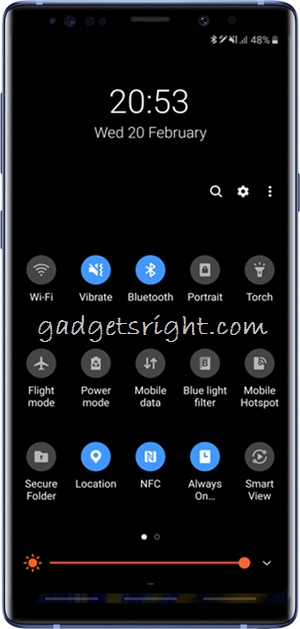 One-Handed Mode: With this mode enabled, you can shrink down the actual screen on your Samsung device to a more reachable size. Simply turn on this feature in the settings and activate it with gesture or button.
====> Go to Settings
====> Advanced features
====> Motion and gestures
====> One-handed mode
====> Gesture/Button.
Night Mode: Samsung's super bright AMOLED screen is amazing and Dark Mode makes it even better. One UI implements the Dark Mode system-wide, well almost. Once activated, quick settings, notifications, dialer, messages, and settings turn dark. This is seamless and pairs well with the design layout. The only caveat is that there is no way to turn third-party apps dark, for now
====> Go to Settings
====> Display
====> Night Mode
====> Turn on now
Recycle Bin: Samsung's native Gallery app is decent and with the system-wide dark mode, I prefer it over Google Photos. The only thing stopping me from making it my default gallery app was a lack of trash folder. One UI has finally included a recycle bin in the default gallery app. Any file you delete is stored temporarily in the recycle bin for the next 15 days. You can recover the images from the trash to the gallery or delete it permanently.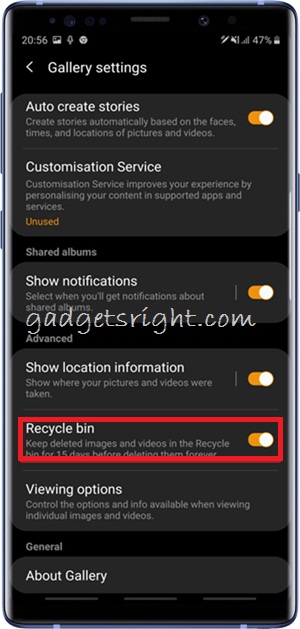 ====> Go to Gallery
====> Options(⋮)
====> Gallery Settings
====> Recycle bin
AOD: All the smartphones with AMOLED display accentuate the Always On Display feature. You can turn on AOD from the Settings and choose what to display on the screen. It has three options Home button and clock, Clock, and Home button. Even though AOD is minimal, it still consumes resources. You can schedule the time for AOD or tap to show.
====> Go to Settings
====> Lock screen
====> Always On Display
Home screen layout: Android has always had a separate home screen and apps screen which gives you more freedom to customize your apps. One UI also gives you the option to pin most used apps as a shortcut on the home screen while all the other apps go to the apps screen.
====> Go to Settings
====> Home screen
====> Home Screen layout
Lock Home screen layout: I like to arrange my apps instead of traditional alphabetical order on my smartphone and every time a new app is installed, it ruins my arrangement. One UI lets you lock the home screen layout which prevents removal or repositioning of apps.
====> Go to Settings
====> Display
====> Home screen
====> Lock Home screen layout
How To Remove One UI From Your Samsung Smartphone
Samsung's custom interface has had many names: TouchWiz, Samsung Experience, Grace UI, and more recently, One UI. The latter version can be seen on recent Samsung devices such as Galaxy Note 9, Galaxy S10, S10 Plus, and S10e.
Regardless of its name, if you don't enjoy Samsung's custom UI, check out the methods below for changing it.
Remove One UI/TouchWiz (Root Required)
The only way to completely get rid of Samsung's UI from your smartphone is to root it. This means you will need to flash your device with a new ROM. Keep in mind this will void your warranty as it sets the Knox counter to zero
Odin is one of the best apps you can use to flash a Samsung device. Head over to their official website for the complete instructions on how to use it. There's also a mobile version of Odin which doesn't require using a PC. You can find it along with usage instructions in this XDA Developers thread.
You will also need a custom recovery and to install a new ROM from it. It's also worth mentioning that some ROMs are pre-rooted by default, while for others it is optional.
TWRP is the most popular custom recovery for Samsung. You will need to know your exact phone model to install it. Head over to the official page to see all the devices supported by TWRP and download the correct version for your phone. It's also possible to install the recovery with Odin, in which case a .tar file.
Once the custom recovery is complete, you can research existing ROMs without any Samsung UIs. There are plenty of ROMs based on stock Android (AOSP) which you can try and you can find them in the XDA Forum. Nevertheless, we recommend you choose a ROM that still receives updates and has positive user feedback which you can check in the thread comments. If you're unable to decide on a ROM we recommend Lineage OS as an excellent option to start with.
Disable Samsung Apps (For Non-Rooted Devices)
If your device is not rooted (and you are not planning on taking this step), there is still something you can do. Disabling Samsung apps will ensure they don't receive updates and they won't consume your internal memory either. However, keep in mind will not be completely removed.
To begin, you can remove the shortcuts and widgets of Samsung apps but if you want to actually disable the app, that can only be done through:
====> Settings
====> Applications
====> Application manager.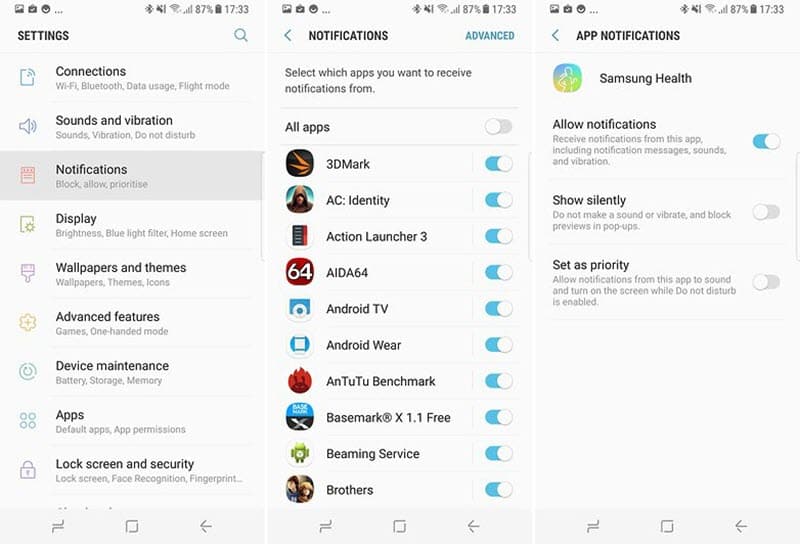 There, you simply need to find the app you want to disable and select it. You can also disable the notifications, by toggling off the related feature.
While a stock app is disabled it will remain in a hibernation state. It won't receive any updates and it will only occupy the same space as when it was first installed.
Install A New Launcher
If your Samsung smartphone is not rooted, you cannot remove the Samsung UI but you can replace it with a different launcher. Luckily, Android launchers abound so there are plenty to choose from!
Among the most popular you will find Nova, Apex, and Microsoft Launcher. Even so, if you love the Material Design look and you would like a clean layout we recommend Pixel Launcher (formerly Google Now Launcher).
Installing a new launcher will let you change how the desktop and icons look. Simply browse the Google Play Store to find one you like, and download it like any other app.
The first time you open your new launcher you will be prompted to select which launcher you would like to use. Select the new one and click on always to make it the default launcher.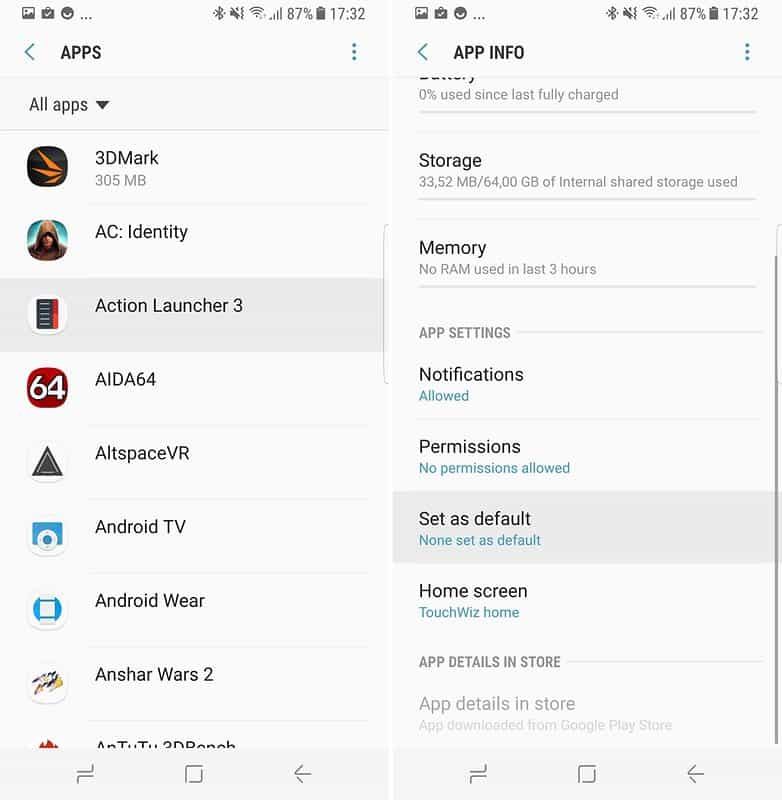 You can easily revert to One UI (TouchWiz, or any other Samsung UI), from
====> Settings
====> Default Apps
====> Home Screen
====> There, select your launcher and click on the home button
Editorial picks
How to Update Google Play Services on Android
How To Manage Google Play Store Apps: Download, Update, Uninstall
How To Download And Install Google Play Store
How to Download and Install Google Play Store APK on Android
Complete Steps on How to Format Tecno Phones (Android)