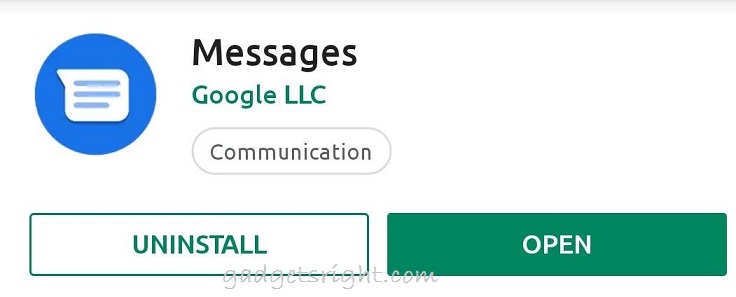 When it comes to texting Android messages, Google's Messages app for Android is absolutely the best. The App gives you the ability to block those annoying spam text messages that have been plaguing us for so long, send messages from a computer, and can even provide RCS features provided your carrier supports the Universal Profile. Meanwhile, before you get all of these features, you will need to set Messages as your default SMS app.
The app is preinstalled on a lot of devices these days, but even still, many OEMs set their own SMS app as the default over Android Messages.
Then there are folks who used another SMS app in the past and still have that set as the default. So if you want to give Android Messages a try, this is what to do.
First Step: Install and Update Android Messages
First of all, you will need to download the Android Messages app on your phone if you don't already have it. If your phone came with the app preinstalled, that is good, it is time to make sure it is up to date.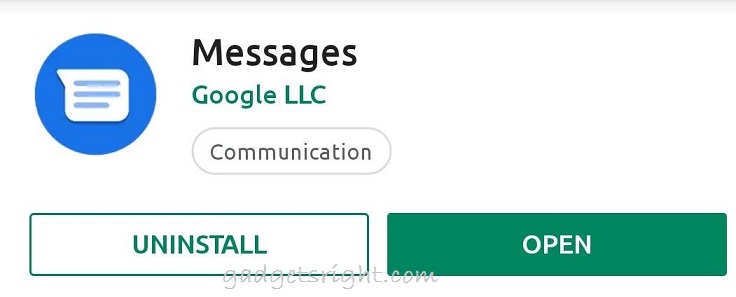 So whether you are installing or updating, click or tap this link from your phone and opt to open it with the Play Store app if prompted.
Second Step: Set Android Messages as the Default SMS App
There are two ways to make Android Messages handle all SMS (and potentially RCS) communications going forward.
Depending on how long ago you installed Messages and if you have used the app before, you might need to use Method 1. But most people will be fine with the easier way, Method 2.
Method 1: Manually Make it the Default
If you have opened the app before and tapped "Skip" on that first prompt, or if you already set it as your system default the first time around but switched to another SMS app later, you will need to set it back to default manually. Here are the steps required:
Step 1 ====> Open your system settings
Step 2 ====> Type into the search bar "default apps" to find the location where you can swap out default apps for your system.
Step 3 ====> Tap the top search result.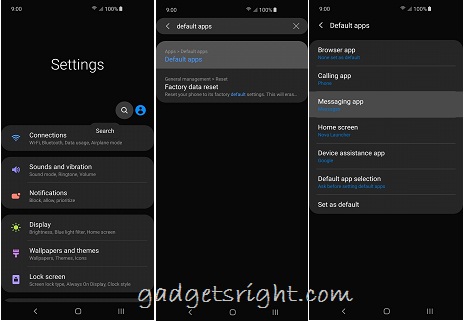 Step 4 ====> Once you are on the main screen for default apps, locate the area for changing your messaging app (typically labelled Messaging app)
Step 5 ====> Tap that to bring up a new menu.Depending on your phone manufacturer and version of Android, you might have multiple messaging apps called the same thing, but the Android Messages will be the one with the icon highlighted in the screenshot below, which matches the Play Store icon.
Step 6 ====> Now select this app, then confirm your choice on the prompt to set Android Messages as your default SMS app.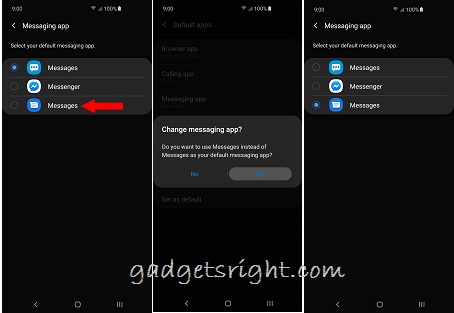 Method 2: Make Messages the Default on First-Run
If this is your first time using Android Messages or you have never opened it on your phone because you were using a different app, this one is as easy as it gets!
Step 1 ====> Simply open the app to be greeted by a message that lets you know it needs to be your default SMS app to send messages.
Step 2 ====> Tap Next,
Step 3 ====> In the new popup, tap Yes to confirm the selection to make it your default SMS app.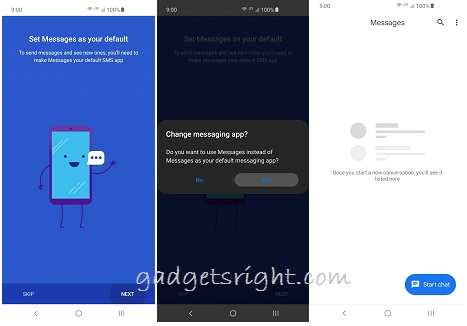 Step 4 ====> Now that it is set as your new system default, you can begin using it in your day to day life.
Method 3: Changing Back to Your Old SMS App (Optional)
If you ever want to revert back to your old SMS app at any time or try a new one altogether, the procedure is the same as before. Most SMS apps now work like Android Messages in the sense that you can select the default options when you open the app for the first time. Many of the apps even display a message when they are not your default app no matter what, which you would simply have to tap.
As before, once you confirm the app to be your new default messaging app for your system, that is all there is to it. You can carry on using the app you just selected for all of your messaging needs from here on out.
Editorial articles:
How to Recover Forgotten Snapchat Password
How to Create Snapchat Filter: Complete Guide
How to Delete Snapchat Messages on Android
How to Quickly Select Emoji in Messages on Mobile Devices
If you are going back to a previously used SMS app that does not support the auto-detection for the default app, you can go through the system settings like before and manually swap out the Android Messages app with the one you had earlier. Now you are finished and can go back to using your old SMS app.