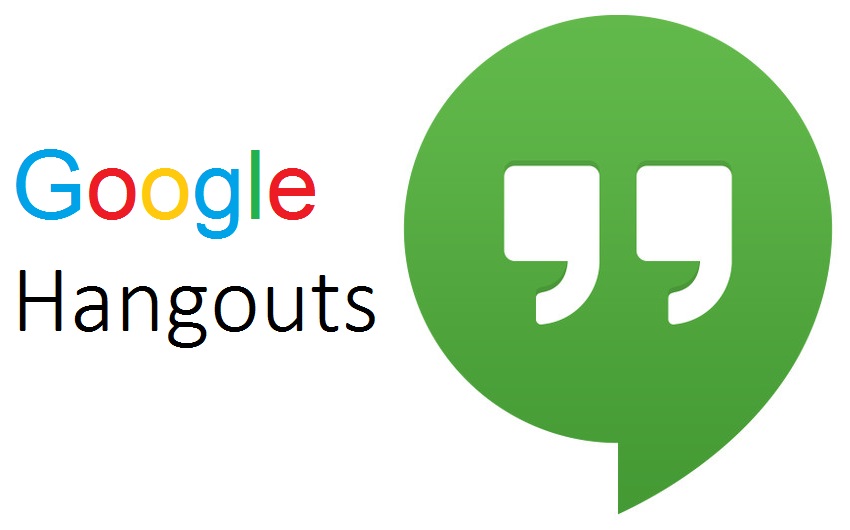 Google Hangouts is a communication platform developed by Google which includes messaging, video chat, and VOIP features. It replaces three messaging products that Google had implemented concurrently within its services, these include Google Talk, Google+ Messenger (formerly known as Huddle).
Hangouts, it is a video chat system present within Google+. Google has also stated that Google Hangouts is designed to be the future of its telephony product, which is called Google Voice, it has already integrated some of the capabilities of Google Voice into Hangouts.
Users can be messaged by their Google+ accounts. In March 2017 Google announced Hangouts would be developed into a product aimed at business users with the Hangouts brand divided into two main products: Google Hangouts Chat and Google Hangouts Meet. Google announced plans in 2019 to shut down Hangouts Classic and transition enterprise G-Suite customers to Hangouts Chat.
How to Start Google Hangouts From Desktop
Answering Google Hangouts chats right from your computer is easy this days. This can be achieved by installing Handout desktop app on your machine. Once you have it installed on your computer, you won't miss incoming chats and video calls if your Gmail window isn't open or if your Chrome browser window is minimized. This is amazing:
How To Set Up Google  Hangouts
Setting up Handout on your desktop computer requires simple step as follow.
Step 1 ====> Go to the Hangouts desktop app.
Step 2 ====> Click add to Chrome as shown bellow

Step 3 ====> Now click  add app from the pop up window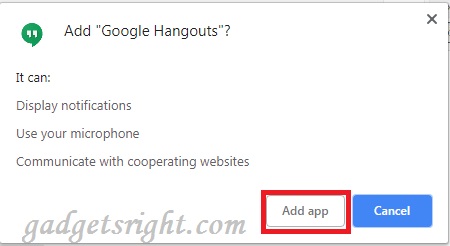 How To Start Hangouts
From the above steps, you have learnt how to set up Handout on your computer. The few
steps bellow will guide you on how to start using Google Hangouts.
Step 1 ====> Click Hangouts 
 in your computer's taskbar to launch Hangouts on your desktop.
Step 2 ====> Click the Search 
 box and type people's names
Step 3 ====> Check the box next to each person you'd like to reach.
Step 4 ====> When you've finished adding everyone, click 
 or 
How to Set Google Hangout On Android Devices
To set up Google Hangouts on your Android phone, you must download, install, and sign-in to your Google account using your smartphone.
Note:
Most new Android smartphones already have Hangouts as a built-in app. If your phone does not have Hangouts, you can follow the below instructions right from step 1 to download and install the app on your device.
If the case is otherwise, you can skip the installation steps and jump directly to step 6. Here is how you can install and use the Google Hangout app on your Android smartphone:
Step 1 ====> Power on your smartphone.
Step 2 ====> Once unlocked, tap the Menu button to open apps list
Step 3 ====> Locate and tap Google Play Store icon in order to launch the Play Store app.
Step 4 ====> On the Play Store interface, search the Hangouts app from the search box located on the top of the interface. Tap the Hangouts icon.
Step 5 ====> On the opened Apps page for Hangouts, tap the Install button to download and install the app
Step 6 ====> Once the app is installed, tap Open.
Read these articles
How to Update Google Play Services on Android
How To Manage Google Play Store Apps: Download, Update, Uninstall
How To Download And Install Google Play Store
Note:
In case you have Google Hangout pre-installed on your device. Go to the Menu interface of your phone, locate and tap the Hangouts icon from the displayed apps list.
Step 7 ====> Once the Hangouts app opens up, tap the Existing button to sign-in to the app with your existing Google account. If you don't have an existing account, tap the New button, and follow on-screen instructions to make a new Google account
Step 8 ====> Now, I am assuming you already have Google account, on the Sign in interface, sign-in to your account by entering the email details, that it, email address and password in the Email and the Password fields respectively.
Step 9 ====> Once you are signed-in, you can start using the Hangouts app to share photos, text chat, video chat, etc.
Finally
Now that you have read through the guides on how to set Up Google Hangout on your devices. As you can see, the methods and the steps explained here are very simple and easy to follow. I am very sure you will have no issues on setting up Google Hangouts on your devices any longer.