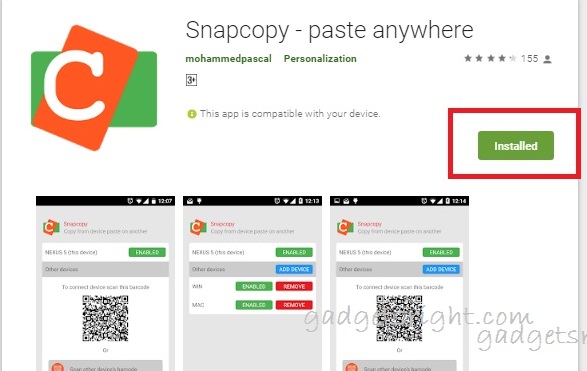 Your Android phone or tablet is useful on its own, but sometimes it is just easier to use a computer. Maybe you start taking notes or write something on your phone or tablet, and you decide to continue that task on your computer. In that scenario, you can share clipboard content copied on your mobile device to your computer, and vice versa.
But, even after decades of existence these e-devices still don't sync with each other at various fronts, which often scuffles users. Copying data from your phone and pasting it on your PC or vice-versa is something we all can benefit from.
Syncing Clipboard
Clipboard in smartphones and PCs are a temporary storage area for data that the user wants to cut, copy and paste from one place to another. The feature is a huge beneficiary for a user who wants to write the same multiple times.
That's what we can call syncing clipboard. It used to be really irritating for me when I have to copy some information, a link address or transfer some text from Phone to computer and vice versa.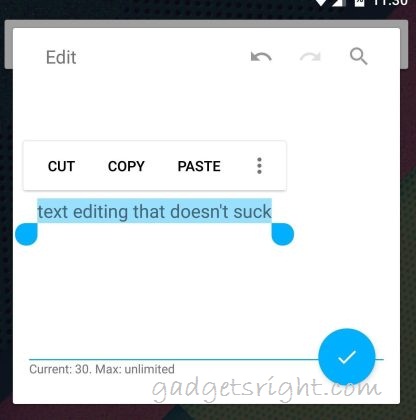 Either I have to Re-type it myself or send it as a message to myself on Facebook, which is still uncomfortable as I have to log in to my Facebook account to access it.
And then I  found SnapCopy, an easy way to Sync or share clipboard between all your computers and Android devices. It is like creating a Universal Clipboard among all your computers and smartphones.
What can SnapCopy do?
To share clipboard between your Android devices and Computers means, you should be able to:
 ====> Copy text on One Android Phone/ Tablet and Paste it on another Android device
====> Copy text on your Phone/Tablet and Paste it on your Computer
====> Copy text on your Computer and Paste it on a Phone/Tablet
Though I have used other Clipboard sharing apps like ClipSync, Alt-C, most of them only work in One way i.e., between your Computer and Phone and not between one phone and other.
The other advantage of SnapCopy is that it is available as a chrome extension, so it can be used with Windows, Linux or Mac with Chrome browser. (But you can share text outside Chrome too).
Install SnapCopy on Android Devices
Step 1 ====> Open Google Play Store on your device: Google Play is an official platform for applications for the Android OS. It is the safest and recommended method to install Android apps.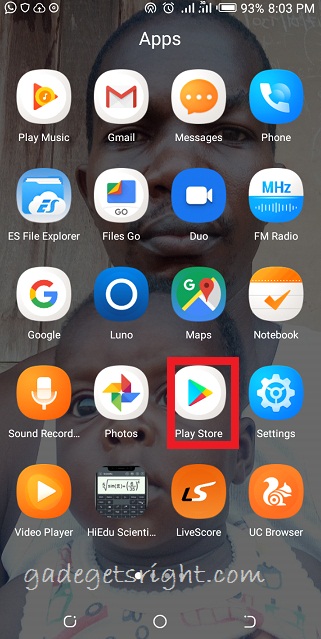 Step 2 ====> Search for SnapCopy: Once you have launched the Play Store app, you will see a search box on the top right corner of your screen. Click on the search box, type " SnapCopy " and tap the search button.
Step 3 ====> Install SnapCopy: When you search for it, the SnapCopy described here will appear on the top of the results. Click install next to it to install the software.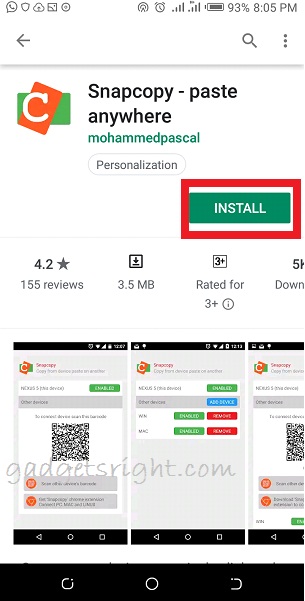 How to Add SnapCopy to Computer
Adding SnapCopy to your computer is a very simple thing to come about. We make it simple, just click on the link provided in this article, then you will have it done ones on your computer. Open Chrome and add the Snapcopy extension from here.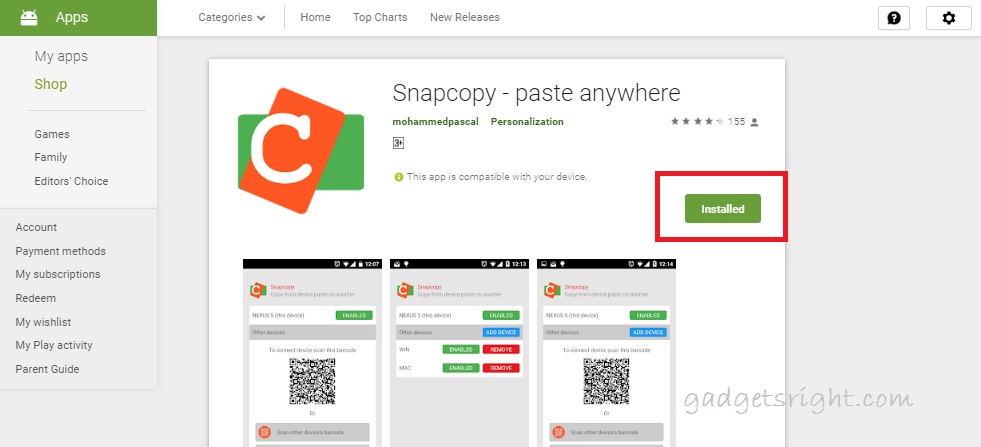 Steps to Setup SnapCopy
Step 1 ====> Download and Install the SnapCopy Android app on all Android Phones and Tablets that you want to share text with as explained above.
Step 2 ====> Install the SnapCopy Chrome extension on all of your Computers that you want to share clipboard with. And Make sure that Chrome runs on System startup (Of course you should install Chrome browser if you haven't). Explained above.
Step 3 ====> Connect all your Computers and Android devices to Same Network (same Wi-Fi).
Step 4 ====> Connect all devices together as follows:
Connect Snapcopy on Computer with Android
Step 1 ====> Open Google chrome on your computer.
Step 2 ====> Click on SnapCopy extension, now it will display a QR code.
Step 3 ====> Open SnapCopy app on your android device.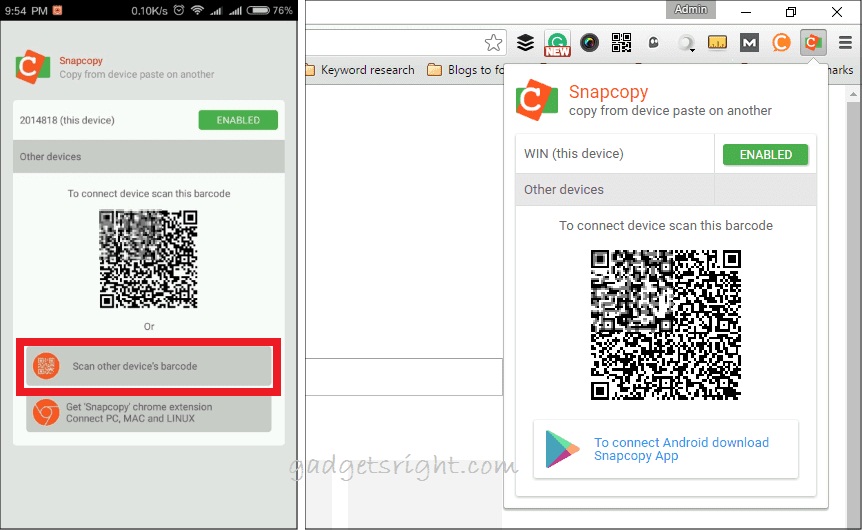 Step 4 ====> Tap on Add device,  then on Scan other devices barcode and scan the QR code with your Phone.
Step 5 ====> Finally, tap on Enabled, on your computer which then turns to green. Similarly, add other Android devices to the computer by clicking on Add device
Connect Snapcopy on Android with other Android devices
Step 1 ====> Open Snapcopy app on Device 1.
Step 2 ====> Open Snapcopy on Device 2, tap on Scan other devices barcode and scan the QR code displayed on Device 1. This will connect them
Step 3 ====> Tap Enabled on device 1. Similarly, Connect any other  Android Phones or tablets you have
All devices that you connected in both above steps will now share a common Clipboard. You can now copy on one device and paste it any of others.
NOTE:
Please do remember that all devices should be connected to the same Wi-Fi network and make sure SnapCopy is running on all of them.
Related articles:
How To Manage Google Play Store Apps: Download, Update, Uninstall
How to Download and Install Google Play Store APK on Android
How to Update Google Play Services on Android
How to Change Country/Region in Google Play Store
How to Set up Google Play Account on your Android Smartphone
How To Download And Install Google Play Store
Disable / Turnoff SnapCopy on One or More devices
If you are sharing Clipboard on more than two devices, and someone is using one of them, it may cause confusion and privacy issues. So you may disable Snapcopy on (or) for that device. Here are the steps:
Step 1 ====> Open the Chrome extension or Android app on a device in which you want to disable SnapCopy
Step 2 ====> Now click on Green Enabled button next to device name, which will then turn to grey. And now this device will be completely disconnected from the
Finally on Share Clipboard Content Between Android & Your Computer
It works like magic. You can just copy from one of the devices and paste it on any other devices connected, thus boosting your productivity at work.