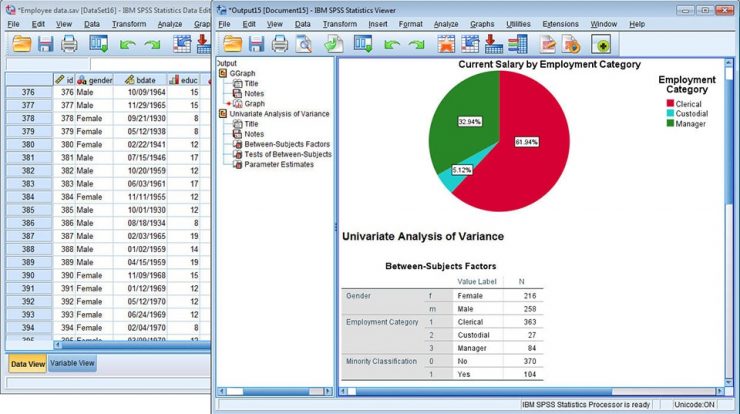 SPSS simply means Statistical Package for the Social Sciences and was first launched in 1968. Since SPSS was acquired by IBM in 2009, it is officially known as IBM SPSS Statistics but most users still just refer to it as SPSS.
SPSS Statistics is a software package used for interactive, or batched, statistical analysis. Long produced by SPSS Inc., it was acquired by IBM in 2009. The current versions (2015) are named IBM SPSS Statistics.
It is a comprehensive and flexible statistical analysis and data management tool. It is one of the most popular statistical packages which can perform highly complex data manipulation and analysis with ease. It is designed for both interactive and non-interactive users.
SPSS Quick Overview Main Features
SPSS is software for editing and analyzing all sorts of data. These data may come from basically any source: scientific research, a customer database, Google Analytics or even the server log files of a website. SPSS can open all file formats that are commonly used for structured data such as
====> Spreadsheets from MS Excel or OpenOffice
====> Plain text files (.txt or .csv)
====> Relational (SQL) databases
====> Stata and SAS
====>It is easy for you to learn and use
====> SPSS includes a lot of data management system and editing tools
====> It offers you in-depth statistical capabilities
====> It offers an excellent plotting, reporting and presentation features
The Core Functions of SPSS
SPSS offers four programs that assist researchers with their complex data analysis needs.
Statistics Program
SPSS's Statistics program provides a plethora of basic statistical functions, some of which include frequencies, cross-tabulation, and bivariate statistics.
Modeler Program
SPSS's Modeler program enables researchers to build and validate predictive models using advanced statistical procedures.
Text Analytics for Surveys Program
SPSS's Text Analytics for Surveys program helps survey administrators uncover powerful insights from responses to open-ended survey questions.
Visualization Designer
SPSS's Visualization Designer program allows researchers to use their data to create a wide variety of visuals like density charts and radial boxplots with ease.
In addition to the four programs mentioned above, SPSS also provides solutions for data management, which allow researchers to perform case selection, create derived data, and perform file reshaping.
SPSS also offers the feature solution of data documentation, which allows researchers to store a metadata dictionary. This metadata dictionary acts as a centralized repository of information pertaining to data such as meaning, relationships to other data, origin, usage, and format.
Functionalities of SPSS
Some of the functionalities of SPSS include the following
====> Correlation
====> Descriptive statistics
====> General Linear model
====> T-tests
====> Reliability tests
====> Data Transformations
====> Regressions
====> Factor analysis
====> Cluster analysis
====> Probit analysis
====> Time series
====> Survival analysis
====> Data Examination
====> ANOVA
====> MANOVA
Benefits of SPSS
Here are few key points why SPSS is considered the best tool to use
Wide Range of Options
SPSS offers a wide range of methods, graphs and charts to you. It also comes with better screening and cleaning option of the information as a preparation for further analysis. In SPSS the output is kept separate from the data itself. It stores the data in a separate file.
Effective Data Management
SPSS in data analysis easier and quicker for you as the program knows the location of the cases and the variables. It reduces the manual work of the user to a great extent
SPSS Data View
After opening data, SPSS displays them in a spreadsheet-like fashion as shown in the screenshot below.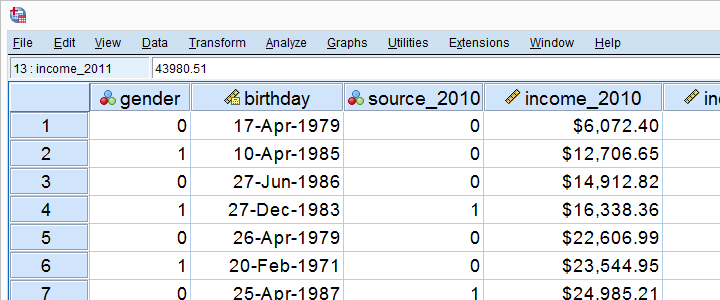 This sheet -called data view– always displays our data values. For instance, our first record seems to contain a male respondent from 1979 and so on. A more detailed explanation of the exact meaning of our variables and data values is found in a second sheet shown below.
Variable View on SPSS
It is the sheet where you define the Variable of the Data that you have, The Variable View Consists of the Following Column heading,
Name: Enter the Unique Identifiable and Sorting Variable Name, Eg: In the Data of Students, The Variables can be ID, Sex, Age, Class, Etc,
Note : This will not allow any special character or Space while describing the variables of the Data, and Once you enter the First Variable, Immediately you can see SPSS generating all the other information regarding how you want to set that Variable that you have entered to be.
Type: You Can change the Type of Variable, Whether Numeric, Alphabets or Alpha-Numeric by selecting the respective Type in this column, this will restrict the use of any other type being used under this variable column
Width: Defines the Character Width this Variable Should allow, Especially helpful while entering Mobile number which allows only 10 character
Decimal: Defines the Decimal point you required to display, Eg: Used in case of percentages
Label: Since the Name Column Doesn't allow you to use any Special Character or Space, here you can give any name as a Label for that Variable you wanted to assign
Value : This is to define/ Label a Value Wherever you see in the Data, Eg: You can Label 0 in the data as ABSENT for Exam, So when you find 0 in the data, it will be labelled as ABSENT for Exam, You Can also Label the Employee ID Number with their Name, So that Using the value Label Switch Button you can view the Name of the employee, but in report the Name will not appear, only the EMP ID number will appear, This helps in reading the data better in data view
Missing : You can mention the Data which you don't want the SPSS to consider while analyzing, Like "0" Value is considered as Absent, so for analysis it will neglect "0" if its mentioned in Missing, which will be helpful in Mean, Mode Etc,
Align : You can mention the alignment of the data in the data sheet, Left, Right of Middle,
Measure: This is where you will define the measure of the Variable that you have entered, Whether Scale, Ordinal or Nominal type of Variable
Note: Shortcut, You can copy the Variable Type and Paste in the Next row, if it's almost the Same type of Variable,  Like Subjects Marks – Science, Maths, English, History – All these will have the same Type except for change in Name and Label
Importing Excel Data File into SPSS
Step 1 ====> Click File ====> Select Open ====> Select Data
Step 2 ====> In the Dialog Box, in Files of Type Drop Box Select .xls File
Step 3 ====> Then select the excel file data that you have stored in your system and Select Open
Step 4 ====> In the Dialog box, Ensure that you tick the Read Variable names from the first row of data
Step 5 ====> Click Ok
Step 6 ====> SPSS data Editor will open and you can find your data file in it
Data Analysis
Right, so SPSS can open all sorts of data and display them -and their metadata- in two sheets in its Data Editor window. So how to analyze your data in SPSS? Well, one option is using SPSS' elaborate menu options. For instance, if our data contain a variable holding respondents' incomes over 2010, we can compute the average income by navigating to Descriptive Statistics as shown below.

Doing so opens a dialog box in which we select one or many variables and one or several statistics we'd like to inspect.
SPSS Output Window
After clicking Ok, a new window opens up: SPSS' output viewer window. It holds a nice table with all statistics on all variables we chose. The screenshot below shows what it looks like.

As we see, the Output Viewer window has a different layout and structure than the Data Editor window we saw earlier. Creating output in SPSS does not change our data in any way; unlike Excel, SPSS uses different windows for data and research outcomes based on those data.
For non SPSS users, the look and feel of SPSS' Output Viewer window probably comes closest to a Powerpoint slide holding items such as blocks of text, tables and charts.
Statistical Test Using SPSS
Quick Data Check
Before using any statistical test, It is always advisable to do a data check to know how the data has been distributed and clearly defined, whether the missing values are neglected etc, Data Check is usually done using Charts, so that any abnormalities can be easily detected and data can be corrected,
Histogram is widely used to check the data in case of One Variable Tests, creating an histogram is already been explained
Scatter Plot Chart – is used for Two Variable Tests:
Step 1 ====> Click Graphs ====> Select Legacy Dialogs ====> Select Scatter/Dot
Step 2 ====> Select the Simple Scatter Chart
Step 3 ====> Click define
Step 4 ====> You will Find the X axis and Y axis for Comparison
Step 5 ====> Drop the Variable for X axis and Y axis respectively
Step 6 ====> Click Ok

Majorly Tests can be diversified based on the purpose, it can be 2 Types: Comparison Tests and Association Test, Comparison Test can be further divided into 3 types based on the number of variables you want to compare, one variable tests, two variable tests and multi variable test
Comparison Tests – More Variable using SPSS
Repeated Measures ANOVA
Step 1 ====> Click Analyze ====> Select General Linear Model
Step 2 ====> Select Repeated Measures
Step 3 ====> In the Repeated Measures define Factor Dialog Box, we are going to define the multiple variables that we going to run,
Step 4 ====> Give a Name to the Set of Variables that you going to compare (Factor Name) – Like Courses, in the Within-Subject Factor Name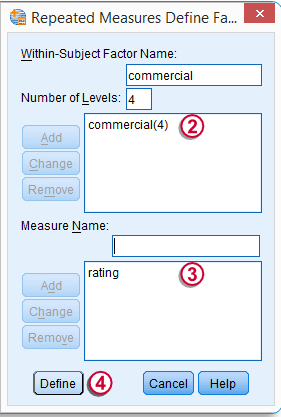 Step 5 ====> Enter the number of Variable under this Factor in the Number of Levels
Step 6 ====> Click ADD
Step 7 ====> Give the Measure Name, Like Rank, Rating,
Step 8 ====> Click ADD
Step 9 ====> Click "Define" to Define the Variables under the Mentioned Factor Name – Courses
Step 10 ====> Drop all the Variables you wanted to include below the Factor Name (Courses) to Within – Subject Variables
Step 11 ====> Click Option and select descriptive Statistics
Step 12 ====> Click Paste – Syntax will appear with all the conditions
Step 13 ====> Click OK and run the Test
Step 14 ====> Repeated Measures ANOVA – Test result will appear in the Output Window
Comparison Tests – Two Variable using SPSS
Paired Sample T test
Step 1 ====> Click Analyze ====> Select Compare Means
Step 2 ====> Select One Paired Sample T Test
Step 3 ====> In the One Sample T Test Dialog Box, Drop the Two Variables that you want to run the test in the Paired Variable List using the Drop Button in the center one by one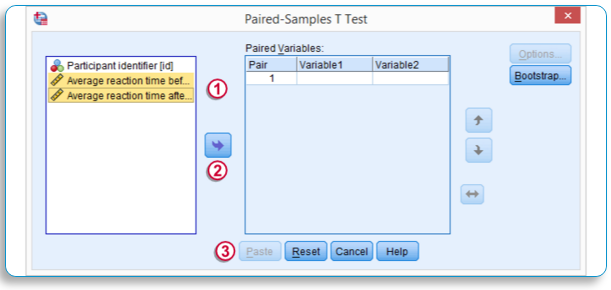 Step 4 ====> Click Paste – Syntax will appear with all the conditions
Step 5 ====> Click OK and run the Test
Step 6 ====> Paired Sample T – Test result will appear in the Output Window
Comparison Tests – One Variable using SPSS
Chi Square Test
Step 1 ====> Click Analyze ====> Select Non Parametric Tests ====> Select Legacy Dialogs
Step 2 ====> Select Chi- Square Test
Step 3 ====> In the Chi- Square Dialog Box, Drop the Variable that you want to run the test in the Test Variable List using the Drop Button in the center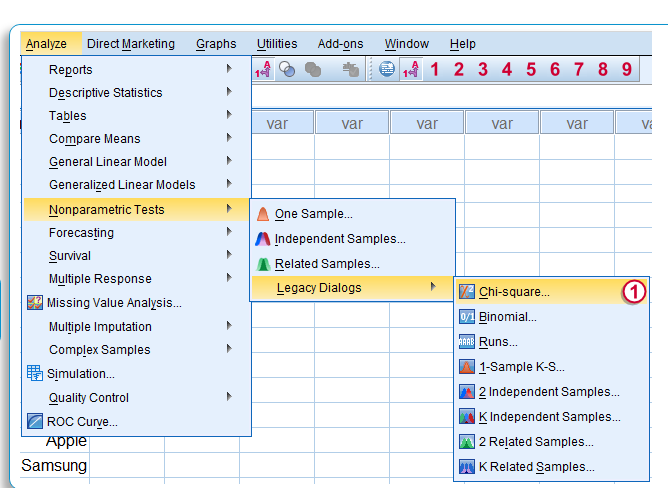 Step 4 ====> In Expected Range Tick Get from Data
Step 5 ====> In Expected Values Tick All Categories Equal
Step 6 ====> Click OK
Step 7 ====> Chi Square result will appear in the Output Window
One Sample T- Test
Step 1 ====> Click Analyze====> Select Compare Means
Step 2 ====> Select One Sample T – Test
Step 3 ====> In the One Sample T Test Dialog Box, Drop the Variable that you want to run the test in the Test Variable List using the Drop Button in the center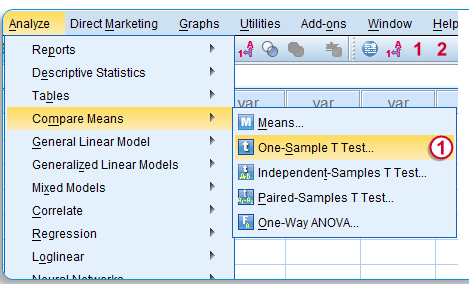 Step 4 ====> In the Test Value enter the Population value
Step 5 ====> Click Paste – Syntax will appear with all the conditions
Step 6 ====> Click OK and run the Test
Step 7 ====> One Sample T – Test result will appear in the Output Window
Editorial Picks
How to Check and Delete Voicemail on iPhone
How To Lock Apps On Any iPhone: App lock
How to Change Your iPhone Ringtone Without iTune
How To Update iPhone Software Without Problem
Definition: What Does Uniform Resource Locator (URL) mean