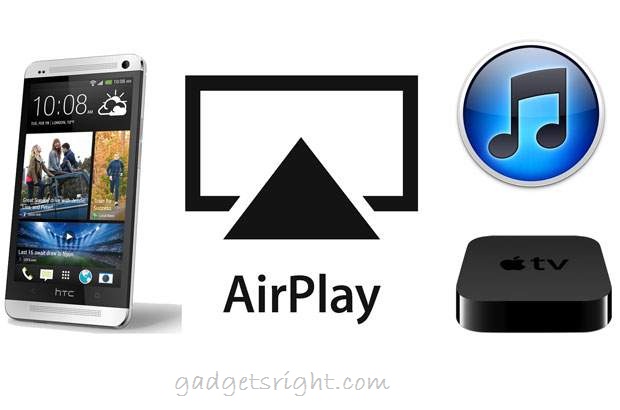 Before going into the details on how to stream from Android to Airplay, we need to understand what Airplay is. So we need to give a definition of Airplay.
Airplay Definition
AirPlay is a protocol that lets you wirelessly stream audio and video between your iPhone, iPad, Mac, Apple TV, and even Windows PC running iTunes. All you need to do from your phone is tap the AirPlay icon, then select the device you'd like to stream to.
AirPlay is yet another product of the Apple stable and is a proprietary protocol suite/stack that enables wireless streaming between video & audio devices, device screens, and photos with their related metadata. The concept was originally applicable only to Apple-manufactured 'devices and software and initially called AirTunes, usable for only audio.
Unfortunately, one of the few platforms this protocol does not support is Android. While you can cast from your iPhone to a Chromecast fairly easily, this does not work in the other direction.
Try to share content from an Android and suddenly you are out of luck. But with these third-party streaming apps, Airplay and Android can finally speak the same language.
How to Use Airplay
In order to use AirPlay, we need to follow the following steps:
Step 1 ====> Connect with the same WIFI network that your iOS device is hooked up with and the device you desire to AirPlay to.
Step 2 ====> On the iOS device, swipe up from the screen bottom and open the Control Center.
Step 3 ====> Then make a horizontal swipe and get into the Now Playing screen.
Step 4 ====> On the flip side, however, even though AirPlay had made stuff sharing between phones and TVs incredibly easy, it was applicable to Apple gadgets only.
Any effort to share content with an Android device led to absolute and often frustrating failure. The good news is that with the advent of third-party streaming apps, Android and AirPlay are finally on the same page as we mentioned earlier. The bad news is that in every case there's some sort of catch.
Apps to Stream From android to AirPlay
Here is a list of top Android apps you can use to Airplay your Android smartphone to your Apple TV:
AirSync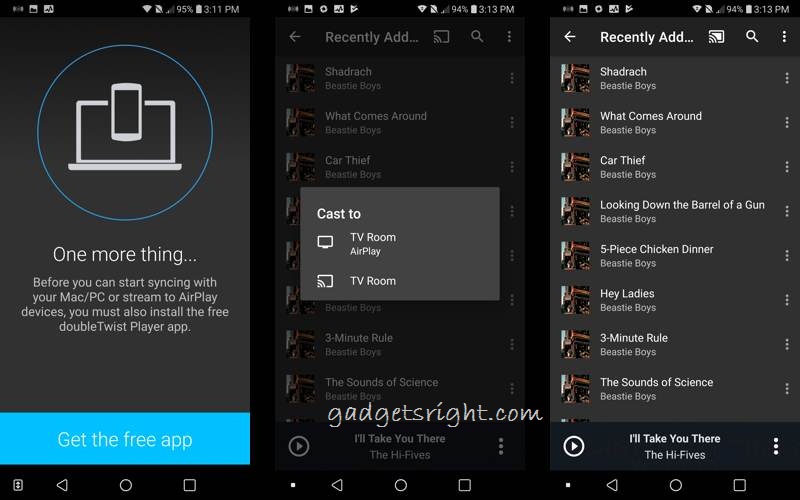 If your Apple TV is the heart of your home entertainment system, including your music, AirSync might be perfect for you. The app is made by DoubleTwist, known for their Android music player. As a matter of fact, this app requires that you install that app.
As you might guess, this app is focused 100 per cent on music streaming. It found the Apple TV we were using quickly and played music to it without a hitch.
LocalCast
This is one of my favourite apps when it comes to casting videos, music, and images to Internet-connected devices across the house. LocalCast gives you the ability to cast your phone or tablet, NAS (DLNA/UPnP or Samba), Google Drive, Google+, Dropbox or a webpage to a Chromecast, SmartTVs, Roku, Nexus Player, Apple TV, Amazon Fire TV or Stick, Sony Bravia, Samsung, LG, Panasonic and other SmartTVs, Sonos, Xbox 360, Xbox One or other DLNA Devices.
How to Use LocalCast to Stream Android to Apple TV Via Airplay
All in all, this app is pretty easy to set up. Here is what you need to do:
Step 1 ====> Download the LocalCast app from Google Play Store.
Step 2 ====> Turn on your Apple TV.
Step 3 ====> Make sure both your Android and Apple TV are connected to the same WIFI network.
Step 4 ====> Now launch LocalCast and click on the Casting icon in the bottom-right corner.
Step 5 ====> Select Change and turn on Apple TV, now select "OK".
Step 6 ====> The app will now scan your network for any Apple TVs.
Step 7 ====> Once that is done; choose your Apple TV from the list of devices that become available.
Step 8 ====> You can now cast local videos, images, music, and even online videos from your Android device to your Apple TV.
AllStream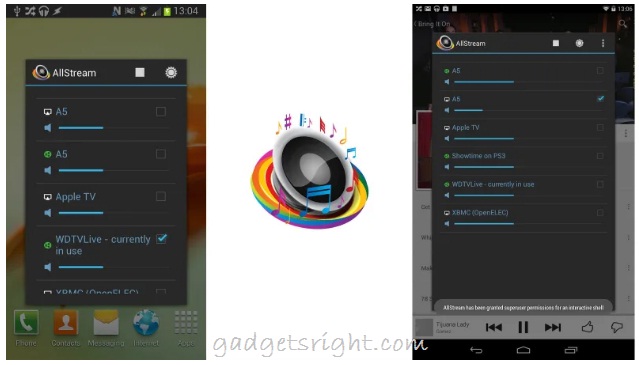 If you are only looking to stream music, or don't want to switch to a new music player (as DoubleTwist requires), Allstream has you covered. Offering both AirPlay and DNLA connectivity, this initially free app acts only as a transmitter.
That means you can keep using your preferred music player, be it Spotify, Google Play Music, Rdio, or TuneIn to name a few while gaining the ability to stream to any existing AirPort Express, Apple TV, XBox 360, PS3, XBMC, or Samsung Smart TV.
Be warned, however, AllStream requires your mobile device to be rooted in order to work and will cease to function after a predetermined time limit unless you pay 5 Euro.
Download & Install CotoMovies for iOS Devices Without Jailbreak
Coto Movies: Download CotoMovies for Android
RedBox TV APK V1.3 Download 2019: Latest Free APP for Android
AllCast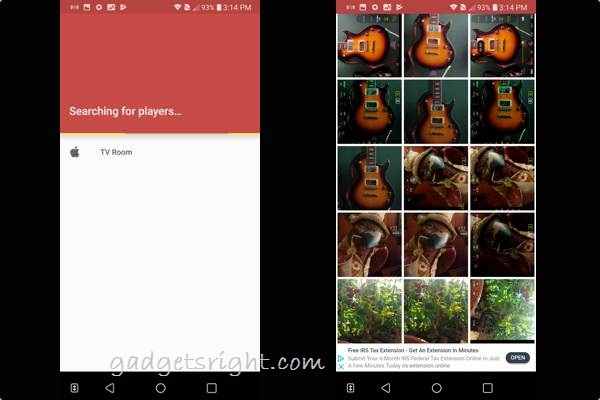 AllCast has a much larger feature set. In addition to streaming to AirPlay devices, it also works with the DLNA protocol. This means it can also stream to Roku, Chromecast, Amazon Fire TV, and a number of other devices.
To use AllCast, you will need to install the app on both your Android device and the Apple TV. Otherwise, it will say it found your Apple TV, but you won't actually be able to play anything. The free version of the app has a five-minute viewing limit on both videos and pictures. To remove this limit, you can upgrade to the premium version of the app for $5.
AppleTV AirPlay Media Player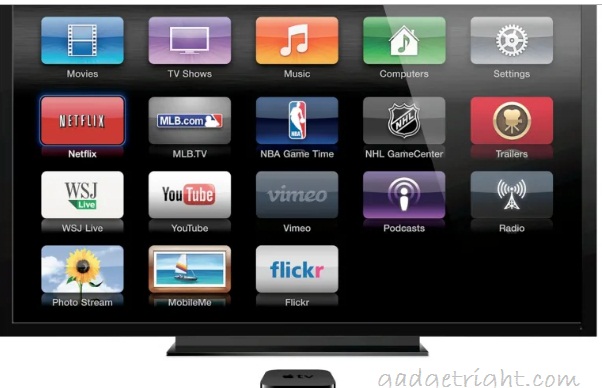 As the name suggests, AppleTV AirPlay Media Player from ZappoTV has been specifically designed for use with Apple TVs. This app which again comes for free makes it possible for you to beam any content that is Android-based, the content available on the local network as also the greater Internet to any AppleTV.
In addition to this, it also empowers your Android-based device or phone to perform as a remote control with all-in-one qualities. Search, browse and share any content from numerous online sources that include YouTube, video podcasts, Flickr, SHOUTcast, Picasa, and Facebook (watch out for that fake news on Facebook though!). Of course, you need to run Android 2.1 or its later versions and also have an account on ZappoTV to use AppleTV AirPlay Media Player.
Mirroring360 Sender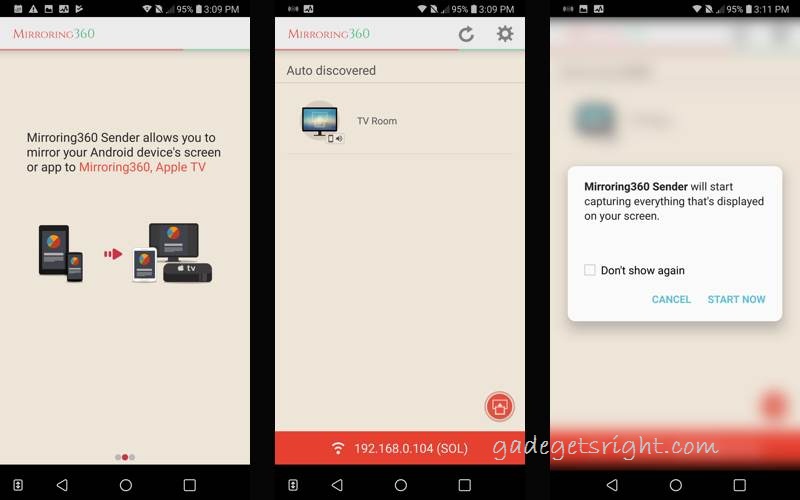 Mirroring360, as the name implies, is meant to mirror your screen over AirPlay. This app comes in two versions: the basic free version, Mirroring360 Sender Basic, and the premium version, which costs $5.
You are better off starting with the free version. We ran into issues trying to use the app, and other users have had similar reports. It's worth a try, but don't pay for it until you're sure it works for you.
DoubleTwist 
No, this has nothing to do with dancing! DoubleTwist comes with a triple threat. This free media manager serves as a podcast manager and unified player of music while also syncing your personal iTunes collection that includes music, playlists, photos, and video between your Mac & Windows desktop computer and the Android device
A nominal charge of about $5 is payable to unlock the AirPlay and AirSync functions along with DLNA support, album art search, equalizer, and removal of podcast ads. DoubleTwist is streamable to any device compatible with the AirPlay standard in your WIFI network that already exists.
Download and install AppValley for iOS And Android
MovieBox Apk Latest version Free Download For Android & iOS 2019
Conclusion
While there are plenty of options for streaming from Android to AirPlay, each one has some sort of caveat. If you are looking to stream music, that is fairly simple. On the other hand, when it comes to video, you might be better off just using your Apple TV remote to find what you want to watch.