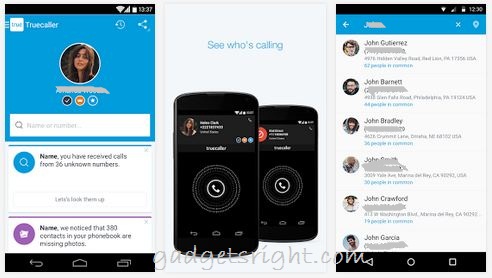 Have you often got spammed or unidentified calls? Want to block them or other disturbing phone contacts? There is a way to do that with Truecaller APK 10.34.7 (1034007) latest version. It is an application for the smartphone to help to identify the coming callers' information; even it is not in your phone contacts.
This caller ID app (TrueCaller APK) will show you the numbers, names, photos, address, location, emails, and even the operators of the callers. Now, you will see no longer pop-up Private Number or Anonymous of incoming call anymore.
Truecaller APK: Caller ID & Dialer File Information
Developer: ====> True Software Scandinavia AB
Version: ====> 10.34.7 (1034007)
File size: ====> 38.1 MB
Uploaded: ====> June 11, 2019 at 11:05AM GMT+07
Requirement: ====> Varies with device
MD5: ====> d45dbd5c7004c8b48fcf6098a6a4c0e9
SHA1:  ====> 3d35395899e72350cd1008f5079687365e984464
Truecaller 10 has been unveiled with added features and functionality which makes the app a must have. The new Truecaller 10 comes with Duo Integration, Integrated Truemessenger, Flash message, payment system and other features.
Download TrueCaller from Google Play Store
Features of Truecaller  10.34.7
====> Introducing Truecaller Chat!
====> Now you can freely message anyone on Truecaller. Send videos, photos and messages and so much more!
====> Chat without saving numbers
====> Identify fake news
====> Easily switch between Chat and SMS
====> Try it and let us know what you think
True Messanger: True messenger feature in Truecaller 10 helps is simply an SMS integration app which helps you identify messages from unknown numbers plus a spam filter built into it.
Flash Messaging: Truecaller 10 Flash feature allows Truecaller users to send flash messages which contain pre-formatted messages or emoji at a flash instant to ease the stress of having to type a bunch of messages or reply to a message.
Truecaller 10 and Google Duo: Truecaller and Google had partnered to bring integration between Truecaller 10 and Google Duo. That means the Google Video Calling Service will feature the Truecaller APK feature inside of it.
Pros and Cons of Truecaller APK
Pros:
====> Works like phone directory helps to find any contact information
====> Reliable to identify and block spam callers
====> Networking features
====> Simple and minimal user interface
Cons:
====> Privacy, security, and intrusion issues
====> May inaccurate in certain cases
====> Pop-up features ads
How to Use Truecaller APK
This app (Truecaller APK) is simple and quick to set up. Once finish downloading and installing, you need to register your new account by entering your country and phone number, or using the Facebook account as a login for more personal experience.
Next, enabling the Enhance Search to help to improve the caller ID's accuracy. To look at the main interface simply swipes through the introduction. Ensure that your connection (3G, 4G, or Wi-Fi) is active to get live caller ID of database.
Older Versions of Truecaller: Caller ID & Dialer
Truecaller: Caller ID & Dialer 10.32.6 (1032006) Old APK:
updated: june 11, 2019: Truecaller: Caller ID & Dialer 10.31.7 (1031007) Old APK:
updated: june 5, 2019: Truecaller: Caller ID & Dialer 10.29.5 (1029005) Old APK:
updated: may 23, 2019: Truecaller: Caller ID & Dialer 10.28.6 (1028006) Old APK