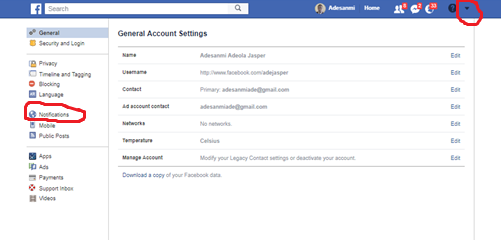 Facebook may sometime be annoyed with disturbing notifications all day through, you may received notifications on mobile phone from Facebook. You may as well have turns of notification on you devices, though this at times is not good. Then, this is not a problem, you may decide to turn off Facebook notifications on your phone.
There are various ways stop Facebook notifications on mobile, you can stop that which sent to your phone when you are off line. This type of notification is the one that sent to you through your sim card.
You can as well turn off Facebook notification when you are online, this and many more you will learn at the end of this write up.
Meanwhile, Facebook notifications alert you to handle something important and urgent in time, for example, read a new thread, confirm friend requests, and more.
However, sometimes continual Facebook notifications can be absolutely annoying! You are always reminded to update the app, confirms a friend request from a stranger, and so on.
Anytime a notification comes in, your mobile phone vibrates or rings. That is why you are here to learn how to turn off Facebook notifications.
This tutorial will guide you through the whole process of turn off Facebook notifications on Computer, mobile phone, particularly to those who unimportant to you.
How To Stop SMS Facebook Notifications On Your Mobile Phone
1: ===> Login into your Facebook account through Facebook home page
2: ===> Click the drop down arrow to access the settings (use your computer)
3: ===> Click setting from the drop down arrow
4: ===> A new page will load, look through the page and click on NOTIFICATIONS. This window housed different way in which you can receive notifications from Facebook.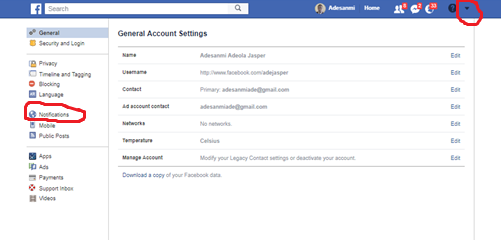 5: ===> Now, it is time to start our editing. Click on text message to TURN IT OFF to stop receiving massage on your mobile while you are off line.
As you have successfully completed this process, you have turn off Facebook notifications on mobile. What I am saying is that you will not be notifying again through text messages from Facebook.
How to Turn Off Facebook notifications on mobile apps
It may have seemed sneaky but, Facebook mobile update last year included a persistent notification for users to keep up to speed with Facebook notifications at all times.
The only problem is users get swamped with notifications about every twitch, sneeze and blink from the friends which not only clogs up inboxes but can be pretty darn irritating too.
If you want to turn off Facebook notifications on mobile, here Is the to follow:
1: ===> Open your Facebook app
2: ===> 'Menu' and tap into the Facebook settings
3: ===>Scroll down to the bottom of the list, under 'Advanced Notification Settings' you should see an option to uncheck 'Ongoing notifications'
4: ===>Uncheck and that should stop the ongoing notifications
At the same time you can also choose to disable any other notification from Facebook. If you are a fan of ongoing notifications fair enough. But you might want to turn off the other notifications to keep things in check.
Finally on turn off Facebook notifications
That is it! Got it? If not, just leave your messages and let us know. We will reply you as soon as possible.
Relate article
How To Delete All Facebook Messages In A Single Click
How To Delete Facebook Notifications On Facebook
Facebook Status: Steps On How To Delete Facebook Status
How To Delete Messages On Facebook Messenger
How To Change Birthday Facebook On Facebook Account