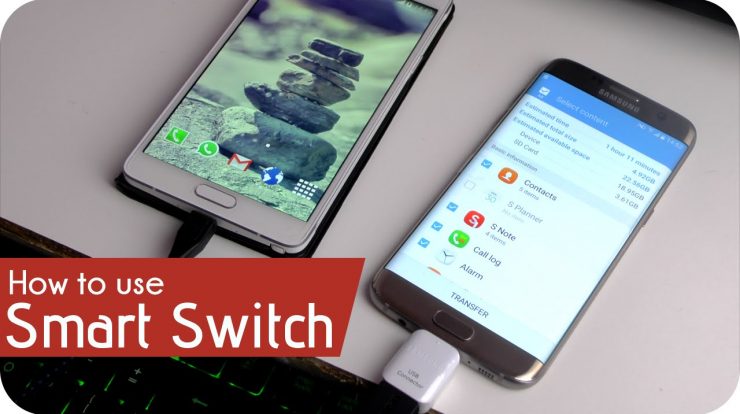 What a nice machine you are holding, you are holding your galaxy S7. You love its sleekness and you are happy to start using it, but you are a little sad at the same time. Your life for the last year or so is on your old device. You don't want to have to completely start over. Moving your data from old phone to the new one gives you more concern. There is good news for you. If you use Samsung's Smart Switch, you don't have to start over, and you don't even have to download the app, it comes already preloaded on the Samsung Galaxy S7.
What do you Understand by Smart Switch
Smart Switch is a Samsung utility that lets you transfer data between two devices that are connected together via a USB connection. You may have noticed a small USB-to-Micro-USB adapter included with your Galaxy S7. You will need that if you are planning on transferring data.
Why Do I Need to Use Smart Switch
Unlike other means of transferring data from one device to another, such as using cloud services like your Google account, you don't have to be connected to the internet to use Smart Switch. It operates on a direct connection between your old device and your new one via USB, assuming you still have that USB-to-Micro-USB connector.
If you are on a plan with limited data coverage, or your home internet connection is not that great, using Smart Switch can save you time and money.
How to use Smart Switch for the Galaxy S7
Before you get started, make sure that you've connected your old phone to your S7. Connect the USB-to-Micro-USB converter to your S7 then use the charging cable for your old device to connect the two phones together.
Step 1 ====> Swipe down from the top of the screen to pull down the Notification Shade.
Step 2 ====> Tap the Settings button. It looks like a gear.
Download TrueCaller from Google Play Store
Step 3 ====> Swipe up to scroll down on the settings screen
Step 4 ====> Tap Backup and reset.
Step 5 ====> Tap Open Smart Switch.
Step 6 ====> Tap START.
Step 7 ====> Tap AGREE to accept the terms and conditions of the service.
Step 8 ====> Tap the device type that corresponds with the device that you are transferring data from. Your choices are:
====> Android device: Choose this if your old device is an Android phone.
====> iOS device: Choose this if your old device is an iPhone.
====> Blackberry device: Choose this if your old device is a Blackberry phone.
Step 9 ====> Tap START at the bottom of your screen. Smart Switch will now search your old device for content to transfer. This could take a while, depending on how much stuff you have stored.
Step 10 ====> Tap Transfer. Note that here you can select to transfer everything or just a selection.
Step 11 ====> Tap CLOSE APP once the transfer is complete.