The YouTube Android app has come a long way since the dismal app of the Froyo days. It is not perfect now, but it definitely gets the job done well enough. In any event, for those wanting something a little different, here are a few YouTube Alternatives Apps worth looking at.
Anyone who can access their internet over their handheld gadgets will probably watch at least one YouTube videos per day.
They will be using the Google apps to access the videos on YouTube. Unfortunately, there are existing issues in using the official app such as the stopping of the playback when you minimize the app and the amount of annoying ads displayed on the YouTube app.
If you want to get rid of these issues, then you might want to choose YouTube Alternatives Apps for iPhone and Android.
YoTube Alternatives Apps For Android And iPhone Devices
Shuffly
Shuffly works the same as the name says. It shuffles through YouTube videos and lets you watch random videos of your interest.
It makes use of the pseudo-random algorithm to shuffle through videos. You can shuffle a particular channel or just pick a category like Music.
It also gives you the option to watch it in the YouTube app. Shuffling is an interesting feature which YouTube should definitely adopt.
It actually allows you to dive into the old videos of your favorite YouTuber. It is pretty cool and is highly recommended as a YouTube Alternatives Apps. Visit Play Store to download this wonderful App.
NewPipe
NewPipe is a new, lightweight, open-sourced app created to make YouTube watching a seamless experience. No wonder is one of alternatives to YouTube on Android and iPhone as well
The best part about this application is that it circumvents all advertisements, irrespective of whether your device is rooted, or not, but at the same time, the choices for resolution is limited.
You can also choose to click the headphone icon if you want to listen to audio in the background.
Though there is no way to log into your YouTube account and look at your subscriptions, and because of that, the main menu of the app shows a blank screen.
You either have to manually search for videos you want to watch or be redirected here from another app (like your favorite browser).
TubeMate
One of the most popular YouTube alternative apps not available on the Play Store is TubeMate, TubeMate is effectively a wrapper for the mobile site.
Hardly a reason to download the app, then. But its best feature is the ability to download videos via the app, with the ability to choose from various quality options.
Methods On How To Root Oneplus One Without Losing Data
Yes, YouTube does the same thing now, but TubeMate allows you to keep them for as long as you want and almost any video can be downloaded on this app.
For those who love listening to the music, iTube is one of the leading YouTube App alternatives. Apart from giving you the ability to access your favorite video, you can also create your playlist.
With iTube, you also have the ability to play the music on background. The Cache Mode feature is ideal for the users who want to watch their videos offline but don't want to download it.
Videoder
Videoder is a well known third-party app for YouTube which allows you to download YouTube videos in various formats including MP3. But, in recent year it is evolved to become a YouTube alternative app.
 Browsing and downloading videos have just gotten easy with the recent updates.  While watching a YouTube video you can just share the video with Videoder and it will give you the options to download it in the available formats.
It also downloads entire playlists and has a quick option to selectively download particular videos in various formats. It is my go-to app for downloading videos.
You will surely love it if you give a trier today. You can download this app from their official website.
As OGYouTube is a moded version of YouTube, the application almost looks identical to the official YouTube app, but it has bells & whistles hidden under its hood.
OGYouTube allows you to have a hovering window as the player which you can use on any screen, so you can watch a video while browsing the web, or messaging on WhatsApp. This app will not hider you from doing other job on your phones.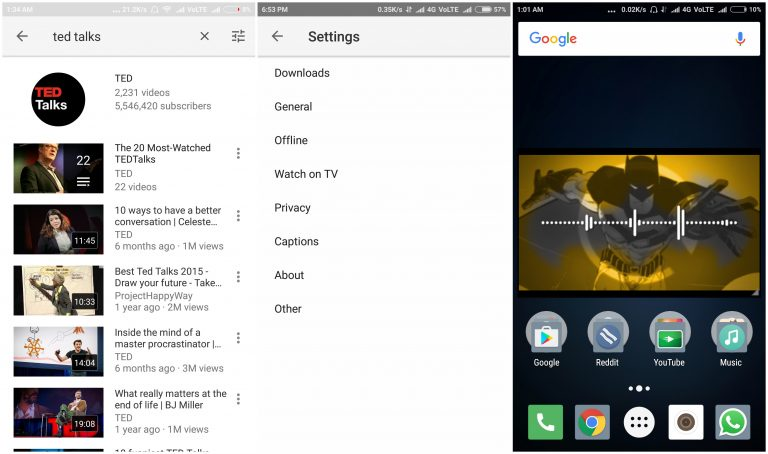 You can also download the YouTube videos (from 144p to 1440p), or just the audio, directly from the app into your devices as you want it.
Floating Tube
Another notable YouTube  alternatives app on Android and iPhone is Floating Tube, Floating Tube takes the concept of floating video players to a level beyond that of the stock app.
Much like the previous entry, the UI and presentation largely feel like a mobile site. But play a video and you are presented with a pop out window, allowing you to resize the window, drag it around and fold it back into the app.
In other words, if you want to text buddies on WhatsApp while watching fail videos, this app is for you. Check it out on the Play Store to download and start enjoying watching.
MyTube
MyTube is an iOS app that can be downloaded for free on the play store. This is one of the YouTube App alternatives that you can use to download copy and play your favorite videos in music.
This means that you can now watch your videos offline by downloading them on your iOS gadget (iPod Touch, iPad, Android and iPhone).
One thing that makes it great is the easy navigation system that makes it ideal for any type of users. Furthermore, it also allows you to play the audio music on the background.
It comes with a share option that allows you to share it with your social networking account. You can also watch the videos through Smart TC through their AirPlay Support program.
Modified Ad-Free Official YouTube App
Don't they? We have got enough tools for web browsers on our PC to block Ads. And, they work perfectly. However, it is not the case for mobile apps.
 Apps like AdAway sometimes don't block certain Ads on our mobile devices. Especially on YouTube. Nevertheless, if you have got a rooted android phone then there's a godsend app that will allow you to watch YouTube videos without any Ads.
The modified Ad-free version of the Official YouTube app has been developed by developer Arter97. You need to first uninstall the official YouTube app (using Titanium backup).
How to use YouTube without Gmail account
Then place this modified APK in the root of your phone where the actual YouTube app is placed. Here's a complete guide.
The app works perfectly just like the official app. However, you won't get official updates so that's a con you must consider.
The app has a handy feature called 'Turbo' in which videos can automatically be buffered by the click of a green button next to it.
This will start the video, the moment you tap on it. No more waiting. The feature is currently unique to this application and is quite fun to use as there is no wastage of time if you want to start watching a video instantaneously.
It also has a feature called 'Social Feed', in which it displays videos from your Facebook or Twitter timelines, directly on the app.
It should be mentioned that it doesn't block ads, so If you want that feature you have to look at some of the applications below.
FireTube
Google dumped a ton of alternative YouTube apps from the Play Store over the past few years, with FireTube being one of them.
Why would they do that? Well, FireTube delivers audio only playback. Yep, FireTube is a handy alternative to YouTube Red, which isn't even available in South Africa anyway.
If there is one disadvantage though, it's that the app seems to buffer quite often. In any event, FireTube is one of the few audio-only YouTube apps on Android.
NetTube
NetTube is not as popular as others, but it is as functional and efficient in playing YouTube and Soundcloud videos. It is an app designed primarily for music.
Adobe Flash: How To Enable Adobe Flash Player On Android Phones
In this app, you will be able to watch, share and download YouTube videos. Sleep Setting allows you to turn off the music background in a specific amount of time.
ListenOnRepeat
ListenOnRepeat is a popular online service which allows you to play YouTube videos again and again. Well, you do get an option to loop the video on YouTube's official website.
But, it's not available on mobile devices. ListenOnRepeat has been developed for this specific task.
Zing YouTube Player
Just discover a new alternative to official YouTube app Zing YouTube player. There are two features that separate this application from all the other alternative app in this list.
(a) It supports picture in picture effect like the official YouTube app. i.e. you can search for other videos while still watching the current one.
(b) Add videos in a queue, which is kind of like creating a playlist on the go.
Though, it doesn't play YouTube videos in the background or have the option to download videos, like the other apps in the list. The UI is also somewhat weird. That said, if you are looking for queue features, then this app make sense.
Tube Player
Tube Player is another great YouTube App Alternatives designed for iPhone. It has the mixed theme of the classic iOS interface and the YouTube platform.
Unlike some of the apps listed on this list, it may probably take a while before you can get used to this app.
Best YouTube Alternative App
Well, YouTube's API is strict and it restricts developers to develop an alternative client app to a certain extent.
These were some of our best alternative android apps for YouTube that you should definitely try.
If you know any other app or are already using one then do share them down in the comments.
How To Upload Videos To Facebook From Mobile Phone
How To Download And Save Instagram Pictures On PC & Mobile Devices